The Bing Rewards Toolbar - Is It Worth Installing?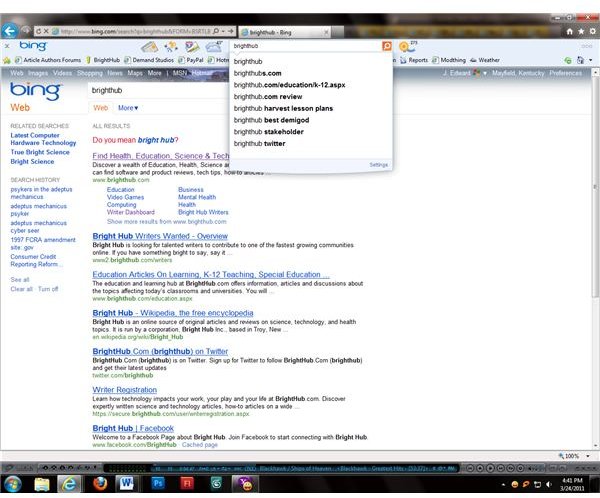 Bing Rewards
The Bing Rewards toolbar is a combination of a search engine toolbar and a rewards program offered by Microsoft's Bing search engine. The toolbar offers several functions to the user, and unlike many search engine toolbars these functions are configurable. The toolbar also serves as an interface with the Bing Rewards program which offers users the chance to earn a variety of rewards simply by using the Bing search engine. While many browser toolbars simply take up space and slow down browsing speeds, the Bing Rewards toolbar actually provides useful features to those users who have it installed.
Signup and Installation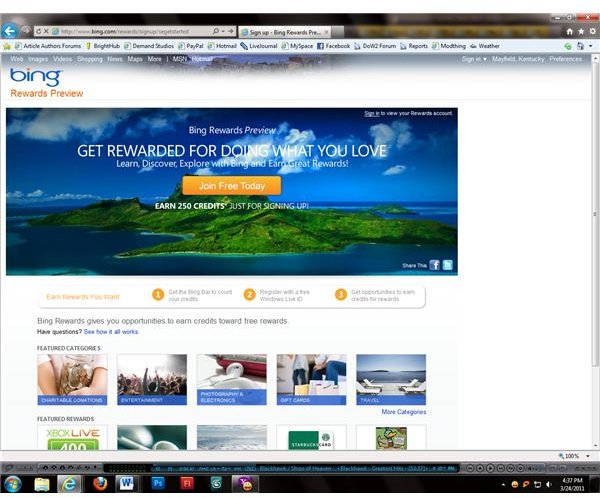 Signing up for the Bing Rewards program and installing the Bing Rewards toolbar requires a Windows Live account. The program signup page (located here) allows users to link their Windows Live account to the Bing Rewards program or create a new Windows Live account if necessary. Installation of the toolbar is straightforward, taking only a few minutes to download and install. As might be expected of a toolbar for Microsoft's search engine, the Bing Rewards toolbar can only be installed on Internet Explorer.
Features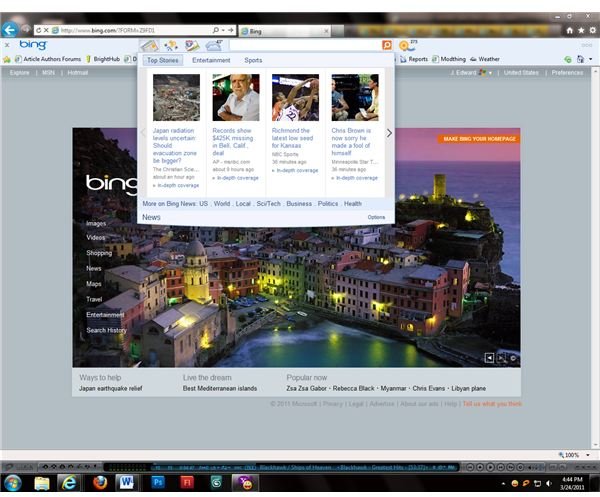 The most obvious feature of the Bing Rewards toolbar is the ability to initiate a Bing web search without having to go to the Bing website. A search window will load in your current tab with results for whatever term you are searching for. The toolbar also features a variety of apps including local weather alerts, maps and directions from Bing Maps, website translation, news headlines, Facebook alerts and email checking. A total of 10 apps are available, and unwanted apps can be turned off in the toolbar options menu.
Reward Credits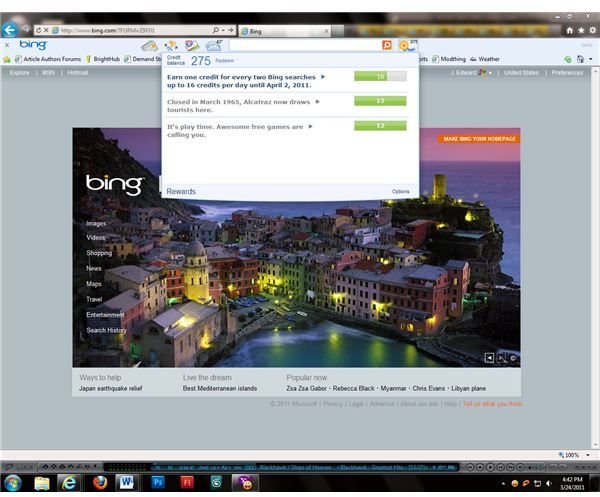 The main draw of the Bing Rewards toolbar is that it awards you Bing Rewards credits for using the Bing search engine. Every two searches you make gives you one credit, and the program offers promotional searches every few days that provide you with more. These promotional searches open a new tab filled with the search term's results with a single click, and award a set number of points for simply viewing the results. The toolbar counts all Bing searches when adding reward credits, not just searches made from the toolbar itself.
Cashing In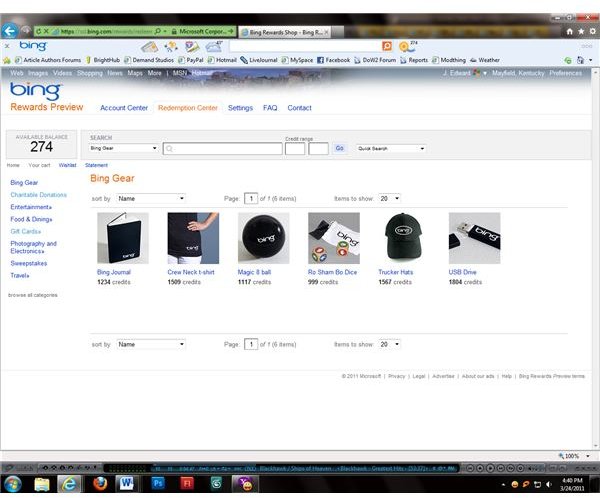 The Bing Rewards program offers a number of different rewards that can be purchased with reward credits. In addition to Bing-branded items such as shirts and journals, users can use Bing Rewards credits to purchase items like books, movies, games, electronics, gift cards, and even airline miles. Credits can also be used to make charitable donations and enter sweepstakes for larger prizes. The reward account summary and redemption center can be accessed from a link in the Bing Rewards toolbar's points and promotions menu.
References
Image Credits: Screenshots by J. Edward Casteele