How to Add Metacrawler to Firefox Search Bar: Firefox Addon Help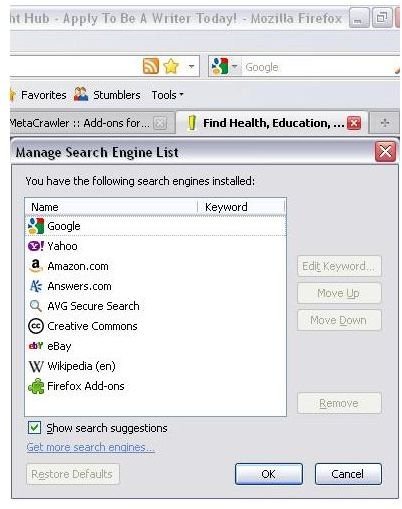 Add Metacrawler To Firefox
Firefox has a handy search bar right next to its address bar, and that search bar comes pre-loaded with a few search engines. What's installed to the search bar by default is mostly just the obvious stuff like Google and Yahoo, in addition to a few site-specific searches for major websites such as Wikipedia and eBay. However, you can add all sorts of other engines to it by clicking on the arrow tab on the left hand side and selecting "manage search engines." You can add or delete the already installed engines, and you can click "Get more search engines" at the bottom to be taken to this page, which will give you a list of all the extra search engines currently available to be installed. Feel free to search through yourself if there's anything else you'd like to add, but this article will be about installing Metacrawler to Firefox specifically.
Metacrawler Add-On
Metacrawler is a metasearch engine, which is where it takes its name from. This means it sends its search requests to various search engines, and combines the top requests from all of them to provide the best possible search results. As a result, instead of the default search engines, many people prefer to use Metacrawler. Firefox doesn't offer it pre-installed to the search bar, but if you'd like to add it to your Firefox search bar, you're in luck, because an add-on exists. Well, it sort of does. There is a metacrawler add-on, and it functions perfectly. The downside is that it's metacrawler.de that it adds, which is the German language version of Metacrawler, so unless you can read German, it's probably not exactly what you're looking for. And since it's the only Metacrawler add-on available, unless you want to develop your own add-on, we're going to have to move on to a different option.
Add To Search Bar Add-on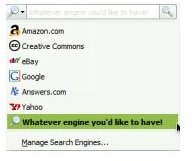 If we can't find an existing add-on to put Metacrawler in the Firefox search bar, let's see if we can find an add-on to alter the search bar itself to accept Metacrawler. Firefox does have an add-on that will do just that; the very literally named Add To Search Bar. Once installed, it will make your search bar fully customizable. You will be able to add absolutely any search engine or site-specific search that you want to your search bar. Download and install this extension, and once you've got it in place, using Metacrawler with the Firefox search bar is as simple as adding metacrawler.com to the list of search engines. Now you can add Metacrawler to Firefox, or add any of your other favorite search engines with ease!
References
Firefox Add-ons search page - https://addons.mozilla.org/en-US/firefox/
Metacrawler Add-on, version 2010031 - https://addons.mozilla.org/en-US/firefox/addon/metacrawler/
Add To Search Bar Add-on, version 2.0 - https://addons.mozilla.org/en-US/firefox/addon/add-to-search-bar/
Image Source:
Add To Search Bar product page - https://addons.mozilla.org/en-US/firefox/addon/add-to-search-bar/