How to Send Google Calendar Events & Invitations from Gmail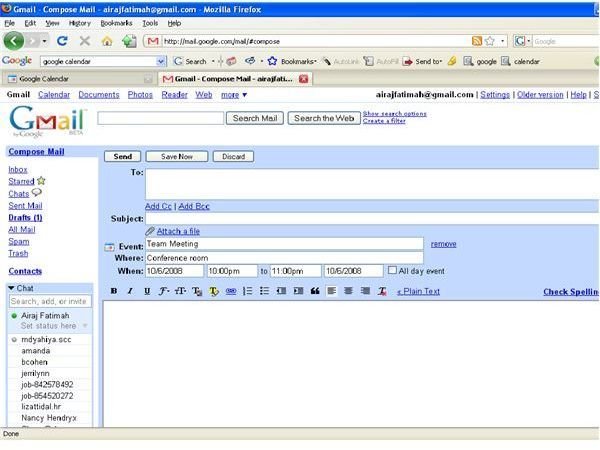 The Beauty of Gmail and Google Calendar Integration
Google Calendar was released in 2006 as a tool for organizing your daily events online. With its color-coded schedules, easy-to-setup reminders, email notifications and invitations, Google Calendar has simplified many users hectic agendas.
One of the reasons Google Calendar has gained popularity is because of its integration with Gmail. You can create an invitation and send it through Gmail without accessing your Google Calendar. Or, create an invitation in Google Calendar and send the invitation directly to recipients' inboxes, without the need to create and send a separate invitation through Gmail.
Sending Event Invitations from Gmail
It is very simple to create an invitation using your Gmail. When you compose an email in Gmail you will see Add Event Invitation next to the Attach File link under the Subject bar. Click on Add Event Invitation, and you will be able to enter the event name, location, and start and ending times for your event, right in your email. Compose your email message as usual and click the Send button.The email, along with the invitation, will be delivered to your recipient. When the receiver gets the invitation in his email, he can choose to accept or decline your invite through his email. He can also click View my Calendar to view the pending invitation in his Google Calendar. He can easily check his schedule and decide on his response. There is no need to manually enter any invitation data into his calendar.
How to Create Event Reminders
You can create an appointment reminder, an invitation, or a business meeting alert through your Google Calendar and send invitations to different senders. You can set-up email alerts for yourself to remind you of doctor's appointments or a business lunch, so even if you don't check your Google Calendar, you will receive a reminder in your Gmail account. Click Create Event. Now you will able to enter the details of the event, whether it is an invitation or a reminder. You can email the invite or a schedule by entering the recipients Email IDs on the right hand side under Guests. Click the Options tab to setup reminders like pop-ups or emails to ensure you don't miss your event. Click Save and the event will be entered into your Calendar and any guests on the list will be notified by email.
Sharing Your Google Calendar
You can also share your Google Calendar and decide how much control you want the other person to have over your Calendar. Click settings under My Calendars. Select the calendar you want to share and click Share this Calendar. After you have entered the email id of the person you wish to share the calendar, you can decide what amount of control you want the other person to have. Choose from letting him see if you are free or busy on a specific date without knowing the details of your commitments to letting the user actually change your schedules. Click on Add Person to share your calendar.
Google has released a new program called Google Calendar Sync in March 2008. This program allows you to synchronize your events from Google Calendar and Microsoft Outlook together. This program was introduced to let people update all their calendars without having to switch from one calendar to another and also be available offline through Microsoft Outlook.
Images