Looking for Someone in the Military? Perform a Military Personnel Search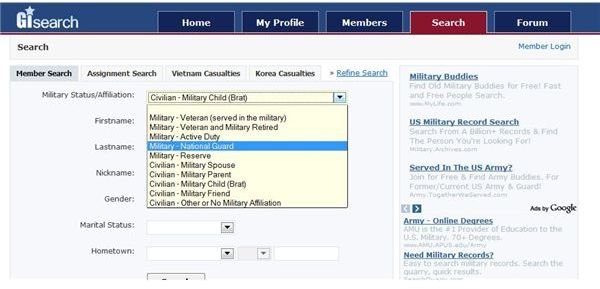 GI Search
If you are a retired or active service member, you may want to register with GI Search so that you can possibly reconnect with friends you made in the service. You can join this military personnel search site so that others can seek you out, as well, but you do not have to register in order to use the search feature.
This site offers many search features that can help you find precisely the person you seek. For example, you can perform an assignment search, search for casualties or even search for military brats.
Military Connections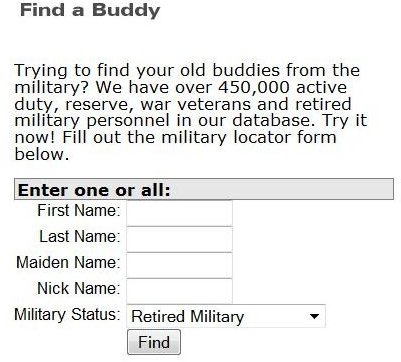 With a database containing more than 450,000 military personnel, Military Connections can help you find active duty, war veterans, retired military personnel and reservists and even family members of military personnel. Search terms include first name, last name, maiden name, military status and even nickname, so you can search using as much or as little information as you have.
Military People Search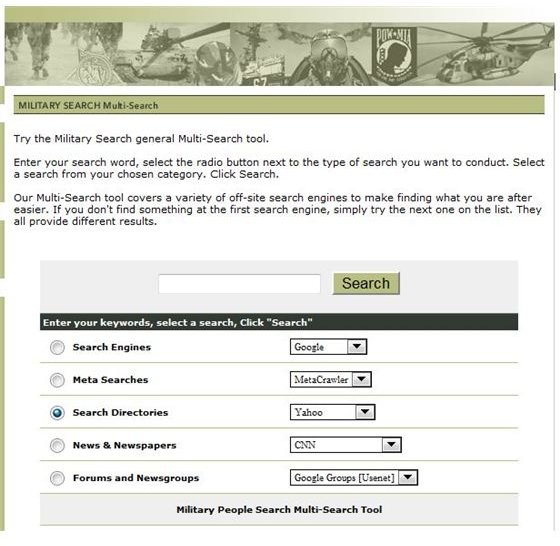 Whether you are researching your family tree or want to find out what happened to an old friend, Military Search is a powerful military personnel search engine. In fact, it is a collection of military-related sites, giving you multiple options in one place. You may wish to use the multi-search tool, which allows you to choose from a wide array of sources, such as search engines, meta searches, directories, newspapers and forums.
U.S. Department of Veterans Affairs

Perhaps what you are searching is not a connection with a long lost military buddy or a living loved one who is or was a member of the service. If your search is for someone who is no longer living, the military personnel search offered by the United States Department of Veterans Affairs may be more appropriate. This search enables you to look for burial locations of veterans and their family members. If the person for whom you are searching is buried in a VA National Cemetery, a state veterans cemetery, another military or Department of Interior cemetery, or a private cemetery marked with a government grave marker, you may be able to obtain this information here. When searching, the person's last name is required. Other search terms include first and middle names, dates of birth and death, and the cemetery in which the person is laid to rest.
Other Resources
If you are not finding the results you seek using a military personnel search, you may want to try a basic people search engine. For an offline option, consider contacting the U.S. Department of Defense. Many of the branches of service provide locator services for active duty personnel as well as those whose service recently ended. You can contact these locator offices by phone or by postal mail.