How to Save Favorites from AOL to Firefox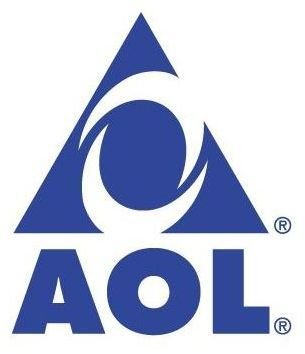 Quitting the AOL Browser?
AOL users will be familiar with this story: after months of using the AOL service, you decide that you no longer want to use the rather clunky, restrictive browser (that's if you haven't bailed out of AOL completely - here are some reasons why you might consider this) and use something that will actually let you browse web pages comfortably.
With a list of browsers checked, reviews read and opinions asked, you decide to download Firefox, which you promptly install and launch. The browser is great, so you immediately want to see how your favorite websites look – only you have to type the URLs into the address bar as the bookmarks didn't get imported by Firefox when you set it up. So, how do you save favorites from AOL to Firefox?
Different Browser Bookmark Formats Explained
While Firefox will automatically import bookmarks from Internet Explorer (this is part of the Firefox first-run procedure) the same provision isn't possible with other browsers.
The reason for this isn't clear, but is probably due to Mozilla Firefox's position as the most popular browser alternative to Internet Explorer for Windows users. There is no need for Mozilla to bother adding functionality for importing bookmarks and favorites from other browsers into Firefox while it still has Internet Explorer in its sights. This is a quite different philosophy to Google Chrome.
Another likely reason is the format of the bookmark files. In Mozilla Firefox and Microsoft Internet Explorer, bookmarks are both saved in HTML format, thus aiding the import of favorites. This makes the task of editing favorites easy – either you perform the edit in a text editor like Notepad, or you use the Bookmarks > Organize Bookmarks… tool in Firefox.
As there are differences in how favorite bookmarks are stored from browser to browser, the only way to reliably save favorites from the AOL browser to Firefox is to employ a third party conversion tool.
How to Save Your Favorites From AOL to Firefox
In order to convert your bookmarks from one browser to another you should take advantage of a third party service such as LinkaGoGo.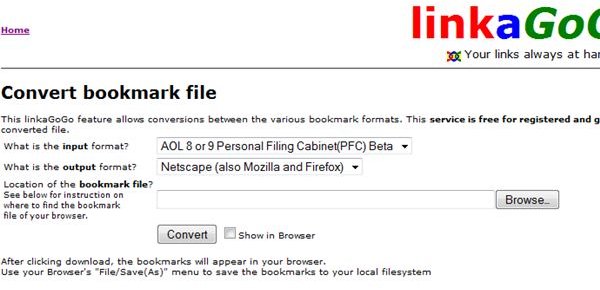 Available at LinkaGoGo's website, this web utility is designed to convert the favorites file from one browser so that it can be read by another.
Some preparation is required before proceeding. First of all, make sure you have all of the favorites you want in the AOL browser – add any new ones you want to transfer and discard old ones. Once this is done, the Favorites > Favorite Places > Save & Replace tool will save a file containing the addresses of your favorite websites.
Next, head to www.linkagogo.net/go/Convert where you will find the conversion tool, which comprises of two drop down menus and a destination location to save the converted file to.
In the first drop down, select the Input format (in this case AOL 8 or 9); in the second drop down, select the Output format (choose Netscape (also Mozilla and Firefox)). Next, click Browse to select a location on your PC where you would like to save the converted file, and then click Convert.
The conversion will then take place, and the file saved to your PC. You can then import your favorites into Firefox via Bookmarks > Organize Bookmarks… > Import and Backup > Import HTML….