Environmentally Friendly Trout for Those Looking for Sustainable Fish?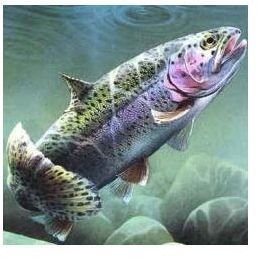 What Does Sustainable Mean?
Creating a viable and sustainable method of food production is essential to the green movement. Sustainable means that organic material will be able to regenerate in a way that will not detract from production but add to it. This means that the life cycle moves in a loop that enables the production to continue. In the instance of sustainable trout, this means that the fish are farmed and their reproduction is sustained through human intervention that enables more fish to be born that will not affect the overall state of the farmed fish to survive.
For more information on the environment and the concept of sustainability, check out Environmentally Sustainable Wheat Farming and Utilizing Natural Resources in a Sustainable Manner.
Where to Find Sustainable Trout
The Monterey Bay Aquarium's Seafood Watch® is a program that evaluates the ecological sustainability of America's farmed and wild-caught seafood. The main requirement for seafood to attain sustainable status, is in the ability of farming fish at increasing rates without affecting the local ecosystems where they are released in a negative way. All of the information that the Seafood Watch® program collects, studies and advocates is available to the public through free informational booklets that can be downloaded through their main web site at: www.mbayaq.org
Due to the environmental contamination of fresh water trout, there is no where in the United States to catch "clean" trout. This is a large reason why so many fresh water trout provided for local fishing areas are brought in from fish farms. Farmed trout is a reasonably safe fish to release into wild environments. Through the continual farming of trout, along with the increased demand for human recreational and health use is proving that trout can be a sustainable farmed fish choice.
There are many types of farmed trout available, but here we are going to take a closer look at the most ecologically friendly and best sustainable farmed types. The following types of trout are safer for you and your family to consume and are not invasive to the water areas in which they are released.
Rainbow Trout - This type of fish is part of the Pacific Salmon family and has developed into three evolutionary types based on environment which are: redband of the Columbia River Basin, redband of the Sacramento River Basin and the coastal rainbow trout. The Rainbow Trout is native to the Pacific water drainage's of North America but can be found today through farming replenishment across the United States.
Steelhead Trout - This type of fish is a Rainbow Trout but it is of the salt water and not fresh water variety. The steelhead is close in taste type to that of the Chilean and Norwegian farmed steelhead trouts but with a higher concentration of pigment and produce smaller fillets. A migratory life used to define the steelhead trout in which the fish would spawn and spend "grow up" in coastal streams until their movement to the ocean, the life which defines these fish now is that of being farmed in saltwaternetpens.
For more information the sustainable trout or other fish varieties in the United States, you can visit the Monterey Bay Aquarium's Seafood Watch® page directly at: https://www.montereybayaquarium.org/cr/seafoodwatch.aspx