Species Spotlight: Beluga Whale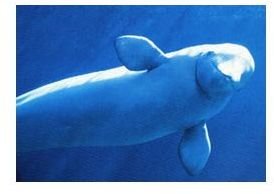 One of the most vocal of the cetaceans (a scientific order which includes whales, porpoises, and dolphins), the friendly and curious beluga whale is also often referred to as the white whale. With its friendly demeanor, eager interactions, and childlike expression, the beluga whale has captured the imagination and love of many.
Description:
Males belugas can range between 12 to 18 feet in length and weigh anywhere between 2,300 to 3,500 pounds where as females are somewhat smaller, ranging in a length of around only 10-13 feet and weighing between 1,500 to 2,600 pounds.
Although calvare usually born a darker shade of gray by the time they reach maturity they have an all white body which is but one of the unique characteristics that separate beluga whales from other cetaceans. For instance, unlike many whales and dolphins, the beluga does not have a dorsal fin but instead has merely a small fin ridge.
And unlike many other whales or dolphins, belugas have much greater range of lateral movement, being able to move their heads side to side because the vertebrae in their necks are separated much like it is in human beings instead of being fused together as is the case with most cetaceans Also unlike most other whales and dolphins, beluga whales can actually swim backwards.
Habitat and Range: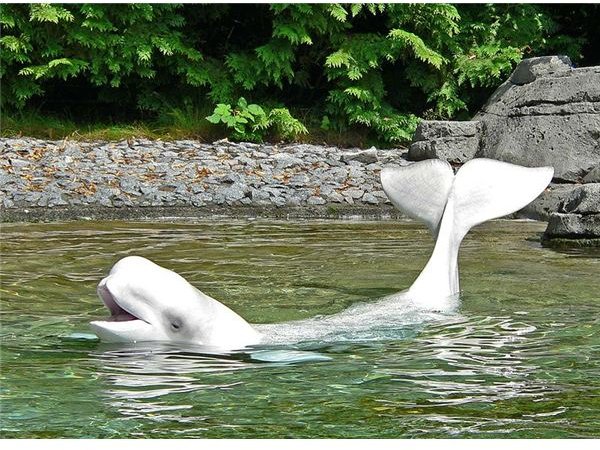 Belugas are generally found in arctic and sub-arctic waters where they can often be spotted off of the coasts of Russian, Greenland, Canada, and Alaska. For the warmer months, belugas prefer more shallow waters and are often found in bays, estuaries, and inlets during the spring and summer months with most of the whales preferring to return to the same spot year after year.
Diet and Behavior:
Feeding mainly on fish, crabs, shrimp, and occasionally squid or octopus, beluga whales, like most dolphins or other whales, are extremely sociable. While mothers and calves tend to keep to smaller groups, male belugas have a very large social group. This sociability is not limited to just a single pod, interaction between multiple pods often occur with different members switching between various pods in their social scheme. Beluga's are very playful and friendly towards humans as well.
Conservation: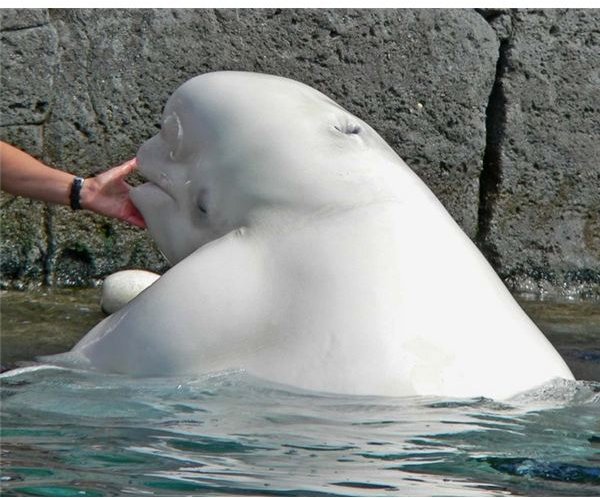 There is some uncertainty about the exact size of the beluga population world wide, but like other marine mammals, belugas are threatened by disappearing food sources due to the fishing industry, pollution and run-off particular in the shallow water areas they congregate in during warmer months, whaling, and other human activities. While the outlook for belugas seem somewhat more hopeful than that of many other whales, this smiling and friendly little whale still needs our protection and an overall improvement of the planet's health to survive.
Scientific Classification:
Kingdom: Animalia
Phylum: Chordata
Class: Mammalia
Order: Cetacea
Family: Monodontidae
Genus: Delphinapterus
Species: D. leucas