Kenya Land Features: Savannas, Thorn-Scrub, Costal Woodlands and Montane Forest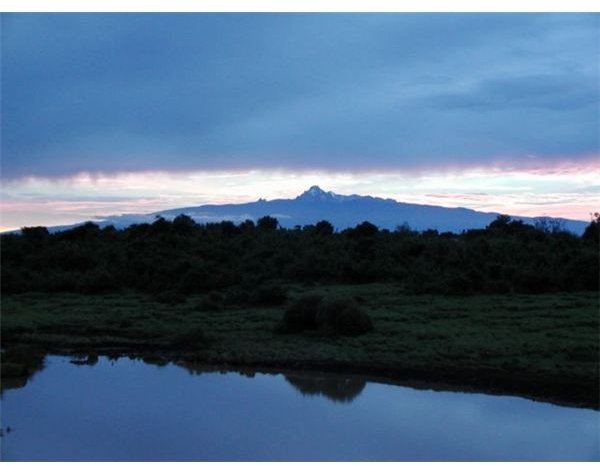 Introduction
From the rugged, glacier-clad horns of Mount Kenya—the second-highest peak in all of Africa—to mangrove tunnels along a tropical Indian Ocean coast, Kenya has a tremendous variety of land features. As scenic and topographically interesting as they are, their significance is magnified by the immense breadth of human history (from early hominids to the rich and varied modern cultures of the country) and world-famous concentrations of wildlife.
Rift Highlands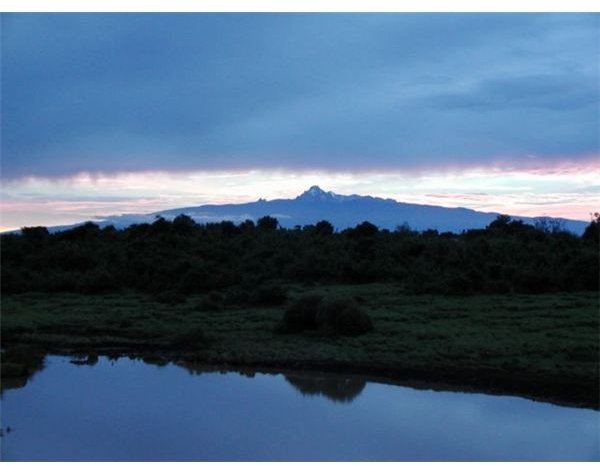 Central Kenya is dominated by substantial highlands associated with a broken belt of mountains stretching from southern Sudan to northern Tanzania along the Rift Valley. The Aberdare Range supports rich wet forests, bamboo jungles and high-elevation moorland; such large mammals as elephants, buffalo and lions occasionally trek to the chain's upper heights. The king peak of Kenya and one of the great mountains in the world is Mount Kenya, a 17,000-foot, multi-peaked volcano that supports some of the only glaciers in Africa. The existence of those ice masses, gleaming above alpine moors and montane forests, is all the more impressive considering the mountain's close proximity to the Equator.
Lakes
In addition to its volcanoes and bounding highlands, the Rift Valley supports another iconic string of land features: big freshwater and saline lakes. These include the famous flamingo-roamed soda waters of Lake Nakuru, as well as the massive, saline Lake Turkana, which sprawls into Ethiopia. Lake Turkana lies in an arid region of black rock and desert scrub; its shores include much evidence of ancient hominid activity, while large numbers of Nile crocodiles cruise its salty waters. Biggest of all is Lake Victoria, the northeastern shores of which are in Kenya. This is one of the largest freshwater lakes in the world and supports a famously diverse and speciated population of cichlid fish.
Grasslands, Savanna, Forests
Kenya land features also include ecological landscapes. In the Rift Valley and west of it are large tracts of savanna, open woodland and grassland. The famous Serengeti ecosystem extends from Tanzania into southwestern Kenya: Masai Mara National Reserve protects one of the key landscapes in that mosaic, where massive herds of hoofed mammals congregate during the dry season, migrating from the Serengeti Plains. Major ungulates of Kenya's savannas include wildebeest, zebra, impala, Thompson's gazelle, topi, giraffe, and Cape buffalo. Four of the very biggest terrestrial animals are found here: Savanna elephants, black and white rhinos, and hippos. Carnivores include lions, leopard, cheetah, African wild dogs, spotted hyenas, ratels and caracals. Western Kenya also supports relict tropical forest—notably the Kakamega Forest near the Uganda border—and extensive marshlands.
Scrub & Drylands
Lower, more arid parts of northern and eastern Kenya are draped in thorn-scrub, dominated by acacia and commiphora trees, and semi-desert. Included in this harsh but beautiful ecoregion is the contiguous protected area of Tsavo East and Tsavo West national parks, the largest in the country and one of the biggest in the world. Infamous for the pair of man-eating lions that haunted railroad workers in this region at the close of the 19th century, the Tsavo scrub continues to support a diversity of wildlife, not the least of which are huge herds of elephant.
Coastal Forest Mosaic
The woodlands, grasslands and scrub of Kenya's Indian Ocean coast connect with similar habitats in Somalia and Tanzania. The World Wildlife Fund defines them as comprising the Northern Zanzibar-Inhambane Coastal Forest Mosaic and notes that they support some of the most endemic plant species—those native only to this ecoregion—in the world. Mangroves and submerged coral reefs, both exceedingly productive ecosystems, historically defined much of the immediate coastline.
Conclusion
East Africa is rightly renowned for the diversity of its wildlife and human cultures, and the mighty game parks that draw ecotourists from around the world. However, the topography and ecological landscapes against which this biological and cultural richness plays out are equally stirring. Kenya land features are heraldic: Mount Kenya, the Rift lakes, the rolling grasslands, and scrub are all intrinsic aspects of the country's character.
Credits & Resources
(1) WildWorld Terrestrial Ecoregions: East African Montane Forests
https://www.worldwildlife.org/wildworld/profiles/terrestrial/at/at0108_full.html
(2) WildWorld Terrestrial Ecoregions: Northern Zanzibar-Inhambane Coastal Forest Mosaic
https://www.worldwildlife.org/wildworld/profiles/terrestrial/at/at0125_full.html
(3) WildWorld Terrestrial Ecoregions: Somali Acacia-Commiphora Bushlands & Thickets
https://www.worldwildlife.org/wildworld/profiles/terrestrial/at/at0715_full.html
(4) Alden, Peter C., et al. National Audubon Society Field Guide to African Wildlife. 1995.
(5) Rees, Melinda. The Aberdare Mountain Ranges. BootsnAll. June 2000.
https://www.bootsnall.com/articles/00-06/the-aberdare-mountain-ranges-nyandarua-range.html
(6) The Embassy of the Republic of Kenya: Geography/Topography