Explore the Philippines' Famous Landforms: A Showcase of Philippine Biodiversity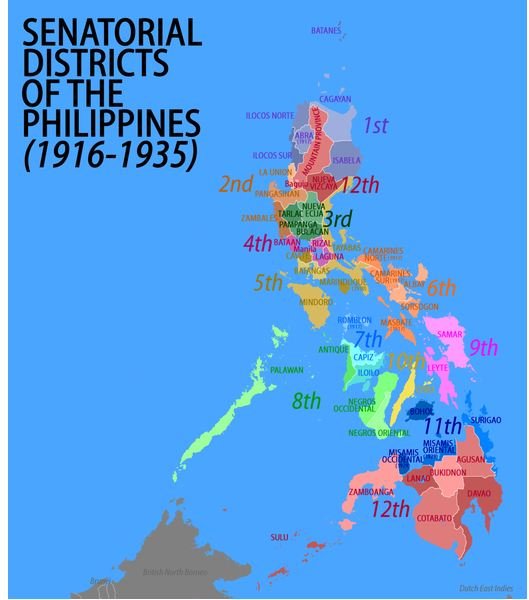 The Philippine Archipelago
The Philippines is by itself, a unique landform called an archipelago, since it is a country made up of 7,107 islands that are clumped together in the tropical parts of the Pacific Ocean.
This is one of the contributing factors why the Philippines came to be a melting pot of different races, cultures and religions, as migrants from both the West and East found suitable habitats in each of the country's major islands.
This was a land that was fondly called the "Pearl of the Orient Seas" by the early travelers and explorers. Each adventurous trek of one of the Philippines' famous landforms, brought forth new discoveries of exotic plants and wildlife, as well as treasure troves of rich natural resources. Unfortunately, this was also the reason why in its younger years, foreign empires and major countries coveted the islands, by waging wars against each other, in order to include the archipelago among their territorial conquests.
Nevertheless, the Philippines today is now a republic, albeit struggling but basking in the fame and glory brought by its homegrown talents in the persons of Manny Pacquiao, Charize Pempengco and Lea Salonga, just to mention a few.
Discover the famous Philippine landforms, their diverse environmental contributions and historical significance to the country.
The Philippine Volcanoes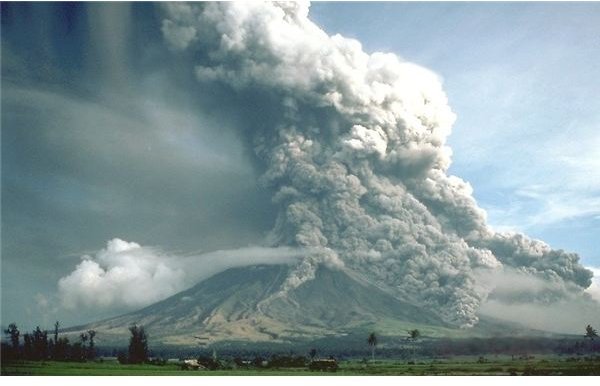 Most of the Philippines' major islands have at least one volcano to boast of, some of which are sleeping while others currently wreaking devastation one after another. The country has about thirty-seven known volcanoes, of which eighteen are confirmed as active and the most famous of which is Mount Mayon, located on the island of Luzon, in Daraga, Albay.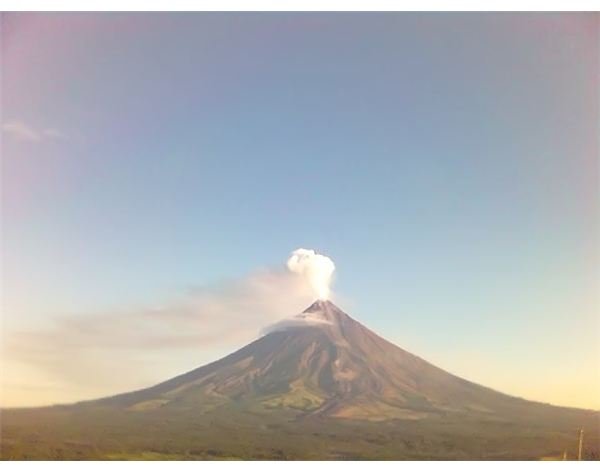 Mayon Volcano
Mount Mayon, a classic example of a strato volcano, is regarded as one among the Eight Wonders of the World because of its perfectly shaped cone, despite its continuous and frequent eruptions, which date as far back as the Spanish colonial era of the 1600s.
Its most destructive eruption was in 1716, when it tragically wiped out towns and villages lying in the path of the rushing lava and magma. The incident left a bell tower of a Spanish-built church unburied and unscathed, which still serves as a constant reminder of the volcano's capability to cause catastrophic destruction. Mt. Mayon's latest recorded major eruption was in 2006, but was seen spewing hot magma and yellowish smoke in December of 2009.
Other famous Philippine volcanoes are Mt. Pinatubo, Taal Volcano, Mt. Bulusan, Mt. Hibok-Hibok, Mt. Apo, Mt Banahaw and Mt. Iraya.
Famous Non-Volcanic Mountains, Mountain Ranges and Hills in the Philippines
The Philippines is also teeming with non-volcanic mountains, hills and mountain ranges, of which Filipinos are quite proud to share. However, this generous trait has led to the denudation of the mountain's forests, the endangerment and extinction of Philippine wildlife and the occurrences of massive flooding in their respective low lying areas.
The Banaue Rice Terraces of Sagada Mountains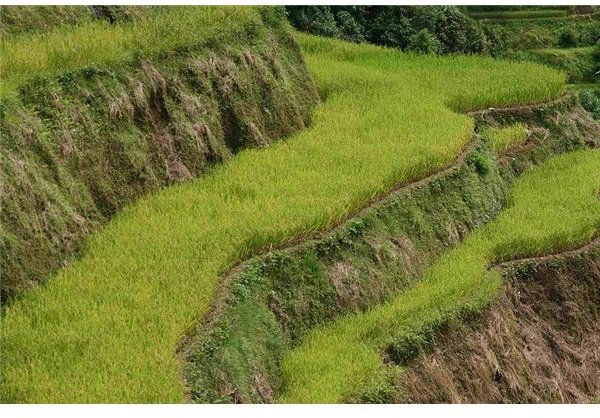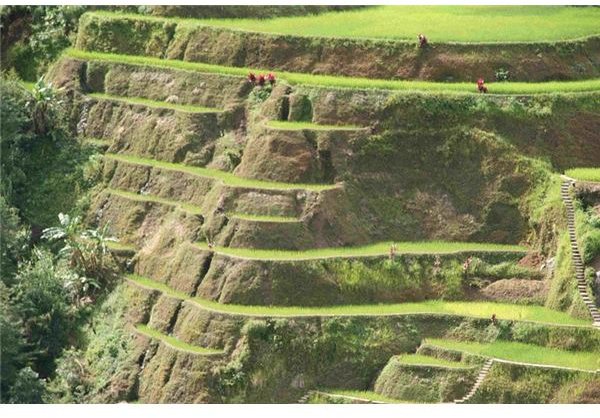 The most famous of Philippine landforms are the mountains of Sagada, located in the Mountain Province of Luzon and found in the Cordillera region. Visitors often regard the place as a Shangri-la, where caves, ancient burial sites, dangerously beautiful cliff sides are found.
Near Sagada are the Banaue Rice Terraces of Ifugao. These structures symbolize the Filipino's endurance for hard-work and adaptability. The ancestral Ifugao tribe were basically farmers, who created one of the Eight Wonders of the World, more than 2,000 years ago.
These terraces are amphitheater-like layers of rice fields, manually carved from more than 4,000 square miles of mountainsides reaching 5,000 feet above sea level. The rice terraces showcase the ancient Ifugaos' mastery of their natural settings, their impressive communal cooperation and inclinations for a harmonious co-existence with different tribal units. These are evidenced by the successful irrigational systems which were fashioned from out of the caves, crags and engineered stones, all these without any of the strife and violence common to tribal communities.
Yet the people of Ifugao fought hard and valiantly for the preservation of these terraces as their common enemy, the foreign multinational corporations, tried to bribe their way into setting up their industries in their revered lands. Many student activists and tribal leaders met their untimely demise while some mysteriously disappeared during those years of struggle. Eventually, UNESCO's declaration of this region as a World Heritage Site brought back peace to this beautiful monument of Philippine heritage.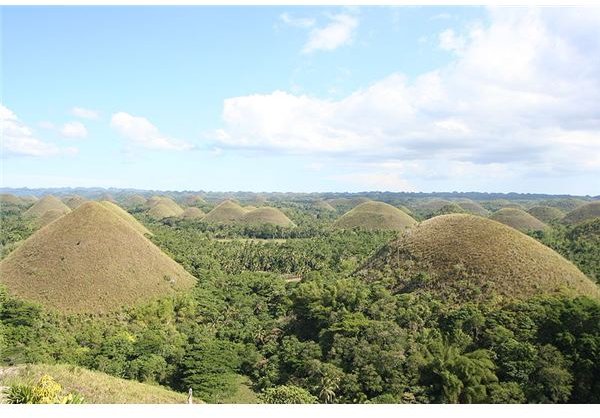 The Chocolate Hills of Bohol
The Chocolate Hills of Bohol carries with it a sense of mystery, since even today, geologists cannot find the exact explanations on how these hills were formed. The general findings however, is that this cluster of no less than 1,268 hills were man-made by ancestors of long ago. They were created out of weathered limestones that formed on top of masses of impermeable clay. The treeless hills are uniformly-shaped at the size of 30 to 50 meters high and are largely covered with grass. The grassy hills turn brown during summer, thus earning its moniker "Chocolate Hills" as the cluster of brown mounds continued to attract more visitors.
Famous Philippine Islands
With its more than seven thousand islands, it is only natural that most of the famous Philippine landforms are its islands.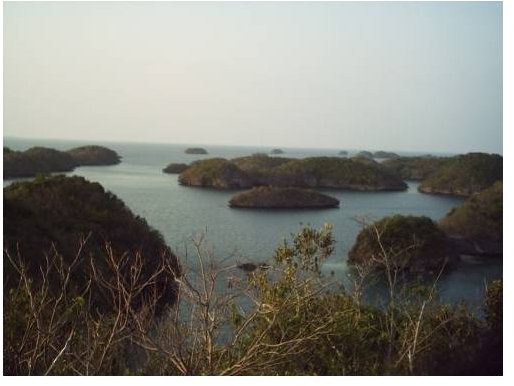 The Hundred Islands of Pangasinan
Obviously, this refers to a cluster of more than one hundred islands; 124 at low tide and 123 during high tide to be exact. They are actually coral-fossil formations whose origins date as far back as 2 million years ago and have extended to the inlands of the Lingayen Gulf, covering about 4,557 acres or 18.44 square kilometers.
The coral reef islands present perfect examples of ecological communities that provide habitat and protection to numerous exotic marine creatures, comprising sea turtles, dolphins, sea cows, bats and rodent species, geckos and lizards.
Palawan Islands
This group of islands are known as the "Cradle of Philippine Civilization", where a series of chambers known as Tabon Caves provided anthropologists with artifacts of the islands' pre-historic dwellers.
There are about 1,768 islands included in this province, attracting both local and foreign visitors.
Thanks to the local government's serous efforts, the "Last Ecological Frontier of the Philippines", as Palawan is also fondly called, have kept safe vast tracts of tropical rainforests. Visitors can still see thick canopies of trees protecting the mountain ranges, because the local government cancelled all commercial logging licenses that were previously granted by a dictatorship government.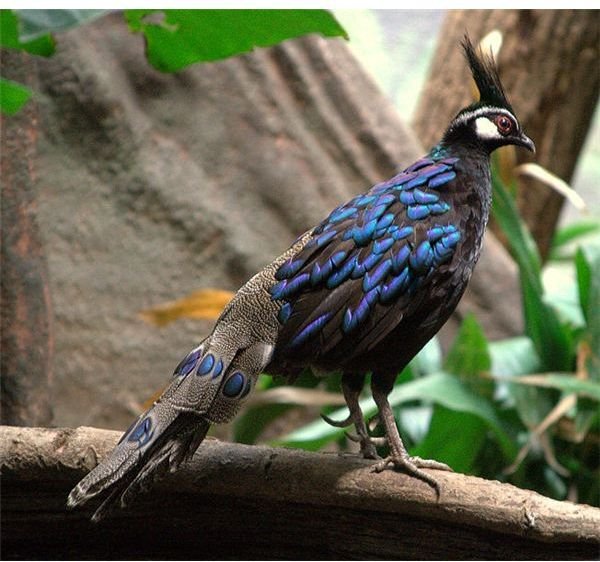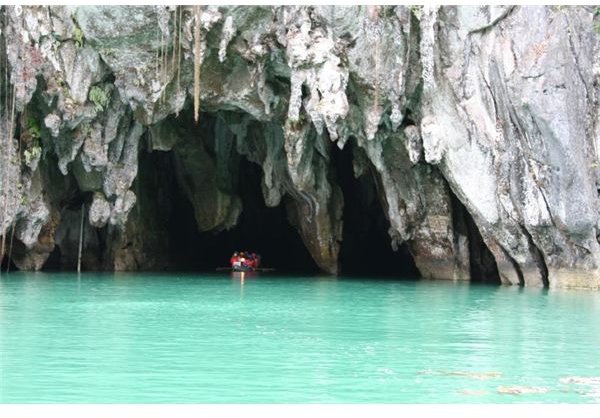 The Calauit Wildlife Sanctuary is quite successful in its conservation and preservation of the province's multitude of avian species and other exotic animals; so much so that one of Palawan's famous products are the edible bird's nest of El Nido.
The presence of the largest stretch of underground rivers provides visitors with tunnels that lead to underwater caves and chambers.
Palawan's white sand beaches are all-time tourist favorites and its seascape is said to have enamored the famous underwater explorer Jacques Cousteau.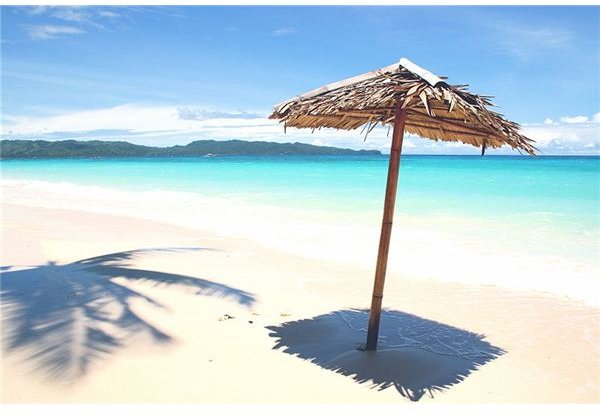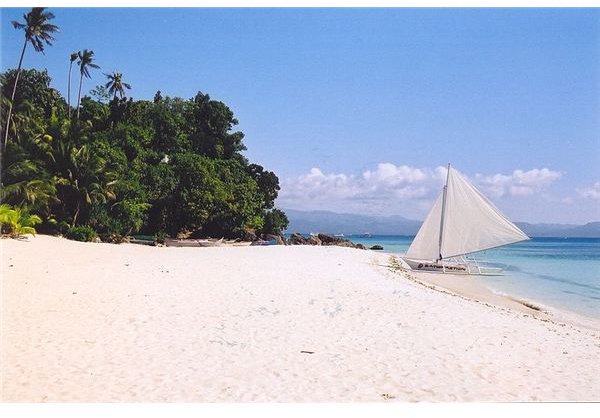 Boracay Island
Boracay was a simple unknown island of white sand beaches, which local families enjoyed to their hearts' content. However, a German tourist fell madly in love with the natural charm of the beautiful isle. This spurred him into writing a book about his beloved island, yet little did he know that it was to become a tourist haven for foreigners. His book created a tourism boom that took away the island's natural settings.
Today hotels, inns and resorts have lined the beaches and almost half of the coasts are now occupied by souvenir shops, rental outlets and an assortment of drinking bars and pubs. The serenic beauty that was once Boracay's, was replaced by festive surroundings enjoyed by revelers and fun-seekers.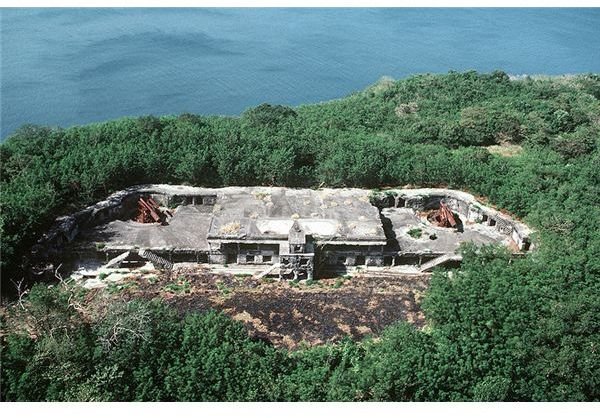 Corregidor Island
The Corregidor Island will always be one of the most famous islands of the Philippines because this was the fortress of the joint allied forces of Word War II, comprising Amercian, Australian and Filipino military troops.
The island's soldiers bravely held out against the invading forces of the Japanese Imperial army but to no avail. Since the island was under continuous heavy bombardment, the soldiers of the allied forces weakened from lack of rations. The historic Malinta Tunnel provided them protection and shelter from the heavy bombings but not from starvation and lack of artillery.
Philippine Valleys
Since the Philippines is abundant in mountainous landforms, it's natural that the country also boasts of famous valleys.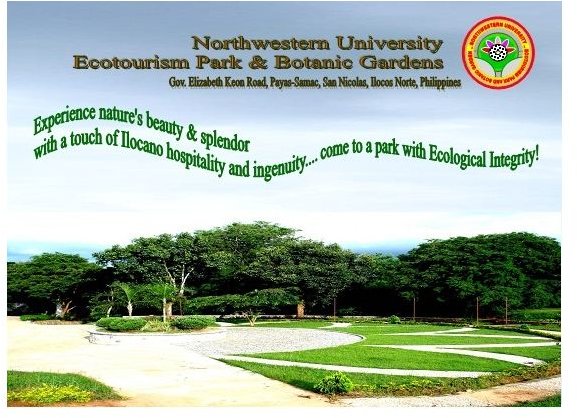 Cagayan Valley
Cagayan Valley provides the country's top agricultural crops ranging from rice, corn, sugarcane, banana, coconut and tobacco. The valley-plantation's remoteness from the trading centers helped in the preservation of the beauty of its natural countryside.
In fact in this region, travelers can find old Spanish houses preserved from centuries ago, still erected on Spanish-built streets lined with cobbled-stones.
Trinidad Valley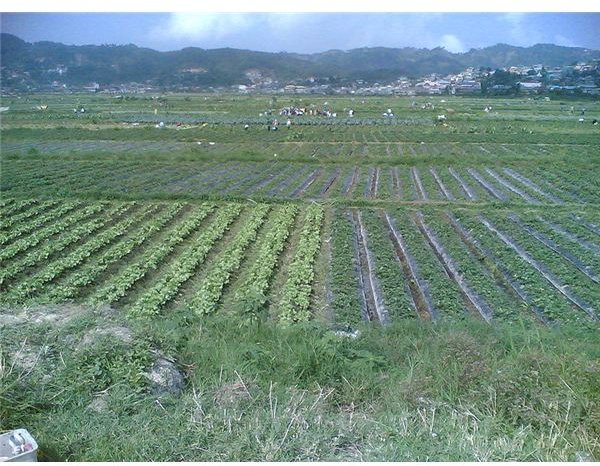 This valley is in the Mountain province and known as the Salad Bowl of the Philippines. The valley's vast lands and fertile soil produces the freshest farm-grown fruits and vegetables.
Plains and Flat Lands
Other land forms found in the Philippines are the vast rice fields. Unfortunately, their only claim to fame and popularity as among the Philippines' famous landforms is when they transform into vast acres of flat lands submerged underwater, during month long flooding. They serve as examples to those who still continue to rob their mountains of its precious forest trees.
Reference Material and Image Credits
References:
Image Credits: