How Many Solar Panels are needed to Charge 12-Volt Batteries?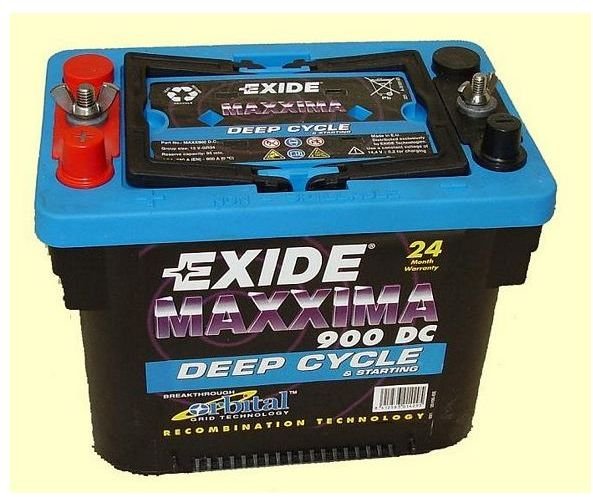 Introduction to Solar Panels for Battery Charging
12v batteries will slowly die if left unattended in a recreation vehicle or boat when they are not used for a while.
To combat this, a photovoltaic panel charging system can be set up quite easily and inexpensively and will pay for itself over and over again, as PV charging system will last for years.
This is an article on renewable energy, and in particular the use of solar PV panels to charge two deep cycle 12 volt batteries.
Image: Exide
Before we choose a PV panel to charge our batteries, we need to know how much direct sunlight the PV panel will be exposed to. We begin therefore with some maps showing the UK, Canada and USA sunshine hours, along with some suggestions on the angle to mount the PV panel for optimum exposure.
Sunshine Hours – Canada, UK and USA
Sunshine Hours – Canada, UK and USA
Listed below are the websites which give the sunshine hours for different locations;
Sunlight Hours Map (Canada)
Sunlight Hours Map (UK)
Sunlight Hours Map (USA)
It is also worth noting that a little maintenance is required on the PV panels consisting of cleaning the glass surface, mainly of bird droppings, dust and leaves, hot water and dish-washing liquid works well. (I have a small PV panel driving a water feature in the garden.)
Finally, a quick note about the setting up the angle of the panel; initially this should be set at the angle of latitude of the location, and adjusted vertically (+15 degrees) for winter months and horizontally (-15 degrees) to catch the summer sunshine rays. It is also imperative that nothing overshadows the panel as even the slightest shadow can impair its performance drastically.
I was fortunate that Contemporary Energy UK. provided a 10-yr average sunshine graph for Edinburgh and, as I live within a relatively short distance from there, I got a good idea of the W/m2/day insolation. This was recorded as being between 2.5W/m2 (spring and autumn) to 4.5W/m2/day during the summer months.
Photovoltaic Panel Selection
To successfully charge two 50 Amp/hr deep cycle batteries or keep them topped up it is necessary to choose a PV panel which will give the required output.
PV panels come in all sizes from 10W upwards and we will need a panel with an output of at least 30W to ensure a timely charge. This is especially relevant if we are charging both batteries at the same time as this will take twice as long. (See Excel Tables below; I have left the formulae in on one table so you can copy to excel)


Photovoltaic Panels – Model Selected
As can be seen from the tables a 30W PV panel will take 44 hours to charge 2 x 12 V x 50A/hr batteries simultaneously in direct sunlight. To improve on this performance the Wattage of the panel must be increased, but then it becomes expensive and defeats the purpose.
So, we will presume to use a 30W PV panel and, after research I have decided on a 30W panel supplied by Sunshine Solar (UK) this panel built-in blocking diodes, preventing current draining back to panel at night or on cloudy days and comes with 3m cables of correct size.
I have also shown a controller, which will be required for this model, and the mounting ideas are of my own design. The mounts are cheap and portable and can be assembled in minutes and installed close to the batteries.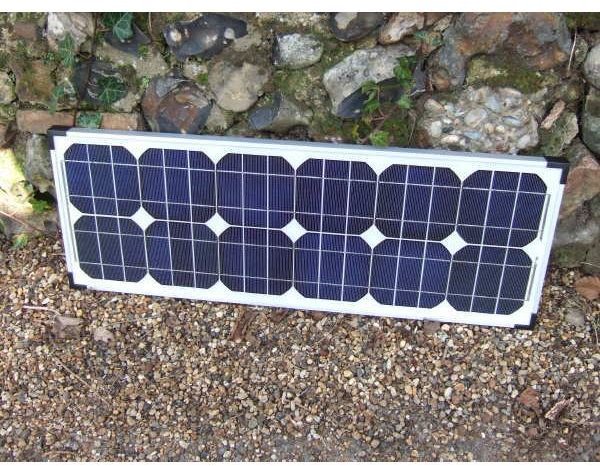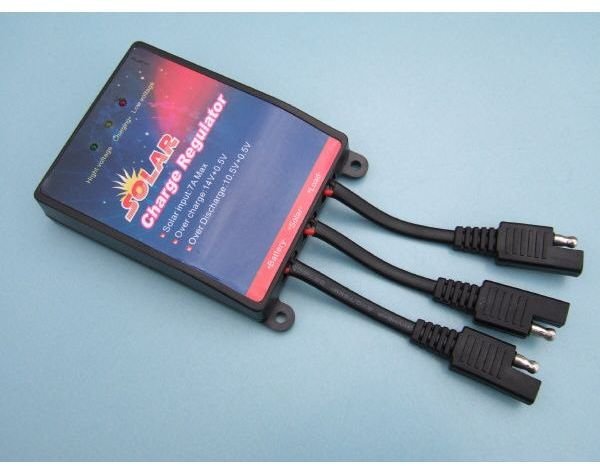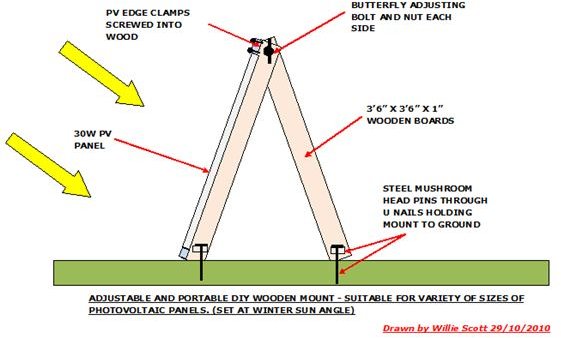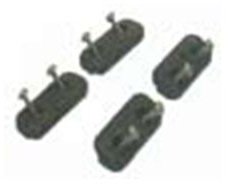 Now a quick look at the costs,
Polycrystalline 30W PV Panel = £160 ($251)
Edge Mounting Kits = £25 ($39)
Solar Charge Regulator = £20 ($31)
Various Leads and Cables = £30 ($47)
DIY Mounting Frame (materials only) = £40 ($63)
Total Costs = £275 ($431)
Quite a good Solar Panels 12v battery charging system for under $500!