The Self Sufficient House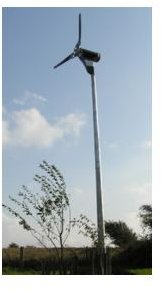 Introduction to Green Homes.
A green home should be constructed from natural materials, from which there are any number to choose such as straw bales, clay, or wood. The services of water and power supplies which we all take for granted should be produced from renewable sources of wind or solar, the water being saved through rain harvesting.
This is an article about being self-sufficient and reducing your carbon footprint. In it we will examine the different renewable sources available including natural green construction materials and recycled building materials, power and water resources, and wastewater management.
We then begin by having a look at the green and reclaimed building materials available to us all to achieve a comfortable and holistic sustainable home.
Natural Green Building Materials
Straw Bales
These are probably the cheapest form of materials to use in the construction of a house, being that the farmers have little use for straw apart from providing floor covering in the cowshed.
A few years ago I was asked to investigate the use of straw bales for heating the greenhouses and poly-tunnels in a local garden centre, and was astonished to find that the bales cost more to transport than to purchase, the farmers being more than happy to get them off their hands, nearly giving them away.
2.Logs
The logs can be supplied direct from the local sawmill although it is better to order them a year before you intend to start the construction to allow the sawyer to gather the required sizes, strip the bark back and let the logs dry out a bit.
I had a timeshare in the Highlands a number of years ago and it had log cabins built beside a loch, we often reminisce about the holidays we spent there being so peaceful, tranquil and battery charging. I was at the time an engineer working twelve hour shifts seven days a week, and returned to the daily grind fully rejuvenated after two weeks in the log cabin.
3.Clay
Clay has been used as a building construction material in numerous forms for centuries, many houses which were built over a hundred years ago, are still standing and inhabited.
If I were to build a house It would use adobe which lends itself to many designs.
The components used for construction consist of ordinary clay, straw, sand and water mixed to dough-like constituency then molded into bricks. The walls built as per normal brick methods and the mortar being adobe mix with no straw content.
This gives a good weight-bearing property, important if you intend to fix PV panels to the roof. Talking about roofs, all the houses built from natural materials require a good roof overhang to prevent water dripping onto the walls.
Renewable Energy Sources
Solar and wind can supply most of the electrical power required, and the amount of electrical power required can be calculated well in advance using a spreadsheet supplied from the Internet or by getting a local renewable energy contractor to give you an estimate. You will also need to decide if you want to export any excess power to the grid as it takes a while to set up a contract. However this gives you the option of falling back on grid power if required, otherwise you may need a standby diesel generator.
You should use no more than 10 - 14kWh of electricity per day so use this as a starting point in choosing the capacity of your generating system
Wind Turbines
Domestic wind turbines can deliver this, but remember to get a wind survey taken before doing anything else. Some local government services and Internet sites can supply this information by postcode, which can be used in the first instance.
I can recommend a Proven wind turbine of 2.5 kW output which can supply electrical power to the house at an initial cost of £7000 installed. This will include batteries and all electrical converters, remember to allow space for the batteries and controllers and a location clear from obstructions for the wind turbine.
Photovoltaic Panels
These are popular nowadays for supplying power to garden lights etc, but the domestic PV panels required to produce the power you will need are still very expensive, however payback time is said to average 4 years. I am awaiting a quote from a local firm for a set of roof PV panels for our bungalow.
Get a weight figure for the panels afore making any decisions and run it by your architect as green houses are not all great weight-bearers and remember; these panels go on your roof!
Wood-burning Stoves
The latest wood burning stoves can provide heat for cooking, domestic water and, run the central heating radiators
A good wood burning stove is the tried and tested Rayburn, which will allow cooking as well as water heating. We had one for a few years when we lived in the Western Highlands. I loved it, except cleaning it out and lighting it every morning before going to work, especially on a Sunday morning waiting for our usual fry up breakfast, my tummy was fair rumbling, ah well happy days when this was all we had to worry about. I am assured new models do not need such frequent attention and burn most biomass so these should be investigated.
Please continue to page 2
Use of Recycled Building Materials and Components
Awaiting planning permission is an ideal time to start to gather used building materials, which can be purchased from a building materials recycling facility. These companies can supply double glazed doors and windows, roofing slates and tiles, kitchen and bathroom sinks at great savings both to your pocket and the environment. Remember never use second hand electrical goods as this can be very dangerous
Be sure to get matching window units and beware of any units with condensation between the panes. Give the sizes to your architect to incorporate on the plans.
There are also companies producing furniture from renewable sources, which is an alternative second-hand furniture.
.
Integration of Passive Solar Heating and Daylighting into your House
Thermal Mass
When having your house plans drawn, tell the architect that you want to incorporate some thermal mass in the form of a Trombe Wall on a south facing wall, with an earth floor in the room behind it.
A Trombe wall consists of a double glazed unit fixed against a south-facing wall, leaving a gap in between the wall and the unit. The sun heats the air in the gap which rises and circulates through the adjacent room, heat also being stored in the wall to be used at night. The floor will also store heat during the day, releasing it at night.
Daylighting
Daylighting entails letting as much light into the rooms as possible, through windows and skylights. Modern innovations such as tube and skylight down lighter components which reflect light into the rooms are not that expensive if fitted during the build and are very efficient.
Water supply, Recycling and Sewage Treatment
Depending on which part of the world you live in rainwater is a great source of fresh water supply and is easily gathered and stored. This is achieved by excavating a pit in the garden, lining it, installing a submerged pump and covering it against ingress of dirt etc.
The rainwater can be gathered from the roof of the building filtered through mesh screen to remove moss and leaves then piped into the storage tank.
Contact the plumber and tell him you want to use grey water for watering the garden and washing the car, ask him about using it for flushing the loo – he will recommend the uses and pipe the system to achieve this, do not attempt to do this yourself as it is very easy to mix-up the systems and back siphon into the fresh water system. Basically the water from bath, shower, sinks, washing machine and dishwashers is drained to another tank in the garden and after being filtered to remove particles and grease it is pumped to wherever you are intending to use it.
Sewage Disposal
There are many methods for disposing of sewage, including septic tanks chemical tanks, dry earth toilets (Yuk) and reed beds.
The reed beds are most environmentally friendly and less smelly option, the common reed (Phragmites Australis) being supplied part grown by a specialist company. This company will advise on area of reed bed required, plant the area up and install the piping from the sewage outfall into the reed bed.
Basically, the reed has the ability to transfer oxygen from its leaves into its roots and rhizomes forming aerobic and anaerobic sections into which the harmful micro-organisms are attracted and treated not unlike the biological treatment of sewage in a sewage farm.
Regular water samples from the resulting outflow must be taken and analyzed and once confirmed that there are no harmful micro organisms present the water may be diverted to the veg garden.
Insulation and Energy Saving
This is the final section and according to the energy experts it is where we can make big savings in energy.
This can be achieved by wall and loft insulation, although many of the natural building materials are very good insulators, so wall insulation may not be required, however water pipes and hot tanks should be well insulated to prevent heat loss.
Any electrical equipment purchased should be of energy efficient AA grade and low energy bulbs used throughout the house. Other energy savings can be made through investigating government grants available for renewable energy equipment, investigating the new Feed In Tariff (FIT) and selling any excess electricity back to your supplier.
I have made a list of the relevant websites where more information on all the topics covered in this article can be found, along with a few photos descriptive of components used in a modern sustainable house.
Images from Relevant Internet Sites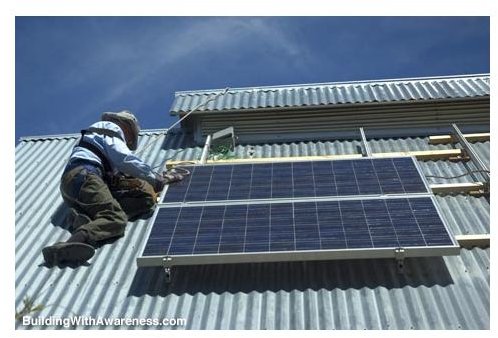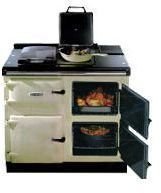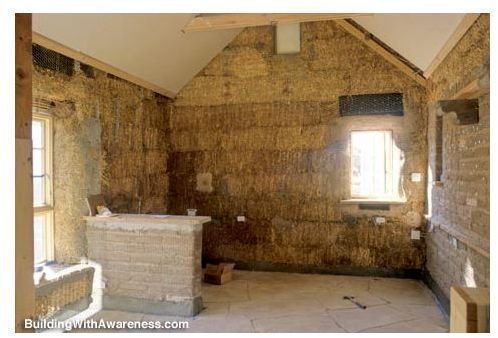 Relevant Internet Sites for Further Information on Self Sufficient Homes
Eco furniture - https://www.eco-furniture.co.uk/furniture_designer.htm
Houses built from clay - www.adobebuilder.com
Wood burning stoves - https://www.pellgen.com/fitrhi.html
Rainwater Harvesting - https://www.backyardcomposters.com/page/193548207
Recycled Building materials - nhttps://companydatabase.org/c/building-materials-used/new-materials/old-world/
Proven Wind Turbines - https://www.windandsun.co.uk/Wind/wind_proven.htm
Photo Voltaic Panels - https://www.energysavingtrust.org.uk/Generate-your-own-energy/Solar-electricity
Reed Beds - https://www.reedbeds.com/
Government grants - https://www.pellgen.com/fitrhi.html
Passive Solar Heating - https://www.brighthub.com/environment/renewable-energy/articles/67368.aspx