World's Largest Photovoltaic Power Plant: Moura Photovoltaic Power station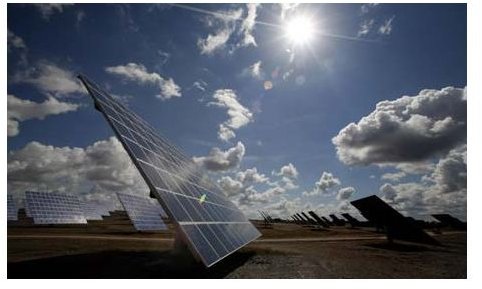 Moura Photovoltaic Power Station
The Moura Photovoltaic Power Plant is considered to the largest photovoltaic power station of the world. The plant is in the process of installation in the municipal area of Moura district, in Alentejo, Portugal. The erection of the first phase of the plant has been completed in the year 2008, while second phase will start in the year 2009 and it will be completed in the year 2010.
Important Features of Moura Photovoltaic Power Plant
The total budget of the first phase of Moura photovoltaic power station has been £250m.

In all it occupies area of 320 acres (130 hectares), which is almost twice the area occupied by London's Hyde Park.

The total capacity of the Moura photovoltaic power station is 45KW, which is good enough to fulfill the power needs of almost 30,000 homes of Portugal. In the second phase the capacity of Moura Photovoltaic Power Station will be further increased by 20MW.

The Moura Solar Photovoltaic Power Plants comprises of in all 2520 giant solar panels, which are made up of small solar panels. The size of each solar panel is almost equal to the house and the technology used for them is as sophisticated as the modern car. The solar panels have been supplied by Chinese company Yingli. The reflective head of the solar panels are permanently tilted at 45 degrees to the sun as they track the sun for 240 degrees every day.

The project will help preventing emission of 86,500 tons of CO2 per year of from the power plants using coal as the fuel.
Moura is located in the border areas of Portugal with Spain. By providing such a large budget project to the outskirts areas, the Portugal government has given economic priority to the area that has been largely excluded from the mainstream development process.
The project was initially started by Amper-Central Solar, but in the year 2006, the Spanish company Accino, one of the leaders in renewable energy industry, purchased the majority of the shares and became the owner of the project. It was not possible for the municipality of Maura to install the project of such a huge magnitude on its own, hence the president of municipality of Maura had partnered with the private company to fund the project.
Portugal has no sources of coal, oil or gas nor does it has expertise in nuclear energy. Considering this the country has made highly ambitious plans and set timetables for the renewable energy projects. Moura project is one of them which has been going on successfully as per the plans.
Mauro PhotoVoltaic Power Plant (Sources: www.guardian.co.uk)
Sources