Growth Potential for Solar Energy Market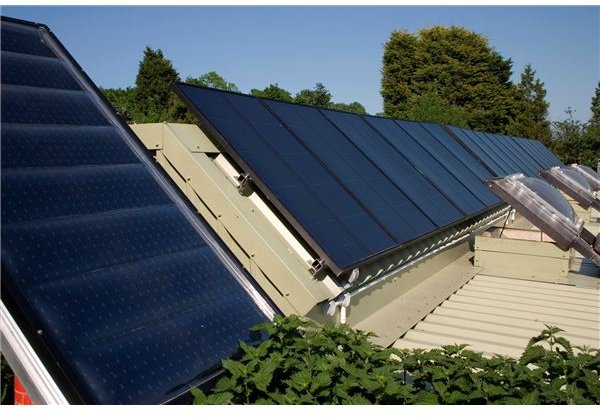 The discussion of solar power often misses a major point, solar energy potential. This is a rather simple calculation based on the square footage of a potential solar site and the average solar load capabilities of the panels that are going to be installed. After looking at the potential of solar power by calculating solar energy per square foot calculations, this business will look even more lucrative. Understanding this simple concept can help even a novice grasp the immense growth potential for the solar energy market.
Expected Solar Market Growth
Conservative estimates for the growth of the solar market see it doubling every five years. These are conservative estimates, mind you; the more optimistic predictions see exponential growth on a scale similar to the automobile industry growth between 1930 and 1980. I propose cautious optimism as there was once the same prediction made for the nuclear power industry before building costs and slow erection times stopped the industry in its tracks. Then the Three Mile Island catastrophe turned the public against nuclear energy and it never fully recovered.
Still, the U.S. Board of Labor Statistics has cited this industry for high potential growth and the U.S. Department of Energy has suggested that photovoltaic energy will rise from a capacity of 60,000 Mw to 300,000 Mw in the next ten years. This means installations will have to grow at an average rate of 12% per year (but the actually growth is expected to follow a parabolic path). The expected growth in 2011 alone is 26%.
Off-grid solar growth doesn't factor into these calculations because most off-grid applications are done by do-it-yourselfers. This information is using the specific target population of residential and commercial entities that will be looking to supplement their traditional energy use with solar systems to reduce monthly energy costs.
This is fantastic news for the solar industry; as the entire U.S. economy has been mired by the housing market crash, this industry is still growing. Any industry that can grow during a downturn in the economy should show even greater growth as the economy turns around. As long as costs continue to plummet, interest in solar systems will continue to rise. This will lead to expanded need for production and installation specialists.
Employment Opportunities in Solar
With this type of growth in the solar industry, there will be a need for more system designers, solar panel production facilities with skilled labor positions, installation technicians, site supervisors, operational managers, residential and commercial electricians, and several other peripheral jobs.
Colleges have identified this future need and have started to offer both vocational and technical degrees to accommodate the new needs of the industry. There is a general core of classes that photovoltaic systems installers and integrators will need to take to prepare them for the NABCEP (North American Board of Certified Energy Practitioners) certification test. Once these classes have been completed, an individual is fully capable of landing an entry-level position with a solar installation company.
Of course, a solid history of work in the construction field will help a job applicant hurdle to the top of the pack and any previous work as an electrician or superior knowledge of local electrical codes will almost certainly translate into a job offer.
Missed Solar Power Opportunities
The current potential solar energy per square foot is approximately 50 watts (that's 450 watts per square meter). The average amount of direct sunlight for these roofs is about 5.4 hours per day. Taking the total square footage of open rooftops in the United States that comes to 123,265,334,000 square feet of roof available for solar power (number of homes 61,632,667 x 2000 square foot average useable roof space). That makes for 6,163,266,700,000 watts or approximately 6163 gigawatts of power per day. At an average usage of 27.39 Kwh (273,900 watts per day), this energy source could power 22,501,886 homes a day or a full 1/3 of the homes in America. This could reduce the need for fossil fuels by the same amount.
Of course this doesn't factor in any area that isn't on a residential rooftop (desert land, commercial rooftops, etc.). Solar power plants are already being used in the southwestern U.S., but the potential of these plants isn't near the potential of the residential units.
Solar Power Advances
Research and development in the solar industry is still in its adolescence. Chemists and molecular engineers are currently working with microscopic compounds that can work like full-fledged solar cells. The Swansea Solar Paint project has found a molecule that can be attached to particles of the titanium dioxide pigment used in paints. This would make a sprayable solar power collector that could be used on any surface. The automobile industry has shown great interest in this technology, as have several roofing manufacturers. Advances like this in the solar industry could lead to all kinds of new job opportunities – imagine a new job titled "Solar Paint Installation Technician" or even "Solar Retrofit and Home Appearance Enhancement Tech."
The potential solar energy per square foot of the rooftops of America is more than enough to validate more research into the subject. With the invention of solar paint, even the siding of homes might be a potential solar power generator. With the siding encompassing far more square footage than the rooftop, even at the less than optimal angle the solar capacity should dwarf that of rooftops alone. It is then feasible that, if the initial installation costs are low enough, there may be no need for traditional power plants in the future.
References
Grist; Green jobs are real: U.S. solar employs more people than steel; Stephen Lacey, June 2011: https://www.grist.org/green-jobs/2011-06-14-green-jobs-are-real-u.s.-solar-employs-more-people-than-steel
U.S. Bureau of Labor Statistics; Careerss in Solar Power; James Hamilton, June 2011: https://www.bls.gov/green/solar_power/solar_power.pdf
Climate Progress; "No, the Three Mile Island Accident in 1979 Was Not a Major Cause of US Nuclear Power's Woes"; Jonathan Koomey: https://thinkprogress.org/romm/2011/06/25/244122/three-mile-island-accident-nuclear-power/
Solar Power for Homes; "The Basic Facts; Lazar Rozenblat: https://solar.smps.us/solarpower.html
Environment Maine; Clean Energy Program News; "First-Ever U.S. Solar Jobs Census Shows Major Growth in Solar Jobs"; October 2010: https://www.environmentmaine.org/newsroom/energy/energy-program-news/first-ever-u.s.-solar-jobs-census-shows-major-growth-in-solar-jobs
New Scientist; "Solar-power paint lets you generate as you decorate"; March 2008: https://www.newscientist.com/article/dn13424
Image courtesy of Dominic's Pics @ FlickR, https://www.fotopedia.com/items/flickr-3289308282