Natural Gas Drilling in Marsellus Shale Environmentally as Bad as Coal?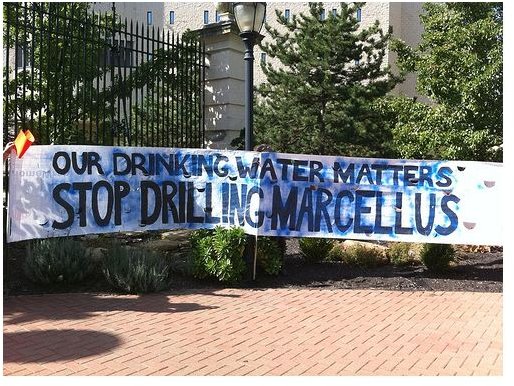 The gains from natural gas exploration are obvious. For example, natural gas drilling leads to more jobs, and the drilling companies offer lucrative contracts to land owners, often in depressed areas. On the other hand, we cannot overlook past incidents where unstructured coal mining has caused environmental deprivation that goes on to entail grave financial and environmental effects. (One town, Centralia, PA, is literally falling in from a coal seam fire under it that has been burning for over forty years.)
The people of Pennsylvania have cause to be worried about another wave of resource extraction that also has the potential to affect water resources and the environment. If the extraction of natural gas from the Marcellus Shale is not done inside the framework of existent laws and regulations that protect the environment, it is likely that yet another negative environmental contribution for our future generations may be created.
Despite reports of explosions, blowouts, and methane-polluted drinking water, no massive public awareness of the recurrence and effect of repeated spills and lakes has been acknowledged. Further, a Cornell study published in the May issue of Climatic Change Letters (105:5) states that "Extracting natural gas from the Marcellus Shale could do more to aggravate global warming than mining coal."
Conventional vs. Unconventional wells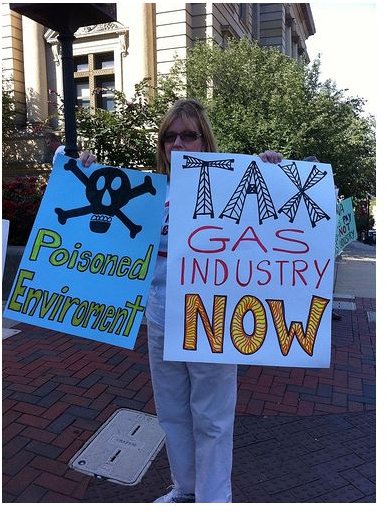 Tony Ingraffea, Professor of Engineering and member of the Cornell Fracture Group, said "We are highlighting unconventional gas because it is a contemporary problem for us in upstate New York, and because there is a big difference between developing gas from an unconventional well and a conventional well, for the mere reason that unconventional wells are bigger."
From an investing point of view, conventional natural gas exploration accommodates more risk. Gas reservoirs are characteristically smaller and often harder to locate. Then again, unconventional gas reservoirs can exist over a large area pervaded by older conventional wells, decreasing the business risk of exploration. In addition, horizontal drilling techniques may improve and expand the production of unconventional natural gas.
After test wells show the economic feasibility of a given area, unconventional resources can be acquired on a large scale.
Methane Leaks
Marcellus shale is a rock development situated around 5,000 to 8,000 feet below much of Pennsylvania and parts of southern New York, Ohio, and West Virginia. It is thought to comprise trillions of cubic feet of natural gas.Until recently, drilling gas from these shale sources was considered to be very expensive, but increasing natural gas prices and developments made in drilling technology, such as combining high-volume hydraulic fracturing and horizontal drilling, have made new drilling possible. Already the effects of this drilling have included air and water pollution, "migrating gas," and one exploding house. (See the 2010 Riverkeeper report for a long list of existing problems.)
Natural gas contains large volume of methane, and 3.6% to 7.9% of the methane from shale-gas production escapes to the environment through vents and outflows during the operational lifetime of a well. The higher discharges from shale gas take place when the wells are hydraulically fractured.
Numerous chemical substances are added to millions of gallons of water to make hydro-fracking possible. Methane escapes from these flow-back return fluids as well as during drill out subsequent to the fracturing.
Methane is a potent greenhouse gas, with a global warming potential far greater than that of carbon dioxide, especially over the time horizon of the first few decades pursuing emission. Methane adds considerably to the greenhouse gas footprint of shale gas on shorter time ranges.
The hazard for human and ecological contact is largest from possible spills. Actually extraction of natural gas from fracking is an unconventional method of drilling that is less dangerous, for operators, than the conventional mode of oil drilling. However, hydrofracking natural gas from Marcellus Shale wells is dirtier than coal extraction due to this leakage of methane gas.
A property owner in Pennsylvania, when asked about the effect of Marcellus shale drilling stated, "My family owns a beautiful farm (non-working) in Bradford County, PA, in a little hamlet called French Azilum. In the summer, we spend time there, resting, breathing in the fresh air, enjoying the wild flowers, the bright stars and planets on a clear moonlit night, and swimming in the Susquehanna River. It is a paradise to us, and has been our retreat since the 1930s. If gas drilling is allowed to continue, Bradford County and all of Pennsylvania will be forever changed, ruined beyond repair."
The Government Needs to Act
Rep. Eugene DePasquale (D-NY), a former Department of Environmental Protection employee, said, "As more accidents occur and there are more revelations, such as polluted and radioactive water being sent to sewage treatment plants… the public is saying, whoa, whoa, whoa — not so fast." (See article at Lancaster Online.)
But all this commotion and confusion with regard to methane discharge can be put to an end if policy makers take proper steps. It has been estimated that green technologies have the capability to decrease methane emissions during natural gas extraction by about 40% (GAO 2010). There are reports stating that with the use of smart-automated plunger lifts, venting can be reduced by as far as 99%.
According to EPA (2010) "Methane emissions during the flow-back period in theory can be reduced by up to 90% through Reduced Emission Completions technologies, or REC. However, REC technologies require that pipelines to the well are in place prior to completion, which is not always possible in emerging development areas."
References
1.Natural Gas from Fracking Could Be 'Dirtier' Than Coal
2. The Hemlock: Volume 2, Issue 6 (March 2009)
3. EPA (2010) Greenhouse gas emissions reporting from the petroleum and natural gas industry. Background Technical Support Document; https://www.epa.gov/climatechange /emissions/downloads10/Subpart-W_TSD.pdf accessed 31 May 2011.
4. GAO (2010) Federal oil and gas leases: opportunities exist to capture vented and flared natural gas, which would increase royalty payments and reduce greenhouse gases. GAO-11–34 U.S. General Accountability Office Washington DC; https://www.gao.gov/new. items/d1134.pdf accessed 31 May 2011.
Image references
MarcellusProtest – IMG_0824
MarcellusProtest – IMG_0840