Conserving Electricity in the House - Common Sense Steps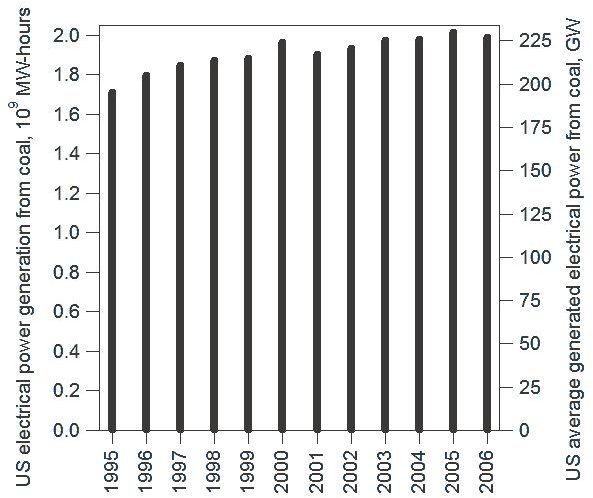 Why Conserving Energy Is Important
From birth, you have enjoyed the benefits of a wonderful discovery called 'Electricity.' There are ways you can cut down on energy costs and save valuable resources if you start thinking about conserving electricity.
Conserving electricity in the house not only saves money and saves the environment but also comes with additional benefits. Conserving electricity has become a trend these days. Electronic and electrical gadgets that are hitting the market not only consume less power but are really stylish too. Wouldn't it be wonderful to boast to your friends and tell them how much you changed your life and the lives of others by reading this little article?
The graph above shows how much thermal energy is generated every year (click to enlarge). Aren't the figures staggering? Increase of numbers in this chart implies the increase in consumer consumption of electricity and increase in pollution. It's time you gave serious thought to electricity conservation steps in your home by using some of these tips for conserving electricity:
Saves money: With each passing day, the value and importance of money is increasing and people seek ways to get the most for their money. Conserving electricity will reduce your electricity bill and thereby, save money.

Lower your ecological footprint: Everyone wants a pollution-free environment. Thermal power stations use a lot of coal to produce electricity. This in turn increases pollution. Switching over to renewable energy resources will eventually lead to less pollution.
Modern technology at your disposal: When computers first came out, they were considered more of a future technology all set to change the way you live and work. Today, it is hard to finish your day without the involvement of a computer in one way or the another. In such an age, people look for low cost appliances and those efficient in using power. Equipping yourself with such technology, will not only keep up with current trends but also help conserve electricity in your home.

Benefits offered by the government: Several benefits are offered by the government, depending on which country you live in. In some US states for example, you can reap tax breaks if you own a solar pool heater. In the UK, people are ready to pay nearly 10,000 pounds extra if a house purchased has energy saving features and high environmental standards. Do some research and check out what benefits are offered by federal, state, and local governments.
Image Credit: Wikimedia Commons/Xenonice
Tips for Conserving Energy
Don't leave electrical or electronic appliances on: Many people leave on appliances like computers, TVs, lights, and fans 24/7, even when they're not in use. Avoid this. This tip for conserving electricity only takes a flick of the switch. Post reminders around electrical components until switching off becomes the norm.

Switch to renewable power resources:Use solar pool heaters, solar cookers, appliances that use solar cells, etc. Visit websites and home and garden shows to learn how to use renewable energy resources. Who knows, you might just pick up a hobby.
Use energy efficient appliances and lighting: Use Light Emitting Diodes (LEDs) that are much brighter than conventional lights and run on less power. The long life they offer will make up for the extra costs equaling long-term savings. When you buy an appliance, make sure it's Energy Star rated.

Proper insulation: A well insulated house keeps homes warm in the winter and cooler in hotter months. If you use in-room heaters or air conditioners, the appliances work more efficiently due to proper insulation.

Spread awareness: Many people have no idea how to save electricity. Be a mentor and guide others where you can.
References
1) Author's own experience.
2) Eskom - https://www.eskom.co.za/customers/electricitytips/conservingelectricity_content.html
3) Energy Saving Advice - https://www.energysavingadvice.co.uk/energy-saving-tips/benefits-of-saving-energy-at-home.php
4) Energy Quest - https://www.energyquest.ca.gov/saving_energy/index.html