Natures Purest Hug Me Baby Swing and Bouncer: A Great, Green Choice!
Natures Purest: A Green Baby Product Company
Natures Purest is one of the quickest growing eco-conscious companies to make baby products out there. They have many great lines of baby products that are all made with naturally pigmented organic cotton. Natures Purest is based out of Britain and is made up of a small team of dedicated professionals who are committed to making baby products that support the healthiest production techniques for your baby and promote environmental stability as well.
Naturally Colored Cotton
At Natures Purest they use only naturally colored cotton. That means that there are no harsh dyes, perfumes, pesticides or chemicals in any of their products. Naturally colored cotton also refers to the fact that the soft colors used for their baby products are the actual colors that come from the pigmented fibers of brown and green found in nature. Considering our skin is the largest organ of the human body, and absorbs what we put on it like a sponge, you can see how important it is to take care in what you are letting get into your babies delicate system.
Natures Purest also points out that there are many benefits to using naturally colored cotton for both baby and the earth. Conventional cotton requires one cup of harmful chemicals to make a single t-shirt, and even though conventional cotton farms make up only 3% of the farms worldwide they are accountable for 25% the worlds pesticide use. To dispose of the chemicals used in conventional cotton you must add even more toxins into already delicate eco systems.
Baby Swing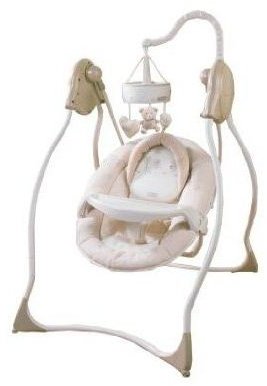 Natures Purest Hug Me Baby Swing (5 out of 5)
Natures Purest Hug Me Baby Swing is a perfect choice for eco-conscious parents! The swing is made from 100% naturally colored cotton and all of its functions promote conservation. It comes in natural beige, green and light brown colors and has a mobile dangling with a little teddy bear, a leaf and a heart; which goes well with the sounds that can play for your baby to enjoy. The sound features include nature sounds, a heartbeat in the womb, and two songs. There is a volume control as well- a perfect addition when baby is falling asleep and you want the sounds to be a peaceful hush. Natures Purest Hug Me Baby Swing has five different swing speeds so that your baby can lull off to sleep on a low speed and be all smiles on faster speed.
Another eco-friendly feature of Natures Purest Hug Me Baby Swing is that it is set to an automatic timer. The swinging and sound functions of the swing will turn off automatically after twenty minutes if you haven't already stopped it before that.
Natures Purest Hug Me Baby Bouncer (2 out of 5)
Natures Purest Hug Me Baby Bouncer is decorated with the same theme as the swing and has similar functions. The bouncer has the same selection of sounds with volume control as the swing, but it also vibrates. And like the swing, all of the bouncer's function will turn off automatically after twenty minutes.
My 9-month old baby has used both Natures Purest Hug Me Baby Swing and Bouncer and I've been impressed with Natures Purest products as a whole. However, I haven't been as pleased with the bouncer as I have been with the swing, and that is why I rated the bouncer a 2. One thing I don't like about the bouncer is that I didn't want to put my baby in it for a quite a few months because I didn't feel that it provided enough support for her wobbly head, even though it is advertised as being appropriate from birth. The other thing I didn't like too much about the bouncer is that the toys don't hold a baby's attention for very long. It doesn't seem to bother her in the swing, perhaps because they are dangling and dancing above her head. But babies do like bright colors, and that would have to be the only downside to naturally colored cotton. I wouldn't change their use of naturally colored cotton though, and so I don't hold it too much against them. Unfortunately though my baby does seem to, and of course her opinion is the one that matters the most. Still, I must impress that this is minor flaw in an otherwise superb company. And the colors are very calming and soothing, but are just not quite stimulating enough for the rapidly growing mind of a baby.
UPDATE:
Natures Purest Hug Me Baby Bouncer has been discontinued! Although it will likely be in circulation for second-hand purchase through such sites like E-Bay and Craig's List and/or garage sales, etc., so please keep in mind the above mentioned review when deciding to buy it.
Again I feel the need to express that I feel Natures Purest is a great company with a great mission- and it was probably wise of them to pull the bouncer from their product line since it really was not up to par.
Baby Bouncer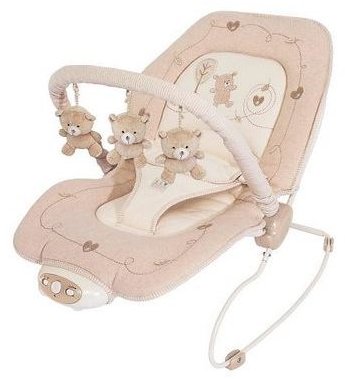 Where To Find Natures Purest Baby Products
You can now find Natures Purest Baby Swing and Bouncer, and many other products they make, at huge retailers like Toys R' Us and Babies R' Us. Amazon.com also carries many of Natures Purest baby products. Additionally, you can look for the nearest distributor to where you live by visiting the Natures Purest website and clicking on the distributor locator link in the upper left hand corner. A Great Company and Great Baby Products!
UPDATE:
Natures Purest Hug Me Baby Bouncer has been discontinued, although it may still be available for second-purchase.
A Great Company and Great Baby Products
Overall I would rate Natures Purest with a 5 in terms of eco-friendly production and manufacturing techniques, consideration to baby's health, consideration to baby's enjoyment and product durability. Natures Purest is also a company who are constantly seeking to improve and grow in environmentally conscious ways. They aim to be recognized as leaders in the green baby market and to be certified by all the major organic and green organizations like the GOTS and the Organic Exchange program. Natures Purest is a fantastic company with an even better mission: to save the earth one baby at a time!
Images