Review of Nature's Purest Organic Bassinet for Baby
With the coming of a brand new little bundle of joy also comes the need for many new items to welcome this beautiful new life into our world. But while getting all of the essentials we still want to shop with an green and natural perspective for the environment and for baby. One of those essential needs of course, is the bassinet and one green choice is the organic bassinet by Nature's Purest.
Features and The Up Side: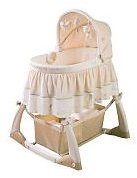 The Nature's Purest bassinet is made from cotton that is completely natural and organically grown and uses only all natural means of coloring by using natural cotton buds that grow in beautiful shades of cream, brown, and green to give a soothing and natural look to the bassinet that will fit any décor. This produces a very soft fabric that is gentle for baby's skin.
The bassinet is also very sturdy and comes with an attached, stationary mobile and a hand storage basket underneath for stashing diapers and other essentials. It also has an attachment that plays music and nature sounds and offers a subtle vibration for baby. It also has wheels to make moving the bassinet easy and is designed so that you can gently rock the bassinet from side to side to get your baby to sleep.
The Down Side:
Stationary Mobile:
Because the mobile is stationary, your baby can become bored with it very quickly, my son lost interested in it after only a couple of times. Also the positioning of the mobile can sometimes be a bit awkard for the baby to see, depending on where how he is laying.
Battery Hog:
The attatchment is by far the biggest downside because while it is a great way to get your baby to sleep it ate through batteries like crazy, needing to be replaced nearly every day. So for the amount of batteries you have to use, the environmental benefits do not seem to out way each other. Of course, you can stock up on rechargeable batteries but it ate through these even faster.
To despite the organic materials used to make the bassinet there are probably better choices out there that that would not result in throwing away a ton of batteries and will not make you go insane fighting with the attatchment and having your baby wake up in the middle of the night when it starts making that dead battery whining sound. In fact you may opt for a cradle swing instead that can run off of batteries or electricity to safe yourself a lot of headaches and to save your wallet from buying a lot of batteries.