Folding Clothes Drying Rack Review: A Clothes Dryer Rack Saves Money
A Quick and Easy Way to Hang Laundry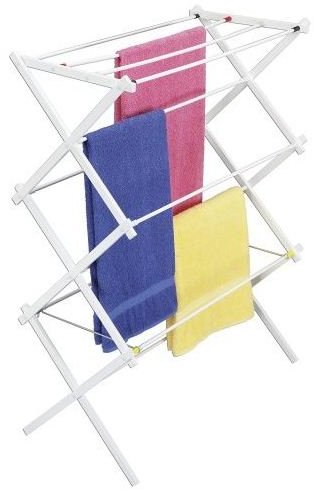 A Folding Frame Drying Rack gives you a lot of area upon which to hang your clothes. These racks are free standing, so you can use all the floor or patio area you wish when you are busy drying clothes. Then, when the laundry is dry and put away, you can have all that floor area back because you can fold up the racks and put them away. Even if you were to purchase a couple of these racks to get going with out door clothes drying right away, you would never regret having the extra drying area available to you in the future, let's say after having installed a larger or more permanent clothes drying facility. Follow the link to purchase a Folding Frame Drying Rack online for twenty dollars. Using a folding drying rack can save money and be a good choice for green laundry.
Outdoor Folding Frame Drying Rack Extraordinair (5 out of 5)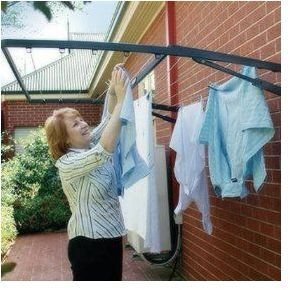 Folding Frame Drying Racks for the outdoors (or a larger indoor space) are new to the United States, but have been enjoyed in Europe for some time. They are very popular items. A Folding Frame Drying rack can be installed as a wall mounted clothes drying rack in areas that you would like access to after your laundry has dried. They might fit along a passage way or up on a balcony. A lot of clothing can be hung in a relatively small area with a folding frame dying rack. The example displayed here is of a very sturdy construction, and comes with a ten year guarantee.
This Outdoor Clothes Folding Clothesline Dryer - Supa Fold 210 in Pebble by Hills - is one of the larger folding frame clotheslines from Hills. This rack is a wall mounted fold down hanging clothes rack and can be fixed to a wall but it can also be used free standing in the yard (an optional post kit is also available).
The Supa Fold 210 is more expensive at $148.00 than other laundry hanging options. But, this drying rack takes care of seventy feet of laundry at a time in a space that is only 5 foot x 7 1/2 feet in area. The dryer is solidly constructed, and has a ten year guarantee. You are paying for the convenience of use of a well built utility that can be folded flat and out of the way, when you wish to use the laundry drying area differently. If you have the cash, a drying rack like this one will pay for itself in a year or less, and will make using a solar clothes dryer just that much easier and more enjoyable.
Solid wall mounting hardware is included with the dryer, and step-by-step instructions are provided for assembly and installation.
The Hills Brand line of outdoor dryers originated in Australia and their dryers are world renowned for quality and workmanship. Their products will last you for years and come with a 10 year manufacturer warranty.
Size: Drying Space 69ft ; Frame 7.2ft x 5ft; 10 Lines Color: Pebble Style: Folding Frame
This folding dryer frame can also be purchased online.
This post is part of the series: Solar Laundry - An introduction to the Gentle Art
The clothesline, much beloved in some circles and yet equally despised in others is the technological base of truly green clothes drying. To the clothesline enthusiast, the ritual of hanging out the laundry is not a chore, but a rite. Here are a few notes, and a few clothes lines.