Steps for Starting a Market Garden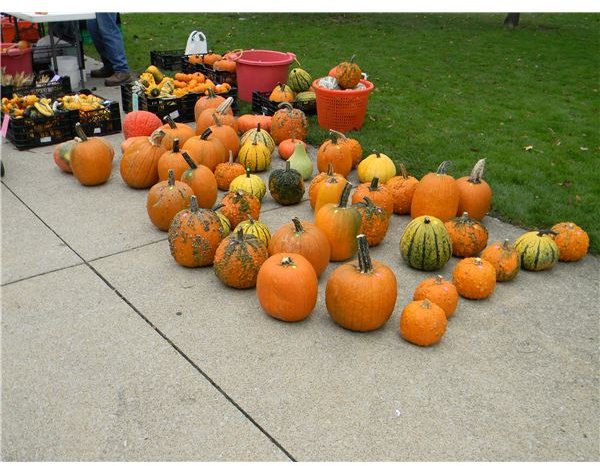 What Is a Market Garden?
A market garden is one which is grown primarily for the purpose of selling vegetables, fruits, flowers and/or herbs to others. These products can be sold at a roadside stand in a front yard, at farmers markets or wholesale to retailers. The National Sustainable Agriculture Information Service suggests running a market garden as a business to make it profitable.
How Much Space Is Required?
Depending upon the product, starting a market garden can be done in a relatively small amount of space. Someone who wishes to specialize in herbs, flowers or salad greens can easily grow them in a small urban backyard.
Tomatoes require a larger amount of space due to fewer fruits and larger plants. Potatoes, sweet corn, summer squash and pumpkins
are other products that sell well but require more space.
When planning a market garden for a backyard or a few acres, it's better to specialize in just a few varieties to not become overwhelmed. This also allows for larger quantities of those items.
Is It Expensive?
There isn't a large cash outlay required when planting a market garden. The space will have to be tilled. For small plots for greens, flowers or herbs, this can be done with a spade and some time. For larger plots, hiring a local farmer or renting a rototiller the first year is much better than buying a tractor.
Standard garden tools can be found at any hardware or big box store. A spade, a hoe and a hard rake to work the soil as well as a small hand-trowel for transplanting seedlings are the most common tools. A garden hose with a sprinkler attachment rounds out the necessary items.
If planning far enough ahead, it is possible to buy seeds and start them indoors six to eight weeks before the last frost. In the case of tomatoes, the cost of buying seeds and starting supplies is much less than buying bedding plants at the greenhouse.
There are several long-standing reputable seed companies that will send a free catalog. Please see the resources for links.
Is It Hard Work?
Beginning a market garden from scratch is labor-intensive. The soil must be prepared, seeds and seedlings must be planted, weeds must be pulled and pests must be dealt with. Once the product is ripe, it must be picked and cleaned for market.
The sales price must include a profit margin for the labor without overcharging. If selling directly to the public at a roadside stand or farmers market, those shoppers understand they will pay more than at the large grocery chain. To find a reasonable price, visiting area markets will give a better idea of an accepted price.
Selling to Grocery Stores
A great goal for a market garden is the ability to supply a small, locally owned grocery store with a product such as sweet corn or tomatoes. An agreement should be reached with the store owner or manager prior to planting to ensure there is indeed a market for that product. The grower's wholesale price will generally be less than retail in order to provide a profit for both parties.
Licensing and the IRS
The best source for licensing information is the state Department of Agriculture. Some municipalities or even farmers market managers may require a vendor's license in order to sell at the market.
According to the IRS, any earned income is taxable income so accurate records must be kept. Expenses that may be deductible include tilling services, seeds, fertilizer, packaging, market space fees and travel expenses to transport the product. Keeping all receipts and detailed mileage logs will help keep the tax man satisfied.
Starting a market garden as a part-time job can be rewarding and help bring local food to more people.
Resources: Seed Companies
Photos by Debbie Henthorn