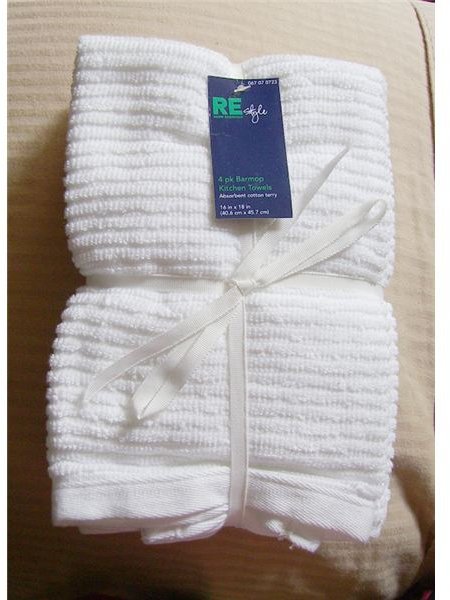 The Paper Towel Conundrum
What do you do when you spill a liquid on the kitchen counter? Odds are, you tear off a square of paper towel. What if you have some fried chicken fresh from the skillet that you want to sap the excess oil from? Out come the paper towels. See those little grease spots left on the top of the range after you've cooked fried chicken? Paper towels go to work again.
All those paper towels fill up your garbage can. You can literally see how many you use. So many trees, so much packaging, so much travel from the factory – and our work in the kitchen keeps gobbling them up.
But what else can we do?
As it turns out, quite a bit. You can find quite a few paper towel alternatives if you open your eyes, open your mind, and get used to the idea of reuse. Here are my top seven ideas:
Top Seven Paper Towel Alternatives
1. Skoy – this Encinitas, California-based company makes a towel that combines cotton and wood-based cellulose pulp. Each Skoy cloth can absorb fifteen times its weight –what paper towel can do that? They are machine washable, compostable when finally worn out, and come in two sizes (7x7" and 12x10"). Available in white or bright, kitchen-cheering colors at www.skoycloth.com.
2. Mystic Maid Super-Absorbent Drying Towel – this blue cloth is extra-soft and long-lasting, as well as streak-and-lint free – avoiding the problem that paper towels have of leaving fibers behind on glass. Find at www.mysticmaid.com or kitchen supply stores such as Sur La Table.
3. PeopleTowels – made from 100% organic cotton, these 9x9" towels have groovy graphics to hip up the ecoconscious home. Find at www.peopletowels.com.
4. ShamWow! – you may laugh at the infomercials, but ShamWow is actually a good paper towel substitute. If you're one of the types who doesn't own a TV, buy them at Bed, Bath, and Beyond or www.ShamWow.com.
5. Cheesecloth – this loosely woven cloth, meant to separate the curds from the whey in making cheese, can also serve as a paper towel substitute. You can usually find it at stores that sell cooking supplies.
6. Cloth diapers – for sanitary and aesthetic reasons, don't use them for their original purpose first.
7. REstyle Bar Towels at Target – what I'm starting to use right now. (I'm going to need to get over my taboo about permanent stains on kitchen towels – these guys are going to have them!) A pack of four is only $3.99 – at this price, you can buy plenty. Go to your local Target and check the kitchen section (so far, they are not available online).
How Many Do You Need?
How many towels/cloths should you have on hand? Twenty is a good place to start if you are a one- or two-person household with moderate kitchen use. The more people in the household, the more towels you will need. Remember, when the cloth is too wet, you will need to hang it up to dry or wash it. If you use a cloth to absorb fried food grease, wash it by hand for sure.
The small work of cleaning reusable towels will weigh nearly nothing compared to the joy of removing one more unsustainable item from your household. That in itself will make your kitchen a happier place. Find the reusable towel that will work for you, and you'll understand.
Images