Non-Toxic Co-Sleepers for Baby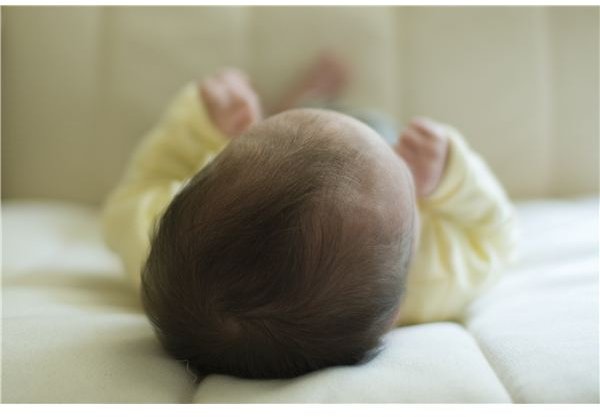 Every parent wants only the best for their baby, but what is the best choice when it comes to baby's bedding? For many families, the practice of co-sleeping proves to be the best choice, but even this option comes with a multitude of decisions. Perhaps one of the most important factors to consider when choosing a co-sleeper for your baby would be the material used during manufacturing. Green-minded parents who wish to make an eco-friendly choice may choose to purchase non-toxic co-sleepers for baby, not only for the health of the environment, but more importantly for the health of their baby.
Why Choose a Non-Toxic Co-Sleeper?
A baby typically spends between 10 and 14 hours sleeping in their bed. With that much time spent on their mattress, it is important that the mattress provide a safe, clean and healthy environment. The first few years of a child's life are spent developing their immune, respiratory and neurological systems. This fact makes a baby more susceptible to toxins that may enter their body through the respiratory system. When considering the amount of time a baby spends breathing the air surrounding their mattress, it is easy to see why it is important to ensure that the mattress is not emitting potentially harmful fumes.
According to Jane Sheppard from healthychild.com, the typical crib or co-sleeper mattress usually contains a form of polyurethane foam encased in a vinyl PVC covering. She goes on to say:
"Polyurethane foam, the typical crib mattress filling material, is made from petroleum with toxic chemical additives. Potential health effects can include cardiac arrhythmias, breathlessness, chest discomfort, irritation of mucous membranes, headache, coughing, asthma-like allergic reaction, dizziness, weakness, fatigue, nausea, blurred vision, and reduced pulmonary function.
Vinyl (polyvinyl chloride or PVC) is considered to be one of the most toxic and environmentally unfriendly plastics used. Since PVC is a hard plastic, chemical plasticizers must be added to make it into a soft and flexible covering. These plasticizers (the most commonly used are phthalates) make up 30%-40% of the weight of the vinyl surface of a crib mattress. They are not bound to the vinyl and can leach out or off-gas into the surrounding air."
With this information in mind, it is not hard to see why choosing a non-toxic co-sleeper may be best for baby. There are several options to consider when selecting a non-toxic co-sleeper and this guide will offer resources for several different styles, allowing you to choose the best option for your family.
Non-Toxic Mattresses for Port-a-Cribs
Many families choose to use a port-a-crib next to the family bed for co-sleeping. This option offers the convenience of being able to travel with the crib when necessary. Companies such as Naturepedic offer non-toxic port-a-crib mattresses that are made from organic cotton. The full line of Naturepedic crib mattresses has been tested and certified by Greenguard, an institute whose mission is to reduce the amount of people's exposure to chemicals and other pollutants. Products may only be certified by Greenguard after thorough testing and are guaranteed not to emit toxic gases. Naturepedic port-a-crib mattresses have been carefully designed to be non-toxic, chemical free and waterproof while offering the firm support that pediatricians recommend for infants and newborns.
Non-Toxic Mattresses for Traditional Co-Sleepers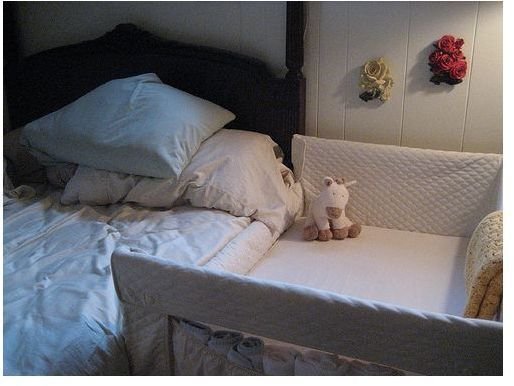 For families that wish to use the traditional style of co-sleeper, there are non-toxic mattresses available from companies such as Arm's Reach Concepts. This company's signature brand "Nature Perfect" offers certified organic cotton mattresses featuring water-resistant wool. The addition of wool allows the core of the mattress to stay dry without the traditional vinyl lining or covering. All of the "Nature Perfect" line of mattresses and bedding has been created with organic cotton certified to be free of pesticides and other chemicals.
Non-Toxic Family Bed Co-Sleeper
One of the more unique choices in co-sleeping is the "Family Bed Co-Sleeper" from Bean Products. This co-sleeper is unusual in that it rests on top of the family bed. Featuring a detachable bolster to prevent baby from rolling off, this co-sleeper is made from 100% organic cotton flannel and can be machine-washed. The bolster pillow is filled with a non-toxic, hypoallergenic poly fill that is manufactured from recycled plastic bottles. This product is advertised as being eco-friendly and is said to not emit any gasses or harmful fumes.
Making the Choice
Parenting involves a great many choices. Making the choice to provide the healthiest, safest sleeping option for baby is an easy one. When co-sleeping, the option of choosing non-toxic co-sleepers for baby is an option worth exploring.
Article and Photo Sources
https://www.healthychild.com/store/products/Organic-Cotton-Porta%252dCrib-Mattress.html
https://www.armsreach.com/index.php?main_page=index&cPath=cPath=cPath=3_18_9
https://www.tinybirdsorganics.com/organiccotton/organic-cosleeper-mattress.html
https://www.beanproducts.com/mm5/merchant.mvc?Screen=PROD&Store_Code=001&Product_Code=10HPH&Category_Code=
https://www.greenguard.org/en/index.aspx
Photo credit for "Sleeping Baby in Crib" https://commons.wikimedia.org/wiki/File:Sleeping_baby_in_crib.jpg
Photo credit for "Arm's Reach Co-Sleeper": www.hippiedippiebebe.com via https://www.flickr.com/photos/[email protected]/2401608168