Guide to Recycled Furnishings: Room by Room Ideas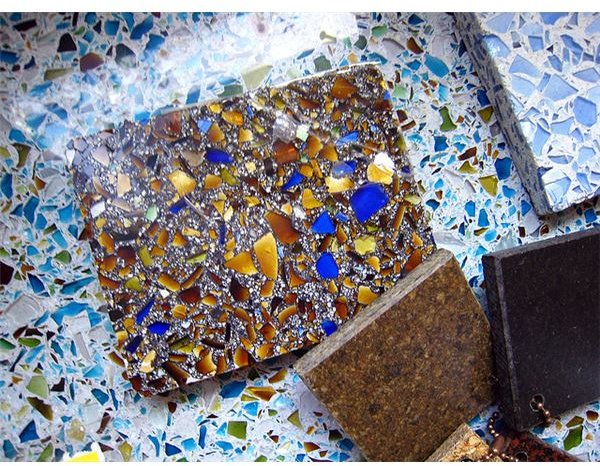 Kitchens
With their high-energy consumption,
it is no wonder that the kitchen is one of the least "green" rooms in the house. But there are many eco-friendly products and recycled furnishings that can drastically alter your kitchen's green credentials.
When choosing kitchen countertops, why not shun the usual wood for countertops made from recycled materials such as glass, aluminum and even paper.
Tiles too, can come in a range of recycled materials. There are some really stunning terrazzo tiles made from over 20% recycled glass, available from materialicious.com.
In soft furnishings, there are more options than you may have realized. Try a blind made from recycled plastic bottles - online store Tuiss stock ones sourced from ethically-responsible suppliers.
Dining Room
There are Gordon's Gin bottle vases, and recycled wine bottle vases that are commercially available, which would add something different to your living room decor — you could of course go the DIY route and use an attractively shaped bottle as your own vase. An orangina bottle is a beautiful shape for holding just a few blooms at a time.
Decorative bowls can be made from either recycled telephone wires, recycled bottle tops, and even a
recycled LP record - all available from therecyclewarehouse.com.
Adding glamour and a touch of difference to the dining room, you could choose to light the room with a chandelier made from recycled or reused objects, such as the ones that Madeleine Boulesteix designs. Arhaus stock one made from spoons and forks, or you could choose to make your own DIY chandelier from found objects.
Living Room
The recyclewarehouse.com is the place to go for items that are truly unique as well as being made from recycled materials. This tin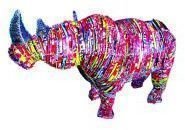 can rhino will certainly be more eyecatching than a regular ceramic ornament. It is made from washed and stripped tin cans, that are then woven into this design — each one is obviously different too.
When it gets round to that festive time of year, why not opt for a green Christmas tree, in the form of a recycled cardboard tree. The one from recycledwarehouse also comes with recycled cardboard decorations that you can customize according to your own tastes.
The Fern Collection from Marks & Spencer offers couches and armchairs with a wooden frame that is sourced from sustainable wood, and covered in Fairtrade cotton. They are filled with a combination of a material called Ecoflex (containing 20% renewable resources), and plastic made from 70% post-consumer waste.
Bedroom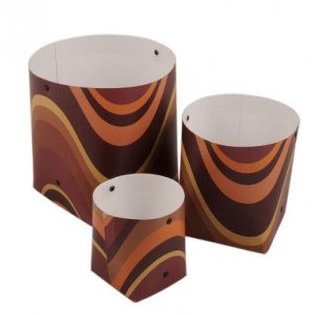 Bamboo sheets are becoming a popular option in eco furnishings and are available from many high street stores.
For an extra snugly bedtime, opt for a duvet quilt, the filling of which is made from 80% recycled plastic bottles, available from Marks & Spencer - and most of these are also non-allergenic too.
While it's easy to focus on soft furnishings in the bedroom, we shouldn't forget the big items of furniture. There are online stores that sell used hotel furniture, or try those that are sourced from recycled or reclaimed timber that are guaranteed to be unique too. Many companies now offer specific "reclaimed" collections.
Look out too for biomelifestyle.com that stock (among many things), recycled cardboard storage boxes for hiding away your clutter.
Bathroom
Nothing beats a relaxing soak, with flickering candles around the tub. There are many candlesticks and candle holders to be found, ranging from recycled glass, wind-felled timber, bamboo, and even from woven Tetra Paks (juice cartons etc.). Try allthingsgreen.net for some great options.
Towels and shower curtains are also given the recycled furnishings makeover by fabric designer Amy Butler, who uses lots of recycled materials and sustainable fibers in her products. Try also searching stores for bamboo fiber towels - high street store Bed Bath and Beyond, Brookstone, Land's End, and even Macy's stock them.
The use of recycled furnishings is becoming a lot more popular, so that basic items can be found in high street stores or even supermarkets, but don't forget to search out online and local options too; these are usually entirely unique products as well as being made from recycled materials.
Resources & Image Credits
Terazzo tiles - John Lambert Pearson: https://flic.kr/p/Lx8fK
Tin Can Rhino, LP bowl - by permission of recyclewarehouse.com
Cardboard storage - biomelifestyle.com
arhaus.com
marksandspencer.com
reducereuserecycle.co.uk