Non Toxic Lampshades: A Buyer's Guide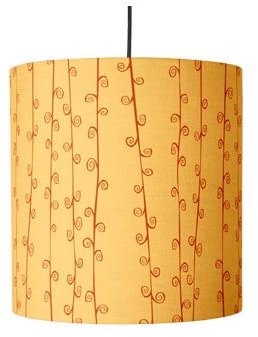 Unhealthy Standard Lamp Shades
Standard lamp shades that are mass manufactured are not the healthiest way to shade lighting in the home. Most commercially made lamp shades have a styrene backing to them and glue that holds the fabric to the frame. The styrene used comes as a by-product of petroleum and can be harmful when heated, as its properties can leach into the air. The determination of styrene being leached into the air comes from a series of scientific studies conduct by Spectrum Laboratories for the Environmental Protection Agency. Their complete findings can be found online through Spectrum Laboratories Chemical Fact Sheet.
Healthier alternatives for lampshades have become available since the advent of the green movement gained popularity. Here we are going to take a look at some different non-toxic lamp shades producers, and provide information on how to get some shades of your own. When looking for the right type of lampshade for your home, remember to think about the overall design that is already established. Focus on lampshade colors that will enhance a room and make using the light more enjoyable.
For more information on other green home accessories, see Comparing Eco-Friendly Area Rugs and Finding Affordable Recycled Home Furniture.
Organic Cotton Lampshades
Many new eco-friendly lampshades that are on the market today are created from organic cotton. Cotton is a breathable fabric that can offer a warm glow when used as a lampshade. The majority of producers that use organic cotton attach the fabric to a wire frame by using strips of organic cotton instead of glue. The strips wrap around the wire, and attach the organic cotton over the shade to the frame. This allows for the creation of non-toxic lamp shades that are not made with any glues or other chemical finishes.
In the image at the upper left is an example of an organic cotton lampshade by Paper Cloud. Their pendant lighting, complete with handmade organic cotton lampshades, currently come in eight different designs. Other green companies that create these types of shades include Crash Pad Designs and Thea & Sami.
Organic Felt Lamphshades

Creating a non-toxic lampshade from organic felt is a good alternative if you want more light-directed control. Where the organic cotton lampshades can bring a lot of light through from the lamp source, an organic felt lampshade can direct where the light will fall and give more shading coverage with the shade itself.
The most popular producer of organic felt lampshades is Love Eco from the United Kingdom. Their shades are eco-friendly with creative designs. In the image at the right is an example of one of their organic felt lampshades called the Butterfly Belle Lampshade. Other designs are the tulip, lotus flower, and variations on the butterfly felt cuts. To view more of their collection, click through here: Love Eco Felt Lampshades. Other producers of organic felt lampshades include i felt like it and Bholu.
More non-toxic lampshades can be found at Target, Wal-mart, and JC Penny; all these sources offer with a wider range of retail pricing options.
*images used were provided by PaperCloud and Love Eco
References: Spectrum Laboratories and The Environmental Protection Agency(EPA)