Non-Toxic Baby Powder: How It's Made and Where To Find It

Talc-free baby powder can soothe your baby's skin just like regular talcum powder does, but with the added advantage of being environmentally safe. Rather than buying a talc-based baby powder (which may damage your child's health), it is advisable to choose a dusting powder with eco-safe ingredients.
Why Choose A Talc-Free Baby Powder?
Talc (a common ingredient in baby powder) is potentially dangerous for several reasons. Here are some startling facts:
• Numerous reports indicate that talc particles are considered as carcinogens.
• If talc-containing baby powder is frequently use of near the genital area, there can be an increased risk of developing ovarian cancer later. Powders made from cornstarch, on the other hand, do not pose similar health risks.
• Long-term exposure to talc may also cause babies to develop chronic lung problems. Talc is poisonous when inhaled—babies who accidentally ingest talcum powder can experience respiratory problems—vomiting, diarrhea, seizures, and other complications can also occur.
• The FDA has not restricted the use of talc, or require warning labels on talc-based baby powders.
Common Ingredients of Non-Toxic Baby Powders
Baby powders not containing talc are typically made from any, or a combination of the following non-toxic ingredients:
• Aloe vera: A plant-based ingredient found in many organic cosmetics, aloe vera works to soothe and heal chafed skin.
• Arrowroot powder: An herb-based powder, arrowroot is frequently mixed with cornstarch to make organic baby powders. Arrowroot powder is soft against baby's skin, and effective in healing irritated or blemished skin.
• Cornstarch: Made from corn kernels, cornstarch is comparable to talc in terms of keeping the skin smooth and dry, but it is not associated with known health issues.
• Kaolin clay: Naturally occurring in powder form, this mineral is absorbent and ideal for use on sensitive skin
• Essential oils: Derived from plants, essential oils such as lavender and calendula add a natural and gentle scent to baby powder.
If you have these items at home, you can try your hand at making this simple, natural non-toxic baby powder recipe below:
Floral Baby Powder
½ cup cornstarch, or arrowroot powder
a handful of dried rose petals, or desired dried flowers
5 drops lavender, or geranium essential oil
Combine all ingredients in a coffee grinder. Mix to consistency of a fine powder, and then pour through a sieve. Store powder in an airtight container.
You can safely use this eco-friendly powder with many other natural products, such as homemade baby oil, cloth diapers, organic baby wipes, and homemade baby shampoo.
Brands of Talc-Free Baby Powder
• Avalon Organics Cornstarch Baby Powder ($10): This product contains cornstarch, baking powder, chamomile, calendula, and organic aloe—common ingredients creating for soothing delicate skin. Avalon Organics powders are hypo-allergenic, and contains no synthetic fragrance or color.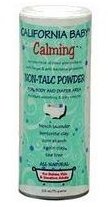 • C****alifornia Baby Non-Talc Calming Powder ($10): The French-lavender scented powder sells out quickly. It is a biodegradable powder made from kaolin clay, bentonite clay, and cornstarch. No artificial ingredients are added.
• Baby Powder Fruit of the Womb ($9): A calming and healing baby powder containing a variety of natural ingredients: including arrowroot powder, cornstarch, tapioca starch, and kaolin clay. The biodegradable powder is lightly scented with lavender and chamomile flower extracts.
• Burt's Bees - Baby Bee Dusting Powder ($7): This gentle smelling powder is a pleasant after-shower treat. It also keeps babies dry even in the worst heat. The dusting powder works well on baby's sensitive skin; it also protects adults from uncomfortable wetness.
Pediatricians have stopped recommending talc powder for babies in favor of cornstarch-based powders. But despite positive reviews about cornstarch, moms should practice caution when using cornstarch or other non-talc derivatives because itching and irritation can still occur. Still, talc-free products remain a better alternative than traditional powders.
References
https://www.healthysnips.com/is-talcum-powder-safe
https://www.babycenter.com/406_is-it-safe-to-use-baby-powder-on-my-baby_1519559.bc
https://www.pristineplanet.com/eco-friendly-natural-organic/baby-powder/8347_a_0.html
https://www.preventcancer.com/consumers/cosmetics/talc.htm
https://www.naturalcosmeticsupplies.com/arrowroot.html
Photo Credit
Aloe Vera Plant -https://publicdomainpictures.net/view-image.php?image=69&picture=aloe-vera
**C****alifornia Baby Non-Talc Calming Powder -**https://www.californiababy.com/calming-non-talc-powder-2-5-oz.html