What Are the Most Energy Efficient Refrigerators?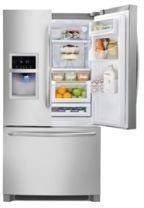 Energy Star Refrigerators Are Green and Economically-Friendly
Refrigerators that are Energy Star qualified can cut down your energy bills and your own personal carbon footprint. The refrigerator is always on and it requires a significant amount of electricity to run. According to the Energy Information Administration's report on US Household Energy Consumption in 2001, the fridge is the household appliance that uses the most electricity. Of nationwide household electricity consumption, refrigerators across the country are responsible for 14 percent.
An efficient model uses 20 percent less energy then refrigerators that are not Energy Star qualified. This means one-fifth less greenhouse gas emissions released into the air because of your fridge. How much money will you save? That does depend on the model you have now. If you have a refrigerator from the 1980's, you'll save about $100 annually. In comparison to the newer models on the market, Energy Star efficient refrigerators will save you about $165 for the lifetime of your appliance. So what are the most energy efficient refrigerators? What are your options if you are trying to reduce your electricity use and expenses?
Efficient Models
The more efficient refrigerator appliances use less energy because of improvements to the insulation, reducing energy requirements to keep food cool, and improvements to the compressors. According to Consumer Reports, one of the best models in terms of efficiency and price is the GE GSH25JFX[WW]. It is a side-by-side, Energy Star qualified model with filtered water and ice dispensers and plenty of space. This refrigerator by GE uses vacuum-insulated panels and a high-efficiency motor. The estimated price is $1,000.
The Samsung RF266AEWP is another highly rated Energy Star-rated appliance. It is more expensive, with an estimated price of $1,450, but for a French-door style it is actually a reasonable price. This efficient model features the double French doors with the freezer drawer which slides out below. It has an internal filtered water dispenser and ice maker, tested well for noise level, and is spacious. It even has an alarm to let you know when the refrigerator door has been open for too long.
Frigidaire FFUS2613LM is another refrigerator that will use 20 percent less energy as soon as you make the switch. As an additional eco-friendly feature, it will go into energy saving mode when it hasn't been opened for 24 hours. It is a side-by-side style, with water filtration, and 26 cubic feet of space, all for $1,199.
According to Energy Star, the Bosch B26FT70SNS will reduce your refrigerator energy consumption by a whopping 24 percent, still with 25.9 cubic feet of space. This efficient model features French doors, all level LED lighting, a door alarm when the door has been open for a minute, water filtration and ice production. The drawback — it is a more expensive model at just under $3,000.
Another huge energy saver is the Crosley CFD26WIS with a 30 percent reduction in energy consumption. It is a bit smaller than the other
models, with only 26.5 cubic feet of space. This model is also a French door style refrigerator. It has a digital temperature display, ice and filtered water, and light throughout. Crosley appliances are sold at independent retailers, so prices may vary.
With new advances in technology the most energy efficient refrigerators will change from year to year. Right now some of the more expensive models are highly efficient and still provide ample space. If you are looking for a less expensive, yet efficient model, go small. Check the Energy Guide label, find a refrigerator that is just large enough to fit your needs, and if you can, leave out the automatic ice makers, which use more energy.
References
Energy Star https://www.energystar.gov/index.cfm?fuseaction=find\_a\_product.showProductGroup&pgw\_code=RF
Energy Information Administration https://www.eia.doe.gov/emeu/reps/enduse/er01\_us.html#Electricity
Consumer Reports https://www.consumerreports.org/cro/magazine-archive/2010/may/appliances/refrigerators/overview/index.htm
image by Crosley