Where to Find Recycled Pencils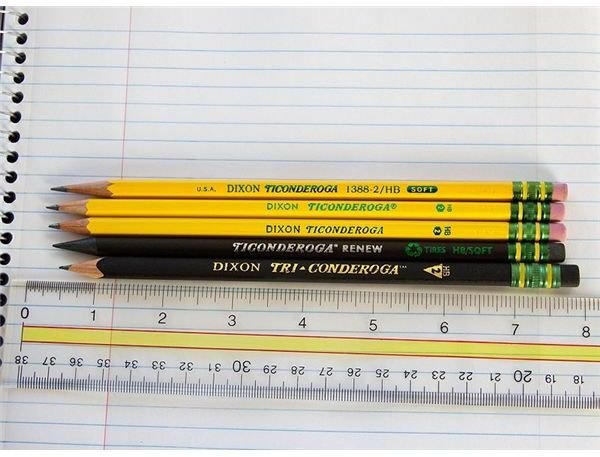 Although using wooden pencils in place of plastic pens may seem like the more eco-friendly writing instrument, the production of conventional pencils is actually an environmental hazard, causing deforestation, air pollution and filling our landfills. Regular pencils are assembled in factories that pollute the air, use toxic chemicals and may possibly top off your pencil with a latex rubber eraser. A better choice is to use recycled pencils.
These earth-friendly pencils are made from various recycled and scrap materials. They can be manufactured using recycled wood, plastic, paper, or rubber products. These products are finely ground and mixed with a binding agent to form the outer casing. The pigment core is then inserted into the center. The pencils are also commonly made using recycled newspaper. The newspaper sheets are flattened, cut and then wrapped around the pencil core using a water based glue. They generally use the same type of core as regular pencils, which is graphite mixed with a clay binder, and they can be sharpened and used just like any other pencil.
Recycled Pencil Manufacturers
Many companies today are now producing environmentally friendly office supplies, including pencils. The following pencils are made from various recycled materials and are all non-toxic. The pencils that are certified non-toxic by the Pencil Makers Association (PMA) have had all of their parts individually reviewed and meet very strict requirements.
Use 100% recycled cedar wood
Made from 100% preconsumer waste materials
PMA certified non-toxic
Dixon Ticonderoga RENEW Recycled Tire Pencils
First pencil made from the rubber compound from recycled tires using a unique, patented process
Box is made from 100% reclaimed fiber with a minimum 35% post-consumer waste
Dixon Ticonderoga EnviroStiks
Made from reforested natural wood imprinted with certified non-toxic inks
Recyclable ferrule
Degradable latex-free eraser
PMA certified non-toxic
Made from recycled newspaper using a patented 'Rolled On' method
O'BON uses leftover particle newspaper waste in the mulch in the landscaping surrounding their factory
Water resistant
Use your pencil shavings for compost or mulch
Earthzone Pencils
Made from 100% recycled newspapers
No toxic chemicals or wood products are used
Are virtually air-free and almost impossible to break
Shavings from sharpening can be recycled
Smencils
Made from recycled newspapers and biodegradable plastic
Available in a variety of unique scents including bubble gum, cinnamon, tropical blast, grape, cotton candy, very berry, black cherry, orange, watermelon and root beer
Stored in a recyclable freshness tube made from corn based biodegradable plastic
New eco-friendly companies and office supplies are continually emerging, and now is the time to step in and help. Next time you go out to purchase a pack of pencils for you, your office or for school supplies, lead the way in green living and purchase recycled pencils.
References
Environmental Protection Agency: Setting Up a Home Office Making Environmental Choices - https://www.epa.gov/osw/aging/home-off.pdf
Writing Instrument Manufacturers Association - https://wima.org/Default.aspx
Image Courtesy of: WikiMedia Commons - Scaredpoet