What is Recycled Leather? A Guide to Recycled Leather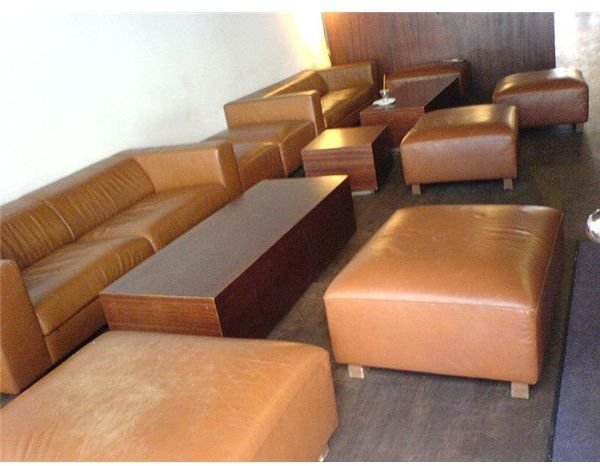 What is Recycled Leather?
The process of recycling leather involves treating and recycling leather residues that are discarded by tanneries and other leather product industries and using it in the production of composite materials. To recycle leather, first the leather residues and scraps must be shredded. Next, the resulting blend of shredded leather material is glued together with resin and catalysers. This product is then pressed between metallic molds of various shapes and sizes, or directly on sublayers to form plywoods, and then structured into the desired item. The final product has a very polished appearance and there is no need for any additional finishing. Recycled leather products are esthetically pleasing, soundproof and even have heat insulation properties. They can be used in a variety of ways, from furniture to floor tiles to car interiors and have the look of natural leather.
Leather recycling companies are also beginning to take it one step further and are becoming very conscious of the impact their recycling processes have on the environment. They utilize procedures that minimize harmful emissions and save energy. These companies use natural rubber to bond the leather scrap, reducing the need for any harmful chemicals or harsh glues in their recycling process. They use natural tanning oils and vegetable tannins to color the recycled leather products and are able achieve the desirable appearance of full grain leather, all while avoiding the use of any toxic metals. This process results in a highly flexible and breathable recycled leather product that can be used for the most delicate of leather items, including upholstery and clothing
Recycled Leather Items At Home
Leather products are generally very durable and expensive. Once you make the investment in a high quality leather item, you can expect it to be look beautiful and be used for many years. However, as leather gets older some areas become worn out or damaged, whereas other parts of the item still look brand new. For example, the cushions on your favorite leather couch may become torn and tattered after years of use, while the back of that same couch still looks shiny and new. Fortunately, with a little creativity, and the use of leather conditioning products, dyes, and crafting supplies, you can recycle and repurpose many old leather products into a brand new, useful item.
When thinking about which leather can be recycled, you have many options: luggage, wallets, purses, jackets, pants, skirts, shoes, belts, gloves and furniture, are just to name a few items. Salvage the part of your item that is unworn and usable, refurbish it and then think about what new uses it may have. Larger pieces of leather can be used to recover chairs and tables; made into throw pillows, rugs; and then you can add a set of perfectly matching leather coasters. With smaller sections, you could make a trendy purse, fashionable skirt, work gloves or even bind a book. Strips of leather can be braided into belts, bracelets and hair accessories; used to wrap worn out handles on tools, golf clubs, and baseball bats; or replace the straps on a purse or wristwatch.
The possibilities are endless and recycling leather is a great way to be kind to the environment and turn something old into something new!
Resources
Owl Promotional Products: 100% Recycled Leather - https://www.owlpromo.com
EcoHides: An Earth-Friendly Alternative - https://www.ecohides.com/history.htm
Image Courtesy Of: WikiMedia Commons - Mattes