Using Recycled Glass Tiles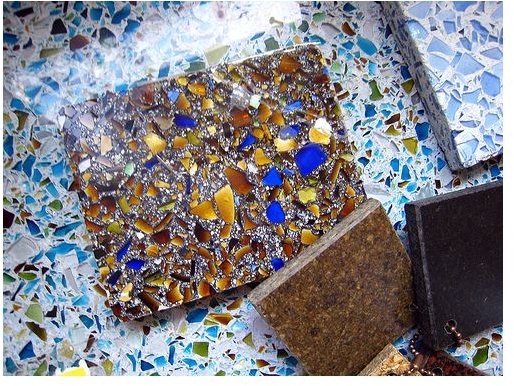 What Are Eco-Friendly Tiles?
One of the hottest home design trends today is the use of recycled glass tiles. Homeowners who choose to use these are making an eco-friendly move while creating a beautiful and unique look. Green glass tiles are formed out of reclaimed glass, much of which was once windows, bottles and jars that were on their way to the landfill. The website About Glass Tile explains that in order to be used for tiles the reclaimed glass must be contaminant free. It is sorted by source and color, melted, and then stamped into shape with a mold. The finished product, which has been cut and shaped, is a beautiful tile that creates a distinctive look, one which is very different from the look of conventional ceramic tile.
Varieties of Tiles
Tiles made of reclaimed glass come in a wide array of colors with surfaces that can be matte, shiny, sandblasted or pearlescent. Most people are more familiar with the smaller glass tiles that resemble pieces of a mosaic. However, there are bigger sizes as well, measuring 2" x 2" and larger, as well as "tiles" that are shaped like small pebbles. The different sizes allow for different applications throughout the home. Glass tiles can be applied anywhere ceramic tile would go. Because of its durability and resistance to moisture, the most popular locations for using these tiles are kitchen backsplashes and in the bathroom for wall coverings and shower stalls. However, the tile can also be used as flooring material and even in swimming pools. Glass tiles require no special care and can be cleaned with regular glass cleaner.
Where to Buy
Because of the surge in popularity of glass tiles, large stores such as Home Depot and Lowes offer these tiles as part of their standard inventory. However, not all glass tiles are made of recycled material. To make sure you are getting tiles made of recycled glass, and to have access to the greatest variety, the Internet is the best place to shop. Web sites such as Eco Friendly Flooring, Inc., Bedrock Industries, and Sandhill Glass Tile (see resources) are just a few of the online retailers that offer large recycled tile selections to fit many needs. When thinking about buying tile through the Web, it is best to order a sample and verify that the color and look of the product is perfect before investing in enough tile to complete the project.
Cost
Recycled glass tiles are normally sold in 12" x 12" sheets. The price per sheet can vary widely and can range from only $4 per square foot up to $90 per square foot. Much of the price depends on the color and finish of the tile, as well as how much the piece was handcrafted. It is worthwhile to shop around and compare prices and selections at different stores. Also, don't forget that it is possible to mix and match tiles, using an inexpensive one for the bulk of the project and expensive tiles as accents.
Resources
Eco Friendly Flooring, Inc.: https://ecofriendlyflooring.com/
Bedrock Industries: https://bedrockindustries.com/
Sandhill Glass Tile: https://www.sandhillind.com/