Recycled Yoga Mats: Materials, Cost and Where to Find Them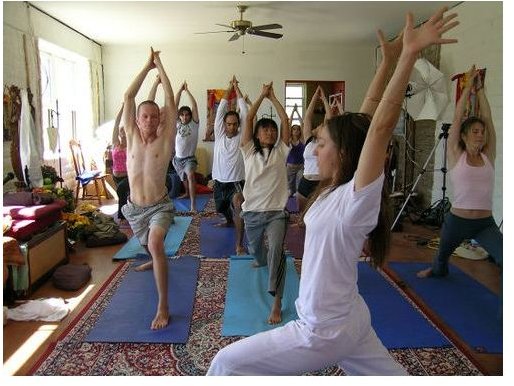 Yoga is increasingly becoming a popular form of exercise, relaxation and stress relief. A yoga mat is an essential for anyone wanting to practice the various asanas. While many eco-conscious yoga enthusiasts advise practicing without a mat to avoid using a PVC-riddled one, there are many asanas that require the traction and comfort of a mat. Moreover, for newer yogis and yoginis, a yoga mat offers support and stability. So, what options do yoga lovers who wish to be green and eco-friendly have? The answer is a recycled yoga mat. Learn more about this earth-friendly yoga gear and what actually makes it green.
Why Choose Eco-Friendly Yoga Gear
Yoga is an exercise form that develops and enhances awareness of the self while improving health and well-being. As one practices yoga, it is only natural to want to create a positive, loving impact on everything around us, including the environment. So, when one uses a cheap but toxic PVC yoga mat, the impact on the earth is quite negative and harmful. Using green and eco-friendly yoga gear, such as mats, can help you to support the environment while strengthening the body and mind.
Yoga Mats Made of Recycled Rubber
Recycled rubber is one of the most popular materials used to make yoga mats. This material provides ideal cushioning, traction and is free of PVC and other toxic chemicals. Moreover, since the mat is made of recycled materials, it already has a high green quotient. Jade Yoga offers Encore, a high quality mat made of recycled rubber. The mat, available in a variety of lengths and sizes, offers great cushioning and support while being easy to maintain and use. It costs $65 but is well worth the cost since it is durable and earth-friendly.
Turning Life is another company that has a biodegradable, recycled rubber yoga mat on offer. The mat is made from a combination of recycled rubber and natural rubber from trees in Malaysia and Indonesia. In addition, the mat is free of PVC, lead or heavy metals making it earth-friendly and safe for use. On the other hand, one of the drawbacks of the recycled rubber mat is that it smells like rubber. However, taking care to leave it unrolled as often as possible and cleaning it with apple cider vinegar and rinsing with vinegar can help with getting rid of the rubbery smell as much as possible.
Other Eco-friendly Yoga Mat Options
Although rubber is the material of choice for a recycled yoga mat, you can easily find many more eco-friendly and green options to choose from. Organic cotton yoga mats are gaining increasing popularity, as are mats made from natural jute, natural and renewable rubber, as well as materials such as polymer environmental resin or PER and thermoplastic elastomer or TPE. EcoYoga has a range of yoga mats made of natural rubber and jute. Other companies that manufacture green and eco-friendly yoga gear include Manduka, Lotuspad, Health and Yoga.com and Barefoot Yoga. The costs for mats made of organic cotton, natural grass, jute or natural rubber ranges from $50 for a natural dried grass yoga mat at HealthAndYoga.com to $70 for a natural rubber mat from Manduka. Mats made of TPE and PER are cheaper with prices starting at $27 for a standard yoga mat from Barefoot Yoga.
These earth-friendly yoga mats will not only help you to improve your state of health and mind but also have a positive affect on the environment. So, go ahead, and make your next yoga session healthy and eco-friendly but choosing a yoga mat that supports the environment along with your spine. And if you're interested in surfing as well, you'll enjoy reading this article about eco-friendly surfing gear.
Photo Credit: Diamond Mountain via https://www.flickr.com/photos/diamondmountain/6870801/