Eco Alternatives to Changing Pads: Use Cloth Diapers, Towels or Non PVC Diaper Mats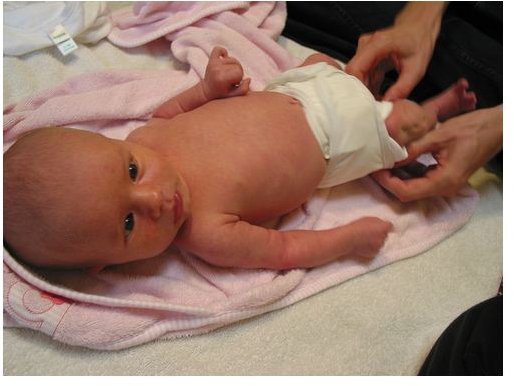 Changing pads or diaper mats are basically soft rectangular pads coated with PVC or polyvinyl chloride, a plastic, and used to lay baby on while changing a diaper. They make cleanups easy and hygienic by providing a clean surface for nappy changes. However, PVC is non-biodegradable and has been linked to causing a range of diseases including, asthma. So, what options does a green and eco-friendly parent have? Learn about the various non-PVC changing mats as well as alternatives that can be used in place of a changing table pad.
Green Diaper Mats – PVC-Free Options
Thanks to a growing awareness about the harm that PVC causes as well as a fast-spreading "go green" movement, manufacturers of
baby care products are coming up with various green and earth-friendly alternatives for changing pads. These diaper mats are usually made of thermoplastic elastomer or TPE which is a material with no PVC, latex and chloride, or PEVA which is again a non PVC vinyl or synthetic rubber encased in organic cotton. Using these alternatives is not only earth-friendly but also perfect for baby's sensitive skin. Moreover, it is easy to buy these diaper changing mats online. Also, as, like cloth diapers, they're reusable, the cost is totally worth it.
Buying Eco-friendly Changing Mats
There are many places from where a green parent can choose a changing pad that is free of PVC. ZoLi (www.zolibaby.com) has a range of diaper changing mats made of non toxic, PVC-free thermoplastic elastomer (TPE) in a variety of colors and priced at $20 each. Healthy Child and Amazon both offer Naturepedic's Organic Changing Table Pad. It is Greenguard certified and made of organic cotton with a thin cover of food-grade, non-toxic waterproof polyethylene coating. However, this changing table pad is expensive and costs nearly one hundred dollars.
Green Fibers has a rather interesting alternative to the changing pad. It offers a synthetic rubber sheet covered with organic cotton. Priced at $27, this changing sheet is free of PVC and safe for baby's skin. FuzziBunz, a leading name in cloth diapers and accessories, also makes diaper changing mats made of waterproof PUL with a top coating of soft, organic cotton or fleece.
Cheap and Clean Alternative Options
It is also possible to not buy a changing table pad altogether and simply use any of the easily available alternatives to change baby's nappy. A few options include:
1. A cloth diaper can easily double up as a changing mat, especially for smaller babies. Keep one or two extra prefolds at hand and simply slide one under baby's bottom when you open the diaper.
2. If you're using a disposable diaper, you can simply slide an opened, clean diaper under baby's bottom before you open the dirty one. Then, when you finish cleaning baby, all you need to do is lift and wipe bottom one last time, slide out dirty diaper and you have a clean diaper right where you want it.
3. Baby bath towels are also soft, absorbent and big enough to serve as a diaper changing mat. Moreover, since they're a favorite baby shower gift, chances are you'll always have an extra one to serve as a diaper mat rather than a towel.
4. Soft baby blankets can also be used to change baby's diaper. Doubling a blanket will increase absorbency in case of any accidents during a diaper change and the soft fabric will be perfect for baby's sensitive skin.
5. Crib sheets or a single bed sheet can also be folded and used to lay baby on during diaper changes.
All these options are inexpensive, easily available and make diaper changes just as easy and hygienic as a changing table pad. So, if you're a new parent who does not want to collect a lot of baby gear or wants to save money on baby products, these alternatives are just what you need. Green parents who just want an eco-friendly diaper mat can, on the other hand, invest in any of the changing table pads offered by companies like Fuzzi Bunz or Naturepedic. These alternatives to changing pads are safe for baby and the environment, making them the best choice for bringing up baby in a gentle world.
Photo Credit: Sellers Patton via https://www.flickr.com/photos/sellerspatton/879097718/