Biodegradable Lunch Bags: Where to Buy the Best Eco-friendly Lunch Bags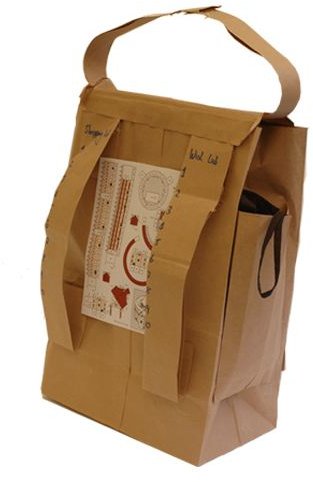 Lunch bags are a simple and inexpensive way of going green. However, carrying lunch to school or work in a plain and somewhat flimsy brown bag may not be everyone's idea of a fun lunch. At the same time, carrying lunch in a plastic bag is really harmful for one's health and the environment. Did you know that plastic baggies can take thousands of years to decompose? Moreover, one doesn't even know about all the different toxic chemicals that would be leaching into our food. Luckily, there are many durable, even attractive biodegradable lunch bags available that can make eco-friendly eating really easy!
Biodegradable bags are essentially made of materials than can be degraded by microorganisms such as bacteria, algae and fungi and hence, don't add to the landfills, are free of toxic chemicals and are completely earth-friendly. Here is more about these earth-friendly lunch bags, the different materials used to make them as well as where to find them.
How Is a Biodegradable Bag Made
Since biodegradable materials break down due to the natural action of microorganisms, these bags are generally made from plant sources, such as paper, cellulose, plastics made from corn starch and so on. Most eco-friendly lunch bags are made of recycled paper, cornstarch-based plastic and cellulose. However, you also have some made of organic cotton and hemp. These bags are 100% biodegradable and compostable making them the perfect choice for green and earth-friendly people.
Buying Green and Earth-Friendly Bags for Lunch
Green living enthusiasts can now choose to carry their lunches in style with biodegradable bags made from sugarcane trees or bagasse. Treecycle produces compostable deli, snack and sandwich bags in a variety of sizes and styles to store sandwiches, cookies, bagels and more. ReuseIt.com, a leading name in recyclable and reusable bags and products has a range of BioBags™ that can be used for food storage as well. Made from cornstarch and other renewable resources, these bags are 100% compostable and biodegradable and can be used for carrying food items as well. ReuseIt.com also offers a range of attractive and eco-friendly lunch bags made of juice cartons, organic cotton and hemp.
Vegware.com produces biodegradable, compostable packaging from plants and part of their range includes food-safe bags and sheets. They have clear bags in different sizes made from Natureflex, which is a film developed by Innovia, and from PLA or cornstarch. They also have paper bags in 4 sizes made from fully recycled brown kraft. Compostable Products has a smart organic cotton/hemp denim lunch bag that's made in the United States and is even sewn with organic cotton thread. Except for 2 non-compostable snaps, this bag is completely biodegradable.
GreenHome.com also offers 100% biodegradable bags ideal for carrying fruits and snacks to school or work. These bags are made of cellulose, are durable and completely eco-friendly. Wrap-N-Mat offers attractive, cool and easy to carry biodegradable lunch pouches and wraps for kids. The wraps and pouches are made with a lining of Low-Density Polyethlene (LDPE) #4 Resin Code which is of a thicker grade than the regular sandwich baggie and the material used is in accordance with the FDA's rules and regulations. However, due to the lining, you can't use these wraps and pouches for hot foods or put them in the microwave. Other similar options include the Fresh Snack Pack from OneSmallStep, that is made of EVA or ethylene vinyl acetate, is recyclable and is free of lead, bisphenol and phthalates.
Going green with eco-friendly, biodegradable lunch bags is easy and convenient. Plus, the fact that they're cool looking makes them a hit with kids as well. So, go ahead and pack that lunch in a biodegradable bag and make a difference to the planet.
Photo Credit: daisy bush via https://www.flickr.com/photos/dennajones/2329594494/