Kids Organic Bubble Bath with a Recipe for Your Own Children's Organic Bubble Bath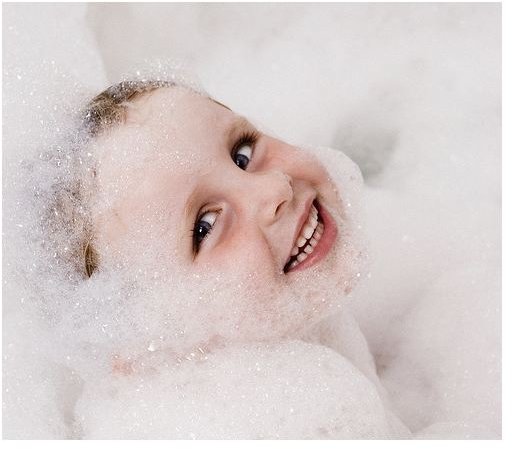 Bubbles make bath time more enjoyable for kids and parents alike. Aside from novelty, the soapy bubbles that your child soaks in every night have another purpose - they can be nourishing, moisturizing, and even calming. Children's organic bubble bath, made from purely natural ingredients, will provide beneficial compounds for the skin, as well as moisturizing agents, without exposing sensitive young skin to irritants, synthetic compounds, and the slightest trace of toxic chemicals.
As an added bonus, choosing or making kids organic bubble bath is good for the environment too! The use of all natural ingredients, produced with organic means (without the use of any chemicals) promotes the safe, healthy, and natural cycle of production and elimination. The ingredients are made with eco-friendly means. Your child is only exposed to eco-friendly ingredients, and only natural, biodegradable residues will wash down the drain after the bath is over.
Organic Brands
The following are all excellent brands available for parents looking for a pure, natural, organic product for bath time.
California Baby Bubble Bath — California Baby is one of the leading producers of natural bath products for kids. Their bubble baths are made with all organic, sustainably grown ingredients. Bubbles are produced from soapbark, yucca, and decyl polyglucose. Essential oils are added for an aromatherapy bathing experience. You can find this brand at local health food stores, pharmacies, children's boutiques, and Whole Foods Markets. You can also order online or order a catalog to order by mail. As an added bonus, California Baby includes a bubble wand, so your child can blow bubbles while bathing! One drawback is that the bubbles do not last that long in the tub, but this is probably the best product for sensitive skin.
Rainbow Bubble Bath for Kids — Rainbow is another popular natural brand that you can find at health food stores and Whole Foods. You can also order online. They use aloe vera and vitamin E for extra moisture. The banana-strawberry bubble bath smells incredible! Expect long-lasting bubbles.
100% Pure Organic Kids — These bubble bath products are great for eco kids. Like the other organic bubble bath products this one is free of chemicals such as parabens and synthetic fragrances. The Strawberry Ice Cream Bubble Bath is made with real strawberries and lemon juice – yes, it smells great! Even the packaging is made from post consumer recycled plastic. This one may be more difficult to find in stores, but 100% Pure Organic Kids products can be found online at Green4YourSoul, ChocolateLotus, and Amazon.
Make Your Own Natural Bubble Bath for Kids
The organic products mentioned above cost between $7 and $14 dollars for a bottle, with Rainbow Bubble Bath being the least expensive. If you want to save money, or simply to go even more natural, try making your own children's organic bubble bath. This recipe is based on a recipe found on the eco blog, The Green Parent. Start with:
1 cup liquid castile soap
3/4 cup water
1 teaspoon glycerin
6 drops essential oil of choice
Mix this solution together and store in a lidded plastic or glass bottle. Try to reuse a container that was already used instead of buying a new one. Castile soap is made from natural, plant-based oils such as olive, coconut, and jojoba. Glycerin is a natural byproduct of the soap making process. It acts to attract moisture to the skin, leaving the skin soft and supple after bathing in it. You can add essential oils for an added benefit if you like. Essential oils all have antibacterial properties, which is great for cleansing. Many help to calm and promote restful sleep. Safe, non-irritating essential oils that you can add to your homemade recipe for kids include chamomile, lavender, and neroli.
As more and more parents today are interested in natural products for their children, there are plenty of great kids organic bubble bath brands on the market. Head over to your local health food store and try one out, or make your own using this simple, inexpensive recipe. You and your children will love the results.
References
"Homemade Bubble Bath." The Green Parent https://www.thegreenparent.com/2008/07/09/homemade-bubble-bath/
Westerman, Kaila. "What is Glycerin?" Pioneer Thinking https://www.pioneerthinking.com/glycerin.html
"Castile Soap." Green Living Tips https://www.greenlivingtips.com/articles/221/1/Castile-soap.html
photo by: The 5th Ape (CC/flickr) https://www.flickr.com/photos/jamiecampbell/2930021524/sizes/m/in/photostream/