The 5 Top Green Cities in the US & Their Green Initiatives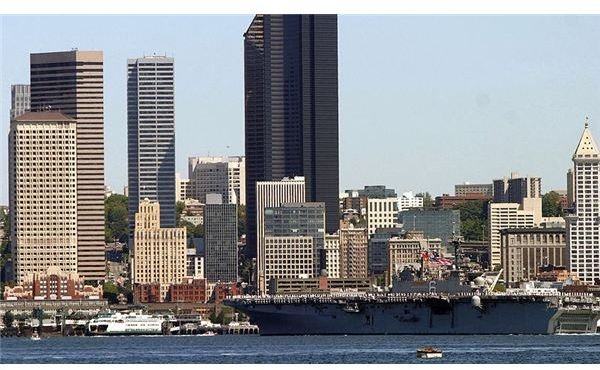 Natural Resources Defense Council's List of "Smarter Cities"
The Natural Resources Defense Council's website Smartercities.NRDC.org was deemed as the best source of information on which we could base our list of the top green cities in the U.S., as they likewise disclosed their research methodologies.
NRDC's scoring and ranking systems were based on the following criteria: (1) air quality (2) energy production & conservation, (3) environmental standards & participation, (4) green building (5) green space, (6) recycling (7) transportation, (8) standard of living and (9) water quality & conservation.
The NRDC gathered their information from all across the U.S. by way of:
Cross-referencing with the databases of various government agencies like the Environmental Protection Agency (EPA), US Department of Energy (DOE) Green Power Network, US Census Bureau and a host of other government sub-agencies and non-profit organizations.

Sending out surveys that made use of data specific questionnaires pertaining to the sustainability policies and methods of implementations by the different US cities; responses were evaluated and were used as additional data set for comparisons.

By evaluating the US cities' performances according to the sizes of their respective population, wherein populations of 250,000 or more being the largest and represented by 67 cities; populations of up to 50,000 are the smallest and represented by 408 cities. Cities in between this range of population were considered as the medium-sized group and represented by 178 cities.

Implementing other survey methods that aim to present a fair presentation on how each city takes action according to the degree and level of the environmental problems they face; but based on the same green criteria for sustainability. This includes surveys sent to the city mayor's offices and environment overseer.
The Five Most Green Cities in America
Our top five best green cities include the large U.S. metropolises that topped most of the 9-point sustainability criteria set by NRDC. The said cities are (1) Seattle, Washington (2) San Francisco, California (3) Portland, Oregon (4) Oakland, California and (5) San Jose, California.
(1) Seattle, Washington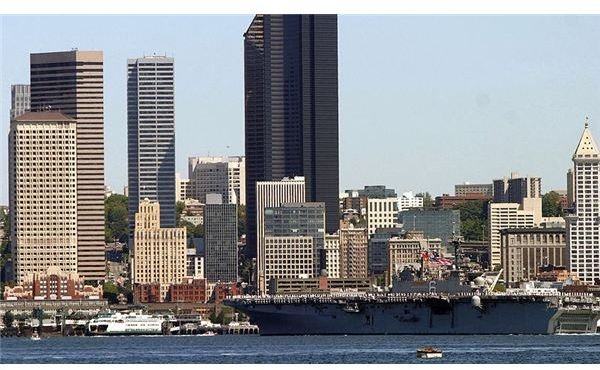 The city of Seattle scored high in almost all criteria except for Standard of Living (low). Nevertheless, we made our own cross references for some of the major criteria:
Air Quality- the Puget Sound Clear Air Agency, which works hand in hand with the EPA and U.S. Department of Ecology, gives Seattle a Green - Good rating for air quality. This rating denotes that there is little or no risk in the city's air pollution as levels of particulate matters range from 11 to 32 in different areas.
Energy Production & Conservation- The Emerald City as Seattle is fondly called, manifested its commitment to energy production & conservation based on the following:
Seattle City Council rejected the Washington Public Power Supply System's offer of energy resources through its nuclear power plants 4 & 5.

The city continues to derive 90% of its power from their hydroelectric plants, hence its high rating for air quality as well.

Seattle City Light has placed the largest investment in the Stateline wind farms located in the Washington-Oregon border to ensure their commitment to renewable energy use by harnessing the wind' s power.
Environmental Standards & Participation- Seattle's list of positive environmental actions and participation includes the US Conference of Mayors Climate Agreement. Seattle's mayor called on all 965 U.S. cities to be one in the endeavor to meet the Kyoto Protocol targets in their respective communities. The Kyoto Protocol is the UN's framework for combating greenhouse gas emissions in view of the worsening global warming conditions.
Other global warming initiatives launched by the city of Seattle include Climate Action Now and the Seattle Climate Partnership. The latter involves local businesses who made commitments to reduce green gas house emissions not only through their own operations but also in their dealings with customers, suppliers and employees.
A favorite example of Seattle's green initiative in terms of actual performance is the community's use of goat herds instead of resorting to pesticides in clearing up the city's weed growths and unwanted bushes particularly around their hydroelectric power substations.
Continuation of The List for Top 5 Green Cities in the US
continuation— (1) Seattle, Washington
Green Building- Seattle owns the largest single-owner LEED facility in the world, as aid to the city's green building programs aimed at greening all of their existing edifices. In order to encourage participation from its community members, the local government extends financial incentives, referrals for utility conservation programs, technical assistance and education to developers, building managers, design professionals, CEOS, real estate agents and homeowners.
Green Space – The P-Patch is Seattle's Community Gardening Program comprised of 73 p-patches, estimated at around 23 acres of green space and serving 2,056 Seattle households where organic crops, flowers and herbs could be nurtured and grown.
Recycling – Seattle implements the mandatory recycling program wherein recyclables like paper, cardboard and yard wastes are prohibited as part of their community garbage. Those who are found in violation of this mandatory policy will be fined, although the city claims that there is hardly any record of households being fined.
Transportation- A substantial number of Seattle residents make use of their bicycle for both recreation and transportation; hence, the city's Department of Transportation has been relentlessly pursuing the development of an urban trail system for the 4,000 to 8,000 bikers that currently commute daily within the city.
Standard of Living- the Emerald City ranked low in this area since the cost of living in this metropolis is said to be 19% higher than the national average. Housing and health care costs are the major issues although the utility costs somehow provides a buffer to the high cost of living as utility prices are said to be lower by 3% than the national average.
Water Quality & Conservation – The city of Seattle adopted a 1% water conservation program within a targeted time frame from year 2000 to 2010 and annual reports provide a good showing about the continuing decrease in the city's per capita usage. The program aims to maintain this trend as residents continue with the program requirement, which is that of reducing at least 1% water consumption per person annually.
(2) San Francisco, California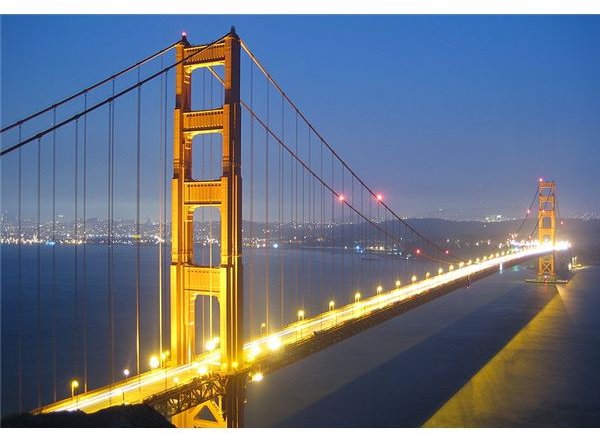 San Francisco rated high in almost all sustainability criteria except for Environmental Standards and Participation (medium); hence this city's ranking is only second to Seattle.
Air Quality – The WeatherBug, the largest global weather network, rates San Francisco's air quality as Yellow-Moderate, since the city's current measure of small particulate matters in the air, is 57 as of 9/02/10, exceeding the acceptable Green- Good level of 50
We looked into San Francisco's initiatives where the city made the most mark by ranking higher than Seattle in the following sustainability criteria:
Transportation- San Francisco City implemented the San Francisco Commuter Benefits Ordinance since 2009 which requires all of those employing 20 or more are required to provide a commuter benefits program for their employees. The program includes the local government employees as well.
Recycling- This city by the bay tackles their recycling initiatives by color coding the containers used in carting away the community members' garbage. The blue cart is where recyclables are deposited while the green cart is where the compostable materials go. Through this method, at least 75% of the city's wastes had been diverted away from the landfills. The local government intends to improve on their program until the city achieves zero waste by 2020.
Water Quality and Conservation - San Francisco City, whose estuaries have been cited for its pollution problems, has topped this criterion. The San Francisco Bay Joint Ventures has provided funds for projects undertaken by almost all of the community sectors participating in the city's water improvement and conservation programs. Thus, the projects have helped improve the city's water quality.
(3) Portland, Oregon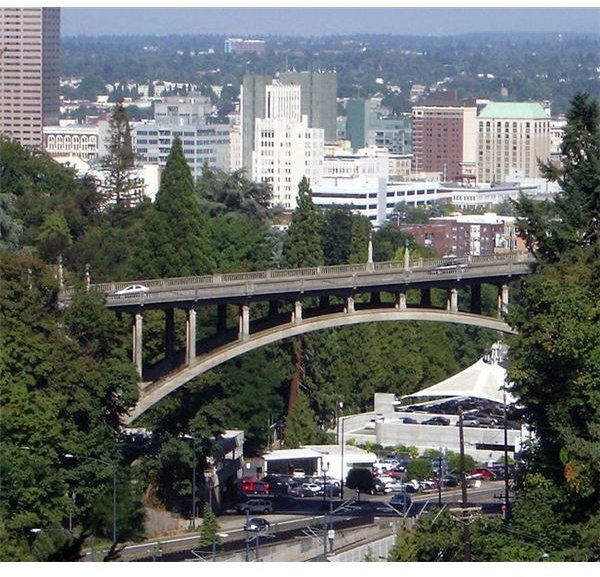 Portland, Oregon comes in third in NRDC's list of top green cities in the U.S. since it did not rank high for both Environmental Standard and Participation (medium) and Standard of Living (low). However, it ranked first in the Green Space sustainability criterion.
Air Quality – The Weatherbug, gave Portland, Oregon's air quality a good rating score, where small particulate matters were measured at 50.
Green Space- Portland's Green Street Program earned the city the top rank for the green space criteria. Part of the city planning included the integration of vegetation facilities in Portland's streets as a way of managing the stormwater run-offs and at the same time improving the local economy.
(4) Oakland, California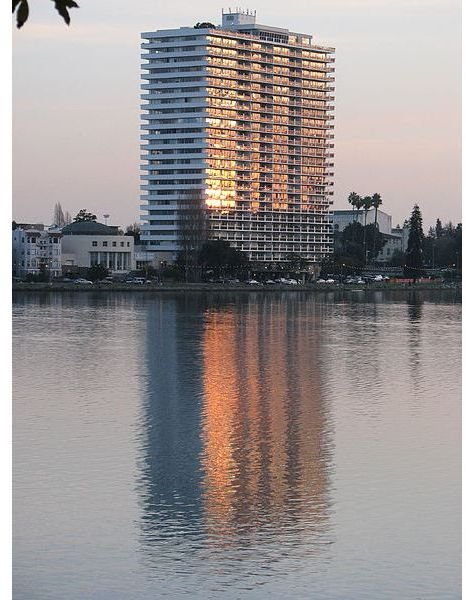 Oakland, California has the same rating as Portland, Oregon by scoring high for only 7 out of the 9 sustainability criteria. Scores for Environmental Standard and Participation are medium while Standard of Living is low. This metropolis didn't top any of the criteria but came in second for its recycling programs.
Air Quality- The Weatherbug's current measure for Oakland's air quality is Green –Good since particulate matters was placed at 37 and has not reached the 50 mark. However, the weather station's forecast is that Oakland is expected to increase its level of pollutants, which could bring down its rate from good to moderate.
Recycling- The city of Oakland has several recycling programs as it aims to achieve zero waste by year 2020. They're particularly active in recycling construction materials by undertaking and maintaining salvage and demolition through their Construction & Demolition Programs. The city managed to divert 96,000 tons of construction debris from out of their landfills.
(5) San Jose, California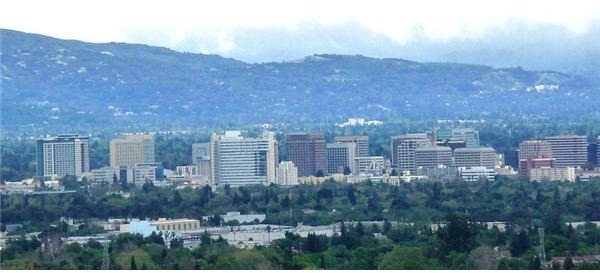 San Jose, California gained a low score for only 1 out of the 9 criteria set by the NRDC. The city scored low in terms of Energy Production and Conservation, which is a major factor in greening the environment. San Jose City topped the Standard of Living criteria.
Air Quality –The Weatherbug's current rating, as of 09/02/10, for San Jose's air quality is Green-Good but the current measure of small particulate matters of 31, is expected to reach high levels up to 106 in the succeeding days. Hence this could bring down San Jose's air quality rating from Good to Unhealthy for Sensitive Groups.
Standard of Living – San Jose has the highest economic growth among our list of the top green cities in the U.S. owing to the presence of the top technological industries. In fact, San Jose has earned the moniker Capital of Silicon Valley, since it is home to top technological giants like Adobe Systems, Cisco, IBM, Hewlett Packard, Hitachi and Flextronics just to name a few.
The rankings for the best green cities presented above were based on NRDC's list of top performing cities in terms of the 9-point criteria set forth by the council. Each criterion where the city ranked high was likewise verified against related but independent sources to test the consistency of the information we gathered and to add more insights as well.
In case you believe your city should be included among the top green cities in the U.S., the Natural Resources Defense Council would be more than glad to hear or read from you, as a way for them to improve their system.
Reference Materials and Image Credits Section
Reference Materials:
Images Credit:
All Images are courtesy of Wikimedia Commons.