Six Recycling Craft Ideas for Birthdays: Presents From Jar Candles to Suncatchers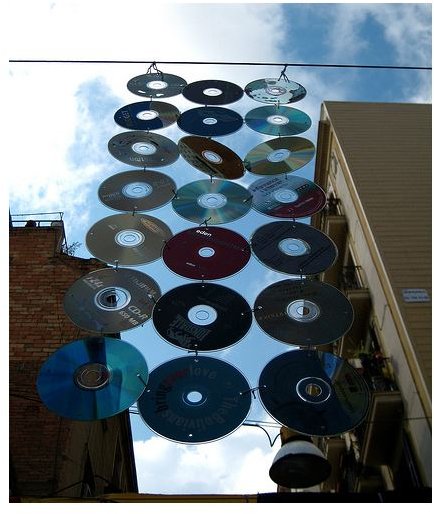 Birthday Presents Aren't About the Money
If you look at birthday presents as financial obligations, its hard to feel good about giving recycled crafts. But if you explore birthdays as a way of gifting not just money but time, effort and attention, using recycling craft ideas for birthday presents is one of the best ways to ensure that you give a unique gift.
Having some crafting skills and experience certainly helps when it comes to turning recycled goods into gifts, but you don't have to be a crafting maven to recycle something once-loved into a stunning birthday gift.
Recycle Glass Jars Into Birthday Candles
Save attractive glass jars, soak the labels off and wash them with the rest of your dishes. Then insert a wick into each jar and fill around it with melted candle wax or wax beads. The wider the jar, the wider the wick should be.
For another take on this theme, place a tealight inside a baby food jar. Stencil patterns on the outside of the jar to create a "cutout" effect; the candlelight will shine out through the clear spaces between the patterns.
Recycle Old Items Into a Knit or Crochet Birthday Present
Save your plastic grocery bags and turn them into plarn, or cut old T-shirts or sheets into strips and knot them together to make recycled yarn. You can also reuse the thread from an old sweater or other knitted craft that's seen better days.
Once you have your recycled yarn supply, put your crafting skills to work by knitting and crocheting it into a new, recycled birthday gift. Plarn is perfect for creating a sturdy, easy-clean tote bag. Quick, useful knit crafts for recycling old yarn and yarn made from T-shirts or scraps of yarn you might otherwise have thrown out include washcloths, socks, kitchen scrubbers and soap bags.
Turn CDs and Records Into Recycled Birthday Clocks
Almost anything can be turned into a clock face with a clockworks kit purchased from your local clock store. CDs and records make perfect subjects because they've already got a hole in the center, and the grooved black surface of a vinyl record or the reflective underside of a CD make attention-getting backdrops for the clock hands.
Give the Gift of Sun: Recycled CD Suncatchers as Birthday Gifts
Put together a handful of old CDs, some fishing line, a dry-erase marker, a drill and a pair of sharp shears, and what have you got? A striking suncatcher. Use a dry-erase marker to draw patterns on the undersides of the CDs; if you mess up, the marker will wipe right off. Trim the shapes out with the shears, drill a small hole into the top of each shape and tie a length of fishing line through the hole. Trim the cords to different lengths so the shapes you cut out don't clash together, then bundle them together and tie them to a hook or short chain to create a hanger.
Alternatively you can glue two CDs together, reflective sides out. Sandwich the lines that lead to the cut-out shapes between the CDs, so that the shapes all dangle in a rough circle.
One of the Simplest, Yet Most Useful Recycled Craft Ideas: Personalized Magnets as Birthday Presents
You can buy a bundle of small, round magnets or a roll of "strip" magnets at the craft store for only a few dollars. Use hot glue to secure the magnets on the back of something that reflects your friend's personality or interests. This is a chance to recycle polished stones or crystals, old brooches, buttons (the type you pin to your clothing) or even large buttons scavenged from old handbags or sweaters.
Keep Recycling: Wrap Your Birthday Presents in Something Unique
Recycling doesn't have to stop with the gift you give. Recycle an old T-shirt into wrapping paper, or use the insides of an old VHS tape as glossy ribbon. Once you get used to the idea of recycling, craft ideas for birthday presents should come easily to you every year.
Sources
10+ years of crafting experience
https://www.make-stuff.com/recycling/cd.html
https://www.countryliving.com/crafts/projects/green-crafts-0309
https://www.greenlivingtips.com/articles/138/1/Recycled-plastic-bag-crafts.html
photo by Borkur.net (CC/flickr) https://www.flickr.com/photos/borkurdotnet/2770667585/sizes/m/in/photostream/