Other Uses for Changing Table: Tips & Ideas for Repurposing Your Diaper Changing Table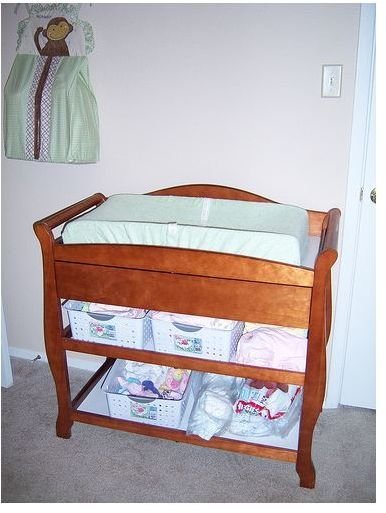 Make Creativity Work
New parents and homemakers often rack their brains on other uses for changing table, a piece of furniture that loses its main purpose as the baby it serves grows. However, these people don't have to be in a quandary on what to do with this furnishing or just relegate the table to gather dust in an attic. There are many creative ways by which the handy features of this baby furniture can be put to everyday use.
There may even be no need to have the table redesigned or altered. Some manufacturers have the foresight to produce models of baby furnishings that already have extended use incorporated in the design. One of these clever designs is a crib-to-college nursery piece. With a child's growth, the crib is then transformed to a kid's bed with the changing table forming an integral part of the structure as floorboard, footboard, and headboard.
In and Out of the Nursery
From the nursery, a changing table can be a useful addition to a den or music room. Its built-in shelves that used to house diapers, feeding bottles, and baby clothes can easily give way to CDs or VCDs collection. The other shelves, with a minimum of carpentry, can be converted as a place for an audio-video player. Coupled with some strategic holes drilled at the back of the furniture to accommodate electric and A-V cables, the table top can serve as the base or platform for the video monitor. Mini-speakers can even be easily installed in any available shelf space.
It is even very likely that a parent need not move the changing table from a kid's room. For a growing daughter, the furnishing can serve as her dresser that can also house her dolls and other toys. The same is true for a growing boy who can have the table as organizer for toys and other sundry items that he is bound to keep.
Have the Adults Take over the Furniture
The changing table can be reused as an adult's dresser. Its shelves can be used for specific types of clothing. For instance, a shelf can contain t-shirts, while the others can provide the space for underwear and sleepwear. Small items and toiletries can be stuffed into the drawers.
A mini-office of sorts can be a quick option in searching for the other uses for changing table. With some slight modifications, this furnishing's top can serve as a writing or computer table. The shelves and drawers can accommodate office supplies like paper, pens, and pencils. On this same line of thinking, the furniture can very well serve as a study table that will readily accommodate books and school supplies. With the addition of a study lamp, the set-up is complete for any of these two new roles of the changing table.
The hobbyist in the house will likewise welcome "inheriting" this nursery fixture. The shelves of this table can make for an excellent organizer of materials and supplies for most crafts or hobbies. Its drawers can for a tidy and safe storage of many tools. Complemented with a chair or stool, the table top can provide the area to work on for hobbies and crafts.
References
https://www.associatedcontent.com/article/1585974/alternate_ways_to_use_a_changing_table.html
https://unclutterer.com/2008/10/21/repurpose-that-changing-table/
https://www.mothering.com/discussions/showthread.php?t=1070158