Promoting Community Supported Agriculture Programs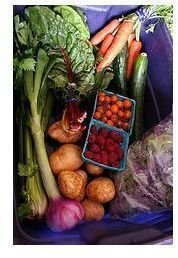 Most Americans buy fresh produce at their neighborhood grocery store as a matter of habit and convenience. The produce is presented so beautifully near the entrance to entice buyers with gorgeous, perfect fruits and vegetables in designer arranged colors and displays. This is the area that Michael Pollen calls the "supermarket pastoral" in his book, The Omnivore's Dilemma. But where do all of those fruits and vegetables come from? Does it matter? Yes, it does. In this article, we'll talk about why it matters a great deal and how you can know exactly where your food comes from by buying locally grown food from a farmer you know.
Food Miles
Where your produce comes from affects both the price and freshness. It also has an environmental impact with the distances those fruits and vegetables travel to reach your table. Called "food miles" by food ecologists, the distance the food travels from farm to market burns huge quantities of fossil fuel. Most chain grocery stores buy produce through central buyers, which means that the tomato you just purchased may have come from a thousand miles away even though delicious, fresh tomatoes are available from a farm just outside of town.
Significant public health issues are involved in this issue as well. Raw produce can harbor harmful bacteria, including E. coli and salmonella, causing thousands of cases of food poisoning in the U.S. every year. Until recent years, national outbreaks of food poisoning from fresh vegetables were essentially unheard of. Farm or processing contamination in widely distributed foods have resulted in such wide-spread instances of food poisoning as seen in the 2005 Dole lettuce outbreak and the 2006 spinach outbreak that led to national panic. There have been a number of similar instances of food poisoning resulting from contaminated produce that originated far from the locations of the poisonings.
Though locally produced vegetables are not guaranteed to be free of contamination, the source can be quickly identified and remedied should food poisoning cases be tracked to the field as the source. Cases of illness are also considerably more limited in number and scope. Identifying the source is more difficult to do and requires much more time during which more people can become ill when trying to track the source to any of a number of suppliers across the country.
Community Supported Agricultural Programs
There is an increasing movement of people who choose to buy locally grown food. Those who have local farmers markets can take advantage of purchasing superior tasting, freshly picked, seasonal produce from participating farmers. This also serves the community by keeping consumer dollars local. Another method that has become popular in the last 20 years is through Community Supported Agriculture programs.
The concept of Community Supported Agriculture is simple. Consumers purchase "shares" of a farmer's crops to receive weekly boxes of seasonal produce, typically organically grown, throughout the harvesting season to meet the needs for a family of four. The share may be a variety of vegetables or may include other farm products like eggs, meat, milk, fresh herbs, honey, flowers, and more. It is a partnership between the farmer and the community of shareholders that is a win-win for all. The farmer is guaranteed a market for a diversity of crops and members receive the highest quality of fresh produce, often at prices below retail.
Community Supported Agricultural Programs, cont.
With shares purchased in advance of the season or committed in installment payments, the farmer enjoys the cash flow to pay for the costs of seed, water, equipment, labor, etc. with time devoted to the process of farming and harvesting rather than marketing. Members share both the bounty and the risks. The farm producers do their best to provide a healthy harvest, though crops are subject to weather and other issues that can limit or even devastate a crop. It needs to be understood by members that some years are probably going to be better than others and taking the longer view will result in a better experience.
There are variations on the basic CSA model in which members receive shares of whatever crops are harvested during that week without choice. One variation is the market-style CSA in which members have some personal choice. In some, members can choose the offerings that appeal to them within limitations, for instance, a single box of raspberries per family. Others allow members to take a set amount of available harvest and leave behind what they don't like so that it can be donated to a food bank.
In some CSAs, farmers will partner with other farms in the area to offer greater variety. For example, a vegetable farmer may partner with a dairy farmer to offer their products together. Other products offered in some CSA memberships may include cheese, homemade bread, fresh chicken, and a great variety of other products in their weekly boxes.
Some CSAs require pick-up of the shares at the farm. In most urban areas, there will be a delivery program where shares can be picked up at designated locations. CSA farmers harvest only enough produce to fill the number of boxes needed for that day to ensure that no food is wasted. An individual or smaller family, for whom the shares are too large to be eaten each week, will often share a membership with a neighbor or family member.
Sustainable Farming Practices
Community Supported Agriculture programs encourage companion planting and integrated cropping in order to provide a wide variety of vegetables and herbs to members throughout the growing season. With crops planted in succession and rotated throughout the season, risk factors are reduced and the soil is benefited, unlike industrial farming practices that must depend on synthetic fertilizers and pesticides for single-crop production. Organic farming practices are better for the environment without contributing toxic run-off into the soil and water.
CSA membership allows members to develop relationships with the farmer who grows their food and members are usually encouraged to visit the farm and get involved. Many farms welcome volunteer assistance and some farms will offer discounted shares in exchange for a two to four hour time commitment a week. Some offer apprenticeships to train future farmers that offer excellent education and hands-on training. These partnerships and training for the future help to ensure that learning continues in an environment of greater awareness and stewardship.
Find a Community Supported Agriculture Program in Your Area
Thousands of families have joined CSAs throughout the U.S. with hundreds of CSAs being created every year to help fill the demand. Local Harvest has an extensive database of CSAs, local farmer's markets, and food coops to help you find organic, locally grown food in your area. Other resources for finding locally grown food throughout the U.S. include:
USDA Alternative Farming Systems Information Center
References
"Community Supported Agriculture," Local Harvest.
"Community Supported Agriculture," United States Department of Agriculture, National Agricultural Library.
"Community Supported Agriculture: An Introduction to CSA," Biodynamic Farming and Gardening Association.
Cathy Roth, "Community Supported Agriculture," UMassAmherst, Agriculture and Lanscape Program.
"Community Supported Agriculture (CSA)," Sustainable Agriculture Research and Education.
"Salinas Valley, Leafy Green Vegetables, and E.coli," Food Poisoning Journal, Surveillance & Analysis on Food Poisoning News & Outbreaks, February 2010.
Paul Rauber, "Secrets of the Supermarket: Navigating the health claims, environmental woes, and marketing myths of a modern grocery store," Sierra Magazine, November/December 2006.
"New Country of Origin Labeling Law," NSF International.
Photo Attribution: "CSA 8" by Mike Chaput-Branson from Flickr