Reusing Spray Containers: Creative Tips For Green Consumers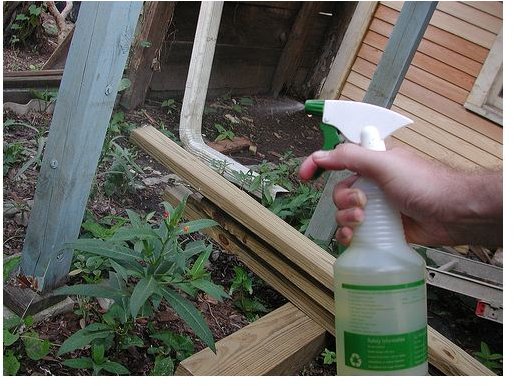 A number of eco-conscious people are in the habit of reusing spray containers rather than throwing them in the garbage and purchasing new spray-on products. The environmental benefits of reusing plastic spray bottles are two-fold: this practice leads to reduced manufacturing of petroleum-based plastics and less accumulation of waste material in landfills. If you routinely purchase spray containers for your household needs, you can contribute to helping the planet by replenishing empty bottles with your own homemade green products and reusing the bottles on a continual basis.
Types of Reusable Spray Bottles
Many types of spray containers that were initially designed to hold commercial products can be rinsed out and refilled with new liquid ingredients. Be sure to thoroughly wash and dry empty spray containers before refilling and reusing them. The following types of containers with spray-pump lids work well for reuse purposes:
Standard-size cleaning supply bottles (Windex bottles, Shower Shine bottles, Febreze bottles, etc.)
Large or small beauty supply bottles (hairspray bottles, perfume bottles, body spray bottles, etc.)
Large or small condiment bottles that hold spray-on butter, spray-on salad dressing, etc.
Plastic breath spray or throat spray bottles
Ideas for Outdoor Use
Refillable spray bottles are practical and convenient for storing homemade solutions designed for use in an outdoor setting. Keep a few of these containers in an outdoor garage or shed and use them to spray:
Water on hanging baskets and potted plants. Spray bottles filled with water are great for keeping outdoor plants healthy, and can also be spritzed on your skin to cool you down as you work outside.
Homemade plant care formulas in the garden. Fill spray bottles with organic ingredients that kill weeds and discourage bugs from eating plants.
Natural cleaning solutions on furniture or cars. Make cleaning easy by spritzing organic cleansing agents on dusty patio furniture or the interior/exterior of a grimy vehicle.
Ideas for Indoor Use
Spray containers can be reused in many ways within the home for cleaning, cooking, and personal care purposes. Make your own green-friendly solutions and spray them indoors when:
Eliminating odors caused by pets. Simply spray an organic cleaner on areas that cats, dogs, or other pets routinely occupy.
Freshening up with homemade body fragrances. Make your own perfumes and body sprays with some essential oils and store them in small reusable spray bottles.
Cleaning furniture surfaces, countertops, and appliances. Spray bottles filled with natural cleaning ingredients are useful tools for keeping your house free of dust and dirt.
Seasoning food with flavorful dressings. Use vinegar, water, seasoning packets, and other ingredients to make your own spritz-on salad dressings or marinades. Store spray bottles in the refrigerator for freshness.
When reusing spray containers, you can enjoy not only environmental benefits, but financial benefits as well. By refilling spray bottles with natural or home-prepared formulas, you can save money that would otherwise be spent on new containers of commercial solutions. Keeping, washing, and reusing old spray bottles is a simple but effective way of conserving energy and practicing green living.
Photo Credit
photo by: Editor B (CC/flickr) https://www.flickr.com/photos/editor/167718960/sizes/m/in/photostream/