Other Uses for Scrapbooking Papers: Reuse Scrapbooking Paper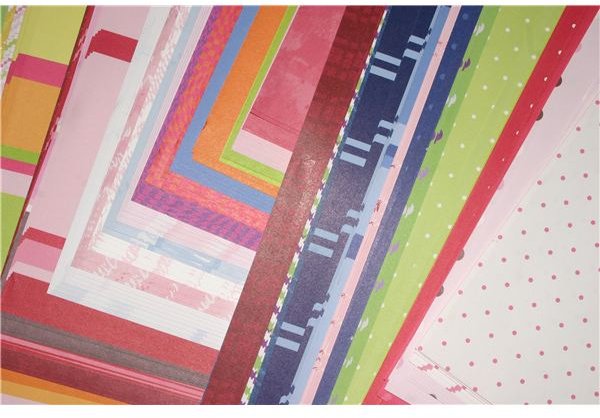 "One man's trash is another man's treasure." This saying is also true with scrapbooking papers. Whether used or unused, scrapbooking papers should not be wasted or thrown away. In a world where imagination and conservation relates to preservation of life, there are countless ways to preserve and extend the life of your scrapbook paper leftovers.
Mini Photo Albums
Paper scraps are great materials for mini photo albums. Even kids can have an enjoyable time cutting pages from paper scraps for mini photo albums. This is a great gift idea for Mother's Day, Father's Day, birthdays, and the yuletide Season. It's definitely earth-friendly and pocket-friendly. That's just icing on the cake. These mini photo albums are priceless gift ideas for those who believe that gifts are made, not bought.
Photo Mats
If you have photos or prints to frame, use your scrapbooking paper as frame mats. Purchase inexpensive, plain frames. Cut out the center of a scrapbook paper to fit your photo for framing. Once done, your inexpensive photo frames will look like you bought them from an expensive novelty store.
Paper Lamp
Paper lamps are quite popular especially with the Japanese. From simple to elaborate designs, paper lamps recycled from scrapbooking papers are not just good to the environment but they are also very entertaining. Use paper lamps as decorative ornaments, to add accent to bedrooms and living rooms. Depending on one's style and preference, designing and making paper lamps out of scrapbook paper leftovers is a fun way of expressing the artist in you.
Paper Toys
Long before the electronic invasion hit the toy kingdom, people used to create toys skillfully and painstakingly by hand. In the same tradition, moms and dads should also encourage their kids to use their imagination by hand-crafting toys out of scrapbooking papers. The activity will enhance your kid's artistic inclination. In addition, the task itself is a perfect bonding activity between youngsters and adults. Instead of watching TV, let your artistic juice run freely and spend the weekend making paper toys with your loved ones. Some of the paper toys you can make are paper dolls, origami, pinwheels and many more.
Paper Envelope
Creating paper envelopes are other uses for scrapbooking papers. Colorful12"x 12" scrapbooking papers are quite useful for greeting cards, storing miscellaneous items such as weekly and monthly reminders, bills for payment and other assorted documents. Because of its quality, paper envelopes made from scrapbooking papers can last a long time.
Specialty Boxes and Gift Bags
Instead of buying an all-around container box, why not make your own? Cover old carton boxes with leftover scrapbook paper to produce a storage "chest." Use scrapbooking papers to create specialty boxes for any occasion. In addition, you can also create gift bags instead of ready-made ones from stores. These items can be a source of extra income during the holiday season.
Decorative Accessories
Reuse scrapbooking papers to make paper collage, paper flowers, wall décor and even jewelry. Add a splash of color by using leftover scrapbooking paper of different designs and colors and put them inside a picture or print frame. Hang them in a series of threes along an expansive wall to create pizzazz to your décor. Create a paneled screen using rolls of scrapbooking papers to use as room dividers. This will help separate rooms and make your home cozier. These accessories and décor items are perfect gift ideas and are excellent home-based business ideas for those with artistic entrepreneurial qualities.
Scrapbooking papers are so versatile that you can find more ways to use them aside from just scrapbooking alone. You'll not only help the environment when you find other uses for scrapbooking papers, you'll save money, too.
Resource
Simple Scrapbooking - https://www.simple-scrapbooking.com/scrapbooking-12x12-paper.html