Where to Find and How to Make Earth-Friendly Anti-Static Cling for Clothing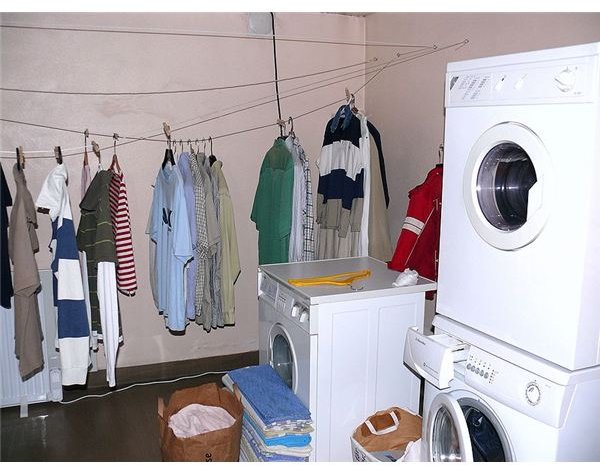 Nothing smells better than a taking a fresh, clean load of laundry out of the dryer. Many people attempt to eliminate static, soften and add fragrance to their laundry by adding fabric softener to the washer or throwing an anti-static sheet in the dryer. The chemicals in fabric softeners and dryer sheets are designed to stay on your clothes for an extended period of time. The active ingredients in these products slowly seep out and can be inhaled or absorbed directly through the skin. Many of the active ingredients include harmful chemicals such as neurotoxic toluene, trimethylbenzene, styrene (a possible carcinogen), and the respiratory irritants phenol, xylene, and thymol. Liquid fabric softener is slightly less harmful than dryer sheets because the chemicals in dryer sheets are also released into the air during the drying cycle, and may pose an additional respiratory health risk. Instead of using these chemical-based products, try one of the many earth-friendly anti-static cling options to freshen your laundry.
What Causes Static Cling?
Static electricity is simply a build up of an electric charge on the surface of objects. Static cling occurs in the dryer because heating enhances a separation of this charge. When different materials are tumbling around and rubbing against each other in the dryer, electrons unevenly transfer from one fabric to the other. For example, a sock may have too many electrons and end up with a negative charge, while your sweater may have too few electrons resulting in a positive charge. In electricity, opposite charges attract and make your socks and sweaters stick together. Some fabrics that are highly conductive can get rid of their static charge quickly, while less conductive materials, such as cotton and wool, retain their static charge for awhile.
Water is a very conductive substance and the most eco-friendly anti-static cling resource. By removing your clothes from the dryer while they are still a little damp and letting them air dry, you will virtually eliminate all static cling. However, if that is not an option for you, there are many other simple ways to reduce static cling in your laundry without harming yourself or the environment.
Earth-Friendly Products
All of these products are chemical free, non-toxic, hypoallergenic and not tested on animals.
Seventh Generation's Natural Fabric Softener
Biodegradable
Phosphate free
No animal tallow derivatives
Safe for greywater systems
Seventh Generation's Natural Dryer Sheets
Chlorine-free, unbleached paper sheets
Compostable after use
Plant-derived softening agents
Ecover's Natural Fabric Softener
Made with plant based and mineral ingredients
Biodegradable
Safe for septic tanks
Maddocks' Static Eliminator Reusable Dryer Sheets
Safe for infants
Safe for sensitive skin and eczema sufferers
Will not affect clothing's flame resistance
Hand-Maid X-Static Gloves (dryer sheets)
Uses a special fiber that contains anti-static silver
Completely chemical free
Contains anti-microbial and hypo-allergenic properties that allow it to be reused for 1 year
Homemade, Natural Anti-Static Cling Ideas
One simple way to eliminate static cling is by separating natural-fiber and synthetic-fiber clothes in your dryer. Drying cotton and polyester fabrics together is often the main cause of static cling. To go even greener, you can also save electricity and line dry your synthetic fiber clothing. Another option is to add a quarter cup of white vinegar to the wash cycle (do not add bleach when using vinegar). The vinegar will soften your clothes and reduce static cling. You can also make your own homemade static balls for the dryer by crumpling foot long sheets of aluminum foil into balls and tossing them in your dryer. Use two at a time.
Easy Homemade Anti-Static Fabric Softener Recipe
1 cup vinegar
1 cup baking soda
2 cups hot water
Mix the baking soda and water in a large gallon container until the powder is dissolved. Add the vinegar. Once the mixture stops fizzing, pour into a clean container. Shake well and use 1/4 cup in the rinse cycle.
Switching to a new product or simply using natural methods for earth-friendly anti-static clean is easy. Make a little change in how you do your laundry to benefit your health and the environment.
Resources
Scientific American: "Greener" Laundry by the Load: Fabric Softener versus Dryer Sheets - https://www.scientificamerican.com/article.cfm?id=greener-laundry
MCS Global Recognition Campaign: Fabric Softeners and Scented Detergents Cause Illness and Pollution - https://www.mcs-global.org/taxonomy/term/78
Image Courtesy Of: WikiMedia Commons - Bluescan