"Rough It" in Style with Glacier National Park Camping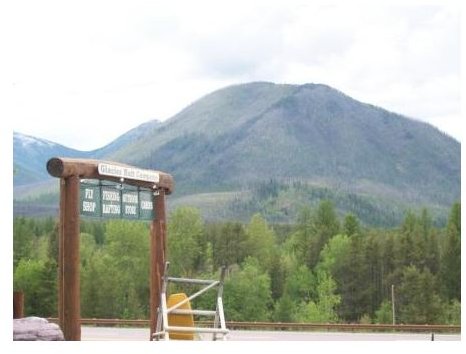 Basic Planning Tips
All of the Glacier National Park camping area, with its entrances in West Glacier and St. Mary, is only open about 100 days annually between May and September, according to Tia Troy, public relations manager for Glacier Country, Montana. Many in-park attractions and businesses surrounding the area are closed during other months of the year.
So if you hope to actually go inside most of the park during your camping vacation, time your trip accordingly. Also, plan your camping getaway in advance when possible, especially during the summer months, to avoid potentially unpleasant surprises such as no available tent-pitching spots.
"Roughing It" Considerations
Many true green campers are probably just fine without showers and excessive modern conveniences such as cell phone service. But if you're looking for cell phone service, then you probably don't want to campout inside Glacier National Park, according to Alicia Thompson, manager of sales, marketing and public relations for Glacier Park, Inc. As of 2010, no cell phone service or internet connections were available inside the park. Also, showers for campers are typically only available off-site, according to the Waterton-Glacier International Peace Park brochure.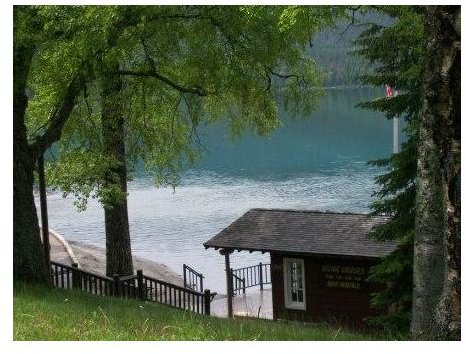 Camping Options
Camping near or in Glacier National Park can bring you and your traveling companions close to snow-capped mountains and, at times, swimming grizzly bears.
Most campers visiting the park stay either inside the grounds or at sites near the West Glacier entrance, according to Troy. Off-site options include Glacier Campground and Sun-Suz-Ed RV & Tenters Park. Glacier Campground is located one mile southwest of the West Glacier park entrance; the campsites are located amidst 40 acres. Available amenities include showers, laundry facilities, a general store and a playground. Sun-Suz-Ed RV & Tenters Park, open year-round, is located about two miles from the West Glacier park entrance, according to the Waterton-Glacier International Peace Park brochure. Breakfast, showers and laundry machines are available to campers.
If you decide to campout inside the park, keep in mind that advance reservations are not accepted, according to Thompson. During July and August, hopeful campers must stop by Glacier National Park offices in the morning to have the best chance of nabbing one of the coveted campsites.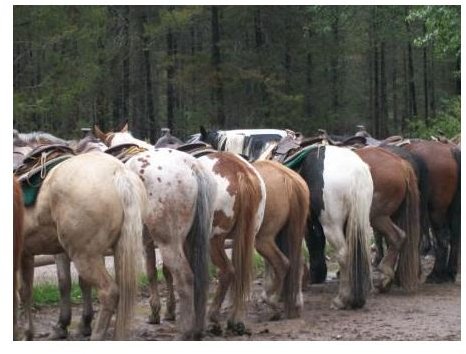 Potential Wildlife Viewing
Eco-friendly travelers often love to see wildlife in their natural habitats, and Glacier National Park camping usually offers plenty of opportunities to see a variety of animals. Whether you camp in or near the park, you might see elk, mule deer, whitetail, mountain goats, mountain lions or coyotes, according to the Waterton-Glacier International Peace Park brochure. You might also encounter grizzly or brown bears, which can at times pose danger to you or your traveling companions. If you see a bear, do not panic. Also, never feed any of the wildlife in or around Glacier National Park. As a faithful green traveler, you probably already know not to litter and to clean up after your campsite. But this eco-friendly advice is always worth mentioning, especially if you're bringing "green newbies" or children along with you.
References