How to Make Organic Window Cleaner Recipes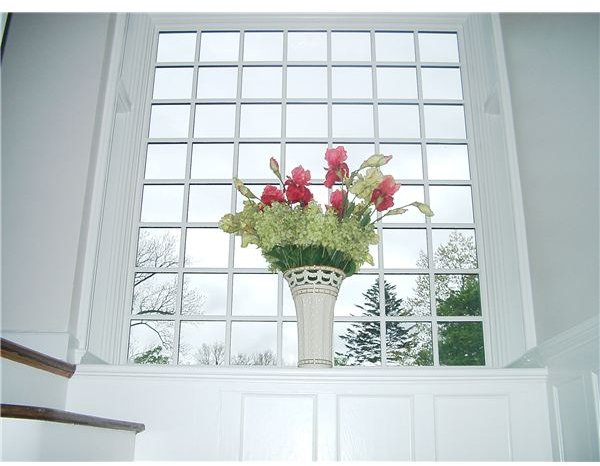 Overview and Recipes
Do you think you can have clean windows with organic cleaners? Well, yes you can and without using harsh chemicals and fumes that will hurt you medically and harm the environment as well. After trying these organic window cleaner recipes you'll never want to go back to commercial chemical-based cleaners again. Below are recipes that can be made from common household ingredients.
White vinegar is mildly acidic and dissolves dirt and grime from smooth surfaces and yet very gentle to the glass in windows. Since it doesn't have any coloring agents it is safe to use and will not stain wooden or metal frames around windows. It is a natural deodorizer as well. Don't worry too much about the vinegar smell as it will evaporate and go away in a short time.
Easiest Window Cleaner to Make
1/2 cup white distilled vinegar
1 gallon warm water
Combine these two ingredients and place them into spray bottles. Spray the window well and remove the solution along with the dirt with a squeegee, newspapers, or paper towels. The new microfiber towels work well too, and since you can launder these, there is no waste to fill the landfills.
Recipe for Really Dirty Windows
1/4 cup vinegar
1/2 teaspoon organic liquid dish detergent
2 cups of water
Place these three ingredients into a spray bottle and squirt the windows and then dry with towels, newspapers, or paper towels. The liquid soap will help remove the grime and grease than can accumulate on windows.
Borax Window Cleaner
Borax is a safe powder that cleans and deodorizes surfaces. It can be found in the laundry aisle in your grocery store. The oldest brand is 20 Mule Team Borax. To make a window cleaner:
2 tablespoons borax
3 cups water
Spray or rub onto windows and dry with newspapers to avoid streaking.
Citrus Window Cleaner
The essence of lemons gives this organic window cleaner recipe a nice fragrance.
1/4 cup white vinegar
2 tablespoons fresh lemon juice
Squirt of liquid organic dish detergent
1 gallon of water
Apply to windows and wipe dry with a microfiber towel or crumpled newspapers.
Tips for Washing Windows
It's best to wash windows on a cloudy day because the sun will cause the glass to dry too quickly leaving unsightly streaks.
Always wash windows with horizontal strokes on the inside of the window and vertical strokes on the outside (or vice versa). This is a clever idea so that if there are any streaks, you will know which side of the glass they are on.
Save on paper towels by using crumpled newspapers. It's a good way to repurpose the newspaper. The only drawback is your hands may become black from the print, but it is easily washed off with soap and water.
Give the glass a final shine by using a lamb's wool pad for the final buffing.
Recycle your car's old windshield wipers and use these as squeegees on your window glass.
If you have a stubborn window that won't open easily, lubricate the frame by rubbing it with a wax candle.
Washing windows can become a more pleasant chore when you use these organic window cleaner recipes. Your nose, eyes, and hands will be much happier to stay away from harsh chemicals.
Sources
"Do Natural Window Cleaners Work?" http//blog.gaiam.com/blog/do-natural-window-cleaners-work/
"Homemade Window Cleaner Recipes & Tips" https://tipnut.com/more-homemade-window-cleaner-recipes-to-try/
Haley's Hints - a compilation by Graham and Rosemary Haley [3H Productions Inc. 1995]
Photo credit: by duboix https://www.morguefile.com/archive/display/671616