Going Green in Child Development Centers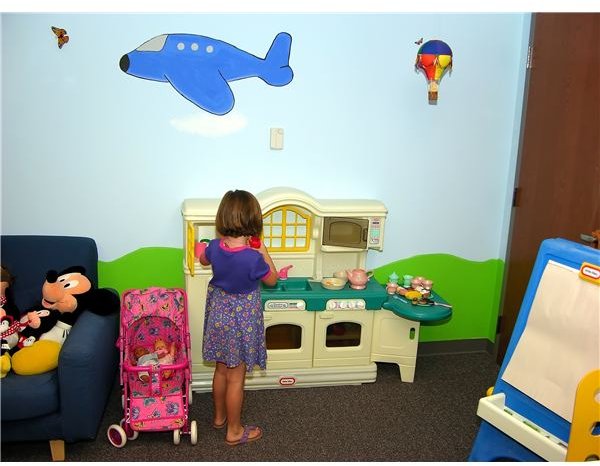 If you have changed your lifestyle at home and have adopted a greener living style, do you ever wonder what happens when you drop off your children at the child care center? Help has arrived for providers who are going green in child development centers.
The Eco-Healthy Child Care (EHCC) program is working toward making child care settings as environmentally healthy as possible. Centers are committing to completing their checklists and receiving certification and endorsement so parents and others learn of their efforts. Eco-healthy child care is of utmost importance for parents when raising their children. Just think how many hours your child spends in a child care facility daily.
Below are some ideas on going green in child development centers to get your facility started in the right direction.
10 Ways to Green your Child Care Center
1. Start with a recycle center in each classroom and teach children about recycling. Provide bins or containers to collect all paper, glass, aluminum, and plastic. Make sure these items are sent off to the recycle center via your community or city recycling program. Keep an art bin where parents can drop off some recyclables that you have posted on a list for art projects. It's good to repurpose when possible.
2. Paint your walls and furniture with low VOC paint. You don't want outgassing fumes to be inhaled by the children.
3. Child development centers must be clean and sanitized daily, however, use products that are biodegradable and non-toxic.
4. Become a light monitor and turn off unnecessary lights whenever possible. Hopefully, your center has windows where you can utilize as much natural light as possible during the day. When using computers, make sure they revert to standby mode when not in use. Replace old light bulbs with the newer compact fluorescent bulbs.
5. Don't waste paper. Have the children draw and color on both sides of the art paper. Better yet, ask businesses to donate their used paper rather than throw it away. At least one side is usable for the children to practice drawing skills.
6. If your enrollment isn't too large, or you are running a home child care center, avoid paper and Styrofoam plates and cups, and use washable dinnerware. Regular glass and stoneware would be ideal, but a safe plastic is necessary with young children. Avoid polycarbonate #7, PVC #3 and polystyrene #6 which have been found to leach toxic chemicals. If buying plastic dinnerware, look for the recycle codes #1, #2, #4, and #5 that are deemed safer. Think about investing in an energy-star dishwasher, and wash dishes daily rather than add more waste to the landfills.
7. Think about replacing PVC plastic toys for wood and organic toys. Avoid toys and tethers made of polyvinyl chloride (PVC). These plastics contain harmful chemicals and we all know young children put everything in their mouths. Think about asking for book donations from parents. Businesses may take your center on as a sponsor and help with toys and books.
8. Use safe non-toxic art supplies, ones with the ACMI AP approved product seal (The Art & Creative Materials Institute is a leading authority on art materials). Safe products have a low odor and emit virtually no fumes. Always supervise children while they are using arts & crafts materials, as children frequently put things in their mouths and tend to draw on themselves.
9. Avoid pesticides in the classrooms. Use safer alternatives such as boric acid, essential oils and vinegar.
10. To save money and natural resources, install low-flow toilets and sinks with faucet cut-off valves for less water usage. Just think about how many times children use the bathroom and wash their hands daily in a child development center.
Conclusion
It is truly necessary in today's world to help the environment as much as possible and to uphold a healthy lifestyle. Going green in child development centers is a good start and one where children grow up with good habits and lessons to take with them. The earth needs our next generations to keep it going - the future depends on the children.
Sources:
Eco-Healthy Child Care https://www.oeconline.org/our-work/kidshealth/ehcc
Healthy Child-Healthy World https://healthychild.org/live-healthy/hchw_products/creating_healthy_environments_for_children/
Photo credit: by phaewilk https://www.morguefile.com/archive/display/131969