Finding Recycled Furniture Designers will Lead You to Works of Art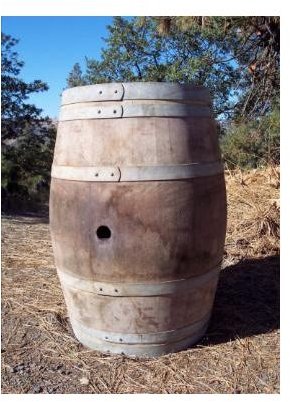 What Makes Recycled Furniture Interesting?
Finding recycled furniture designers and their impressive creations is like walking through an art gallery, because quite a number of them have come up with mind-blowing designs, so to speak. Their recycled furniture makes good conversation pieces, suitable for those who often entertain guests at home. For personal purposes, it is something we could use for practicality or even to simply stare and muse at while relaxing in our cozy comfortable homes.
Recycled furniture pieces are products we should consider as one of our choices when looking for decors to liven up our homes. The underlying reason for this is that by creating a demand for them, recycled furniture designers become more inspired to use discards and trash. Otherwise, the latter only worsens the country's landfill problems. Characteristically, recycled furniture may be pricey; but these are modern works of art that were handcrafted and painstakingly attended to, up to the smallest detail.
Below are some examples of recyclable objects with a brief insight on what inspired their designers to come up with creative and artful recycled furniture designs.
Recycled Wine Barrels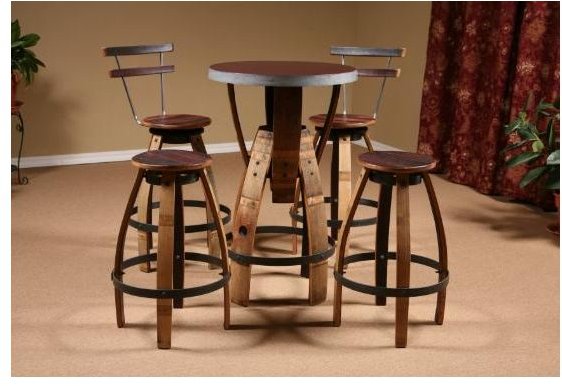 The first in our finds are the recycled furniture collections of designer Mark Russel Lutz of BarnhouseProducts.com. There is an assortment of hand crafted tables and chairs made from reclaimed wine barrels. The designer's creative eyes saw the staves, heads, and bands of old wine barrels as having more functional use than just planters. He utilizes superior joinery techniques as well as waterproof /weatherproof substances to assemble the furniture and applies tung to enhance the wood's natural grains. This ensures the furniture pieces, once assembled, are still recognizable as materials coming from reclaimed wine barrels.
In fact, a closer scrutiny of a furniture piece reveals the original handwritings on the wood were retained in order to preserve whatever history the wine barrels carry as wine artifacts. This is just as well, because the recycled furniture pieces are works of art any owner would be proud to show-off and point-out, as something made from wine barrels ready to be discarded or relegated as plant boxes.
Recycled Skis and Wakeboards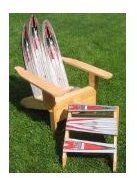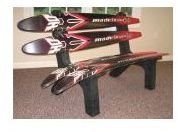 Where do old blemished water skis, snow skis, wakeboards, snowboards, and hockey sticks go when their owners no longer have a use for them? To SkiChairs, a company specializing in recycling this type of sports equipment into handmade ski chairs and benches. They are assembled and created not as novelty items, but as ergonomic seats.
A typical ski chair uses six individual skis, recycled into Adirondack chairs with matching ottoman. They are stylishly designed to provide maximum comfort for outdoor or indoor relaxation. These handmade recycled furniture designs have ergonomically curved back and seat supports while providing extra long and extra wide armrests. Stainless steel fasteners were used to make sure of their integrity as durable furniture for outdoor use.
The Ski Benches, on the other hand, are of 100% recycled origins, consisting of discarded skis, boards, and hockey sticks. The legs are made from recycled milk and soda bottles or what is now known as poly lumbers. Even the boxes used for shipping these items are made from recycled bikes and ski boxes.
Recycled Shopping Trolleys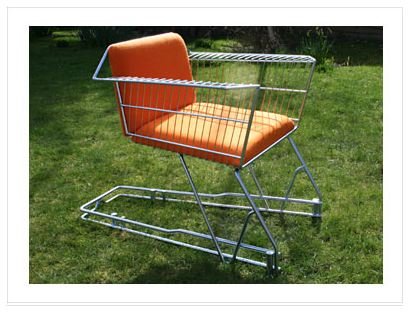 Every kid has had the wonderful experience of riding a shopping cart trolley while mom carries on with her shopping. Now anyone who wants to have the pleasure of sitting on one right in his own home can do so comfortably with the recycled shopping trolley chair. In fact, there are instructional materials available online on how to convert one, in case you are interested. Nevertheless, you can find numerous selections in varied styles and sizes at Reestore, a company dedicated to making everyday garbage dump objects into stylish and functional recycled furniture.
The shopping cart trolley is only one of their many recycled furniture designs; carts always find their way to a wasteland if some of the wires are distressed and exposed or their wheels have been terribly misaligned.
The Recycled Cast Iron Bath Tub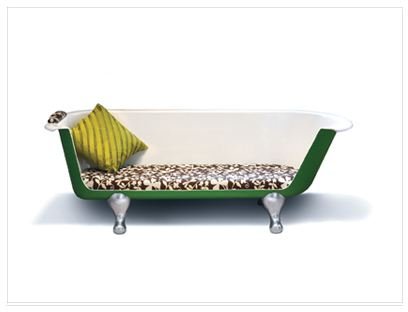 A vintage cast iron bath tub is also featured by Reestore as one of their recycled furniture designs. This recycled furniture can be a stunning home accent and interesting as a conversation piece when entertaining guests at home. It can provide the home with relaxing furniture to slouch on, while giving guests a conversational focus point or icebreaker. However, the company does not make any claim that it totally conforms to the tradition of eco-recycling since the aesthetic desirability of their product is their foremost consideration.
The Recycled Bikes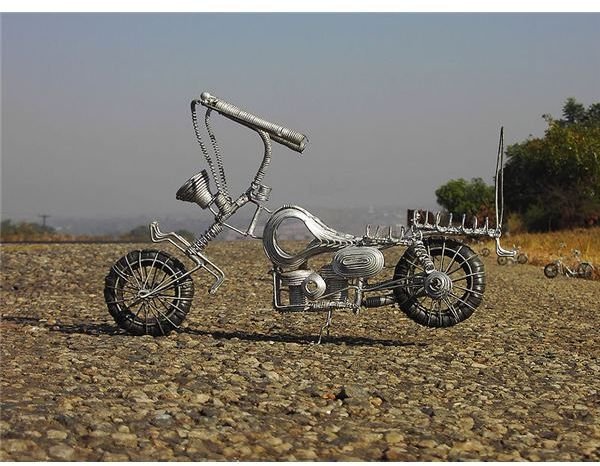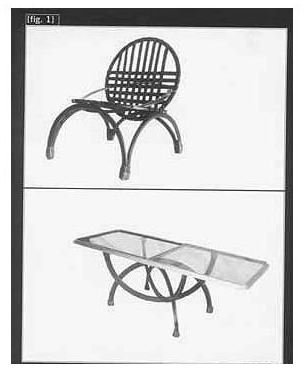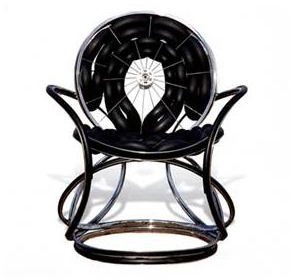 The image on your left is a bike made from recycled wires, which is a great tribute to the practicality of bikes. (Click on the image for a larger view) However, Andy Gregg, who had been exposed to bikes and bike shops for years, had a different idea when he founded Bike Furniture Design(BFD) when he became a furniture designer in 1990.
The company has been designing furniture pieces that made use of discarded bikes and bicycle parts since then. In fact, BFD"s recycled furniture designs have become quite successful since the company now includes parts reclaimed from other modes of transportation to come up with more innovative designs.
A visit to the BFD website is like a Tour de France, since you see all sorts of bicycles that have taken on new forms as recycled furniture. They can be staid and serious as an all black concept but they can also be fun and engaging with glow-in-the dark armrests.
The Recycled Industrial Parts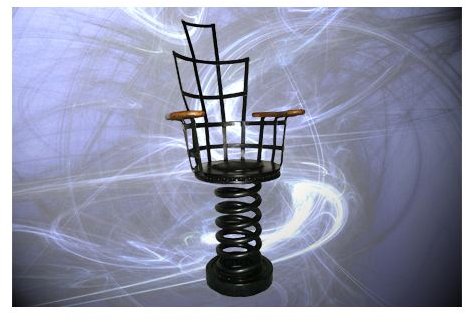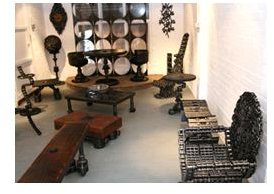 Let's take a look at Bob "Stig" Campbell's recycled furniture designs at Stig-Art.Co.UK. Bob is a self-taught English sculptor who makes use of what are described as redundant mechanical and industrial parts. We could probably imagine these materials as akin to washers, nuts, bolts, chain links, and the likes, but Stig uses those that are of industrial strength. Every piece used in his designs came from reclaimed industrial machinery already discarded at salvage yards. This recycled furniture designer maintains the uniqueness of his art work by not replicating any of his finished pieces, not unless a customer will specifically request that a replica be made.
Other Ideas in Recycled Furniture
These recycled furniture designs are the exact manifestations of how recycling has become a form of art we can appreciate not only for their aesthetic qualities but also for their environmental significance. Although some of the examples above may not conform to everyone's taste in home decors, there are recycled furniture designers that delve in traditional styles that are also featured in green directories and websites.
Different recycled furniture designers specialize in various salvaged materials coming from a variety of sources like forest clearings, deconstructed buildings, old barns, mills, and other vintage and rustic items from salvage yards and flea markets. In this day and age, one man's trash won't be trash for long, in the eyes of these creative recycled furniture designers.
Reference Materials and Image Credits Section
Reference Materials:
Images Courtesy of:
Reestore.com
Bikefurniture.com
Mark Russel Lutz of BarnhouseProducts
skichair.com
stig-art.co.uk