Patio Sets Made from Recycled Material: Learn About PolyWood Patio Furniture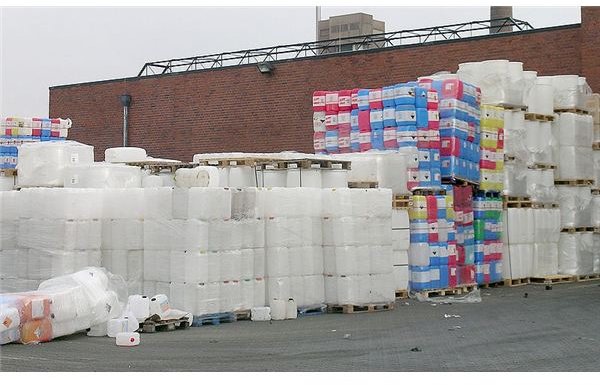 How PolyWood Furniture is Made

In ending the search for patio sets made from recycled materials, you also help with ending the accumulation of one of the greatest landfill problems ever, the high-density polyethylene (HDPE) plastics. The abundance of this particular type of waste, also known as plastic# 2, stems from the fact that HDPEs are used for making milk and detergent jugs and a host of home and gardening plastic items.
Based on their original purpose and use, HDPE plastics are basically sturdy to withstand any load. As usable plastic products, they have the capacity to bar any moisture or any elements that can cause the material to rot or become distressed. When recycled as poly lumber, the HDPE plastics go through cleaning, shredding, grinding and melting processes. In the last stage they are mixed with UV stabilizing agents and color pigments. The treated and colored plastic melts will then be molded into standard lumber forms.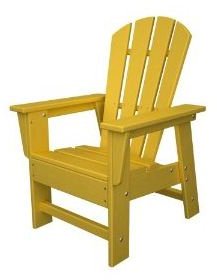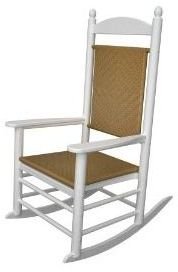 Thereafter, PolyWood lumber will be handcrafted to create well designed outdoor pieces of furniture that can withstand all types of weather and the elements. Come rain, sun, sleet or snow and whether acidic or salty water, your PolyWood patio furniture will remain unaffected for a number of years to come. Even the hardware materials used to assemble the lumber pieces together are marine grade. This totally eliminates the possibility of corrosion or a weakening of the furniture.
These eco-friendly furniture collections may be considered as a bit pricey, but they are worth investing in as outdoor home furnishings. PolyWood manufacturers guarantee 100% customer satisfaction, that their products will last a lifetime as maintenance-free outdoor furniture that is highly-resistant to color fading as well as odor and chemical leaching. PolyWood furniture offers the most befitting solution when trying to find a sustainable, environmentally-friendly patio furniture option.
Styles and Designs of PolyWood Patio Furniture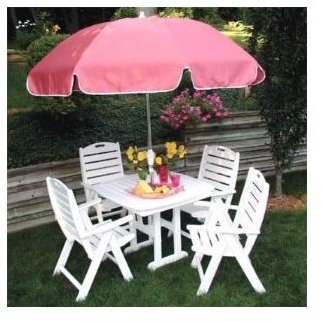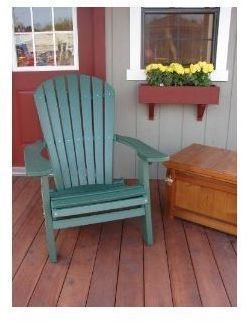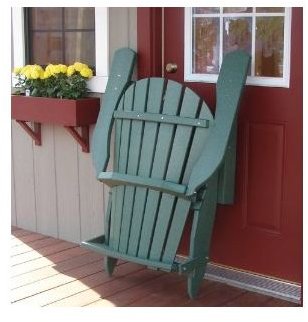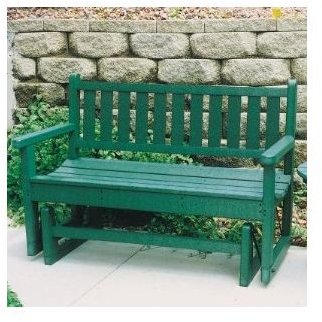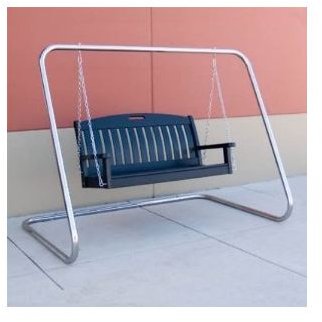 There are twelve vibrant colors to choose from and a wide array of practical and stylish designs available at Amazon and other online stores. You can check out such designs as the [Nautical Breeze Patio Set](https://www.amazon.com/PolyWood-Recycled-Nautical-Breeze-Patio/dp/B003K0OD9Q/ref=sr_1_82?ie= UTF8&s=home-garden&qid=1277751705&sr=1-82) which can complete the ideal outdoor set-up for your morning and late afternoon meals. It has a retractable and removable oversized umbrella to provide that all-important sun-shade.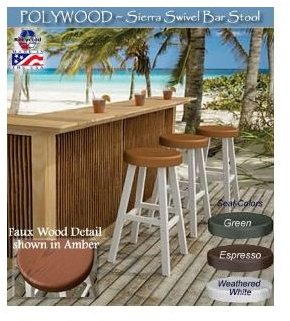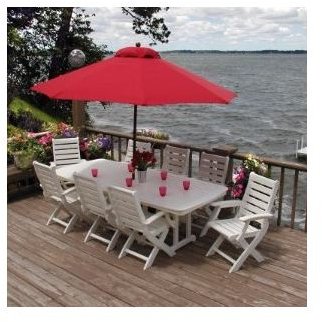 There are numerous PolyWood patio furniture sets for outdoor-dining with different seating capacities to suit any family size. The chairs are collapsible and can be folded if not in use. The high resistance of PolyWood material against stain can withstand the spills and drippings at any informal gatherings, which makes entertaining less of a hassle. For a garden setting, you can opt for the picnic style tables and benches. There are rockers and kid-size tables and chairs, which can truly make your patio an inviting place to relax in. You can also add brightly colored cushions that are made from recycled fillers. Checkout the black nautical swing set which provides an excellent touch to a perfect patio setting.
In having this wide range of styles and designs of PolyWood patio furniture made from what used to be non-biodegradable landfill problems, ending the search for patio sets made from recycled HDPE material couldn't be any better.
Reference Materials and Image Credits
Reference Materials:
Images Credit: