Recycled Plastic Fences: Types, Tips, and Sellers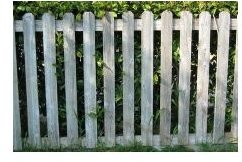 Recycled plastic lumber is defined as a wood-like product that is made from recycled plastic. Producing it diverts plastic waste from landfills and reduces treated wood waste. Although this eco-friendly resource can not currently be used to replace all wooden structures, it is being repurposed into a range of products including gates, fences, animal stalls, park benches, picnic tables, playground equipment, piers, and boat docks.
Recycled plastic lumber falls into four main categories:
High Density Polyethylene (HDPE) – This is the most common type. It contains up to 95% HDPE, which is a high density plastic made from recycled milk jugs. It takes almost six and one-half gallon milk jugs to make one pound of plastic lumber, or approximately 1,600 milk jugs to make 1 picnic table.
Commingled - Commingled recycled plastic lumber is produced from recovered thermoplastic, which is plastic that can be re-melted and remolded. It also consists of 80% to 90% percent polyethylene (PE).
Wood-Filled - This type is made from plastic mixed with sawdust or other recycled fibers. It generally contains a mix of one-half low density polyethylene (LDPE) and one-half sawdust.
Fiber-Reinforced - Fiber-reinforced plastic lumber contains recycled plastic mixed with strands of glass fiber.
In addition there are many other combinations of recycled plastic materials that the industry has taken advantage of, such as glass-reinforced plastic lumber, rubber-plastic lumber, and a blend of plastics and peanut shells.
Benefits of Plastic
There are many benefits to using recycled plastic fences. They are generally easy to clean, nontoxic, and they tend to last longer than wood fences. The plastic material is water resistant, and unlike wood it will not crack or splinter. Plastic fencing also repels insects and bacteria. Not only is it almost maintenance free, but this eco-friendly fencing can actually be recycled again at the end of its useful life. Wood fencing is generally treated with chemicals, and therefore more difficult, if not impossible, to recycle.
Aside from the practical benefits of plastic fences, there are environmental benefits as well. It does not need any sealant or preservatives to maintain a finish or protect surfaces from water damage. It is resistant to graffiti and other types of chemicals. Also, it does not need to be painted. By not using any of these pollutants that are traditionally used with wood fencing, you are helping to keep our environment clean and healthy.
Price
There are many considerations to evaluate when purchasing plastic fencing. Some types may have a higher initial purchase price than wood fencing. However, due to the low maintenance and longer life cycle, recycled plastic fencing can end up costing less over the lifetime of the fence. The manufacturing costs primarily depend on the quality of the recycled resins and additives, the sorting technology, and the production capacity and rate. Fortunately, as technology improves and demand increases, the purchase price of these eco-friendly, efficient fences is expected to decrease, while the price of wood fencing is increasing.
Where to Buy
The following is list of companies that sell different types of recycled plastic fences:
American Recycled Plastic, Inc.
Investigate different varieties and brands to find the right eco fence for you.
Resources
American Recycled Plastic, Inc.: FENCING - 2, 3, & 4-Rail Styles - https://www.itsrecycled.com/fencing.shtml
Plastic Lumber Yard: https://plasticlumberyard.com/
Image Courtesy of: WikiMedia Commons – SidP