Recycled Countertops: From Aluminum to Reused Glass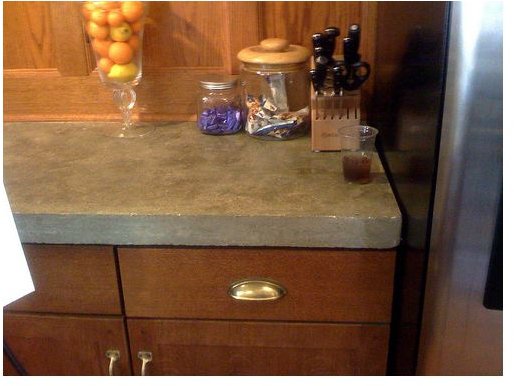 Everyone seems to be looking for ways to shop eco-friendly and decrease their carbon footprint. A practical, economical, and environmental consideration for homeowners considering remodeling is the use of countertops made from recycled materials. Made from anything from post-consumer paper to used glass, recycled countertops are available in a variety of different styles to meet diverse consumer needs while maintaining a commitment to green living.
Recycled Aluminum Countertops
Aluminum is commonly recycled in the form of beverage cans, but a large amount of scrap aluminum is also created in the industrial sector. Business such as Eleek Inc. and Renewed Materials LLC are making beautiful countertops using shards of industrial aluminum in a binding resin. The countertops are both durable and economical, making them a rising competitor for more traditional materials. These countertops are also available in two finishes to best match your current kitchen décor.
Recycled Paper Countertops
It is surprising to learn that recycled paper and cardboard have been used for many years as a stone-like substitute for skate parks and industrial settings; luckily for homeowners, the use of recycled paper countertops is now growing in popularity for indoor uses as well. These countertops are usually made from post-consumer materials and can be bound together with VOC-free resins.
Unfortunately, there are several drawbacks to recycled paper countertops. Some resins can be damaged by UV light and darken overtime so it is important for consumers to do the appropriate research before making a purchase. Also, these countertops are not resistant to scratches or scorches. However, the damages can usually be removed fairly easily.
Concrete Countertops
Concrete countertops can be both beneficial and detrimental. The processing of concrete can be incredibly energy-intensive. However, if the concrete is being recycled from a previous source, it is a much less demanding process. Concrete is incredibly durable and heat resistant and can easily be dyed to match a kitchen should the homeowner want it. It also carries the benefit of being recyclable if removed from its countertop function. It can easily be used in another setting where the concrete would prove useful.
Recycled Glass Countertops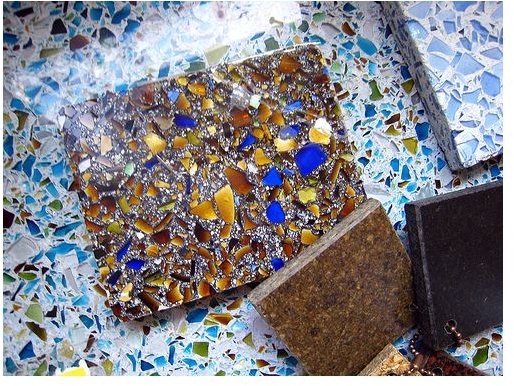 While recycled glass tile has been popular among consumers for some time, recycled glass, or terrazzo countertops are gaining popularity because they offer a unique look in a single slab of material. The glass used in these countertops is largely post-consumer, meaning it comes directly from materials that have been used previously, not just swept off a manufacturing plant floor. The glass is crushed and collected, often being arranged in a speckled pattern that is unique to each countertop. This decreases the amount of glass that ends up in a landfill and helps beautify the home.
Since recycled glass countertops don't need the toxic glues that are used with plastic laminate countertops, they avoid the volatile organic compounds (VOC's) that can affect the air quality of the home. Recycled glass is also non-porous and heat resistant, so it is fairly resistant to staining and scorching.
If you're looking for an affordable and green alternative to more traditional countertops, consider looking at countertops made from recycled materials. These reused materials provide a great opportunity to make your commitment to green living extend into your home building or remodeling project.
Resources
"Recycled Glass Countertops" https://greenliving.lovetoknow.com/Recycled_Glass_Countertops
"Benefits of Terrazzo Countertops" https://www.doityourself.com/stry/benefits-of-terrazzo-countertops
"Paper Countertops Look and Feel Like Stone" https://www.finehomebuilding.com/item/5787/paper-countertops-look-and-feel-like-stone
"Choosing Kitchen Countertops: Our Top Picks" https://greenhomeguide.com/know-how/article/choosing-kitchen-countertops-our-top-picks
"Alkemi Recycled Countertops from Renewed Materials- Green and Beautiful" https://www.trendir.com/archives/000567.html
Photo Credits
"Concrete Countertop" by Kelly Sue https://www.flickr.com/photos/kellysue/2912544127/
"Glass.Terrazzo" by orphanjones https://www.flickr.com/photos/orphanjones/503998699/