Enviromentally Friendly Sailboat Production Designs and Technology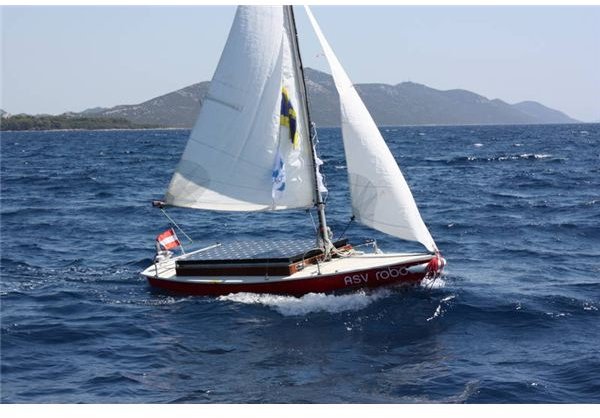 Enviromentally Friendly ASV Roboat Sailboat
There are great strides being made in environmentally friendly sailboat production these days. One in particular is called the ASV Roboat sailboat which is solar powered and features a Linux operating system that can navigate pre-set courses without any human operation involved. The ASV Roboat is currently the world's leading autonomous sailboat, and has won several international competitions. The ASV Roboat has been in development and manufacture by a European INNOC research team since 2006. It began as a sailboat that could calculate the best route to takef based on weather information. The only active role a human plays is to enter the pre-set coordinates for the sailboat to follow.
The ASV Roboat Sailboat is Powered By the Sun Instead of a Motor Utilizing Fuel
Autonomous ASV Roboat Features
There are numerous applications the ASV Roboat boasts. The Roboat's intelligent technological features sets this environmentally friendly sailboat apart from the rest. There are alternative controls allowing the sailor to program which tasks to assign to the Roboat, and which tasks are to be taken over by the driver of the boat. This delegation feature allows for greater comfort on board the boat, and allows a great advantage to people with a handicap or for those who are too ill to drive the boat.
Another control feature of the ASV Roboat is safety retrieval. The ASV Roboat is equipped with sensors that can detect when something or someone has fallen overboard. It then sends it coordinates to allow for safe retrieval in dangerous situations. Although this environmentally friendly sailboat is powered by the sun, it does have a methanol fuel cell just in case the solar panels fail.
Volitan-A Futuristic Green Sailboat Design
There are many conceptual green sailboats in the design phase of production that seem too futuristic to believe. Another green sailboat design that is making a splash is called the "Volitan" (Meaning the flying fish). A little eccentric, this sailboat was designed by Hakan Gürsu and Sözüm Dogan of Turkish design firm Designnobis Studio.
This sailboat is lightweight and can navigate waters using solid sails, wind power, and solar energy. It is built from carbon fiber and epoxy resin, and covered by carbon foam lamination. Measuring 105 feet long, this sailboat beast is a feat in itself and has changed the face of sailboat production.
The Volitan has solar-powered wings that fold up against the boat when the seas are rough, and is designed to operate in 60 knot winds. The boat has a pair of lower wings which contain a duo of DC motors which assists in stabilizing the boat. The Volitan has taken first prize at the 2007 International Design Awards in the transportation and Nautical/Boat category. Environmentally friendly sailboat production has made incredible strides in ocean transportation and provided great eco-friendly boats that will enable us to harness the earth energy for our water transportation needs.
Supporting Resource Links
Photo Kindly provided by cleantechnica.com
https://cleantechnica.com/2008/12/06/the-roboat-solar-and-linux-powered-sailboat/
https://www.ecofriend.org/entry/volitan-a-futuristic-green-sailboat-promises-uber-green-sailing/