Make Gifts From Recycled Wine Bottles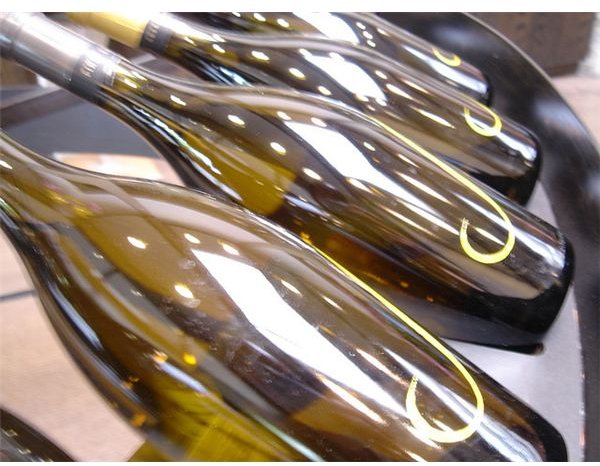 Recycle or Reuse Wine Bottles
The U.S. Environmental Protection Agency reported in 2006 that more than 13 million tons of various glass containers were thrown into landfills in the United States. While 2.9 million tons were rescued and placed in recycling centers, it has been estimated that one single glass bottle, when recycled, will save enough energy to light a 100-watt light bulb for four hours.
The electricity alone that we can save by recycling our empty wine bottles is astounding! Reusing the bottles is another way of reducing the landfill bulk. Instead of throwing out those used wine bottles or recycling them in the traditional way, why not create gifts instead?
These handmade expressions of celebration present a more personal touch than the customary store-bought presents. A few of the gift ideas presented here require wide-necked bottles enabling solid content removal but most will work with regular recycled wine bottles.
Saving a few more bottles from landfills or recycling bins is one more way to help the environment and in the process, have fun by crafting some gifts for friends and family. Create various art projects around the home as well. Make yourself some gifts from recycled wine bottles!
Party Gift Ideas
• Fun Gift for Graduates: Fill a wine bottle with an assortment of candies in the graduate's school colors. Layer the candies color by color, and tie a coordinating ribbon around the bottle neck. Place the cork or lid back on the bottle top.
• Wine Bottle Birthday Gift: Fill a wine bottle with the gift recipient's favorite type of drink. Tie balloons to drinking straws and push them into the bottle. Decorate the bottle with birthday wrapping paper and festive bows.
• Bridal Shower Favors for Guests: For inexpensive yet charming bridal shower favors, collect small wine bottles and fill them with mints, colored sand, or tiny glass beads. Attach ribbons around bottle necks, and make labels with the bride's name and the date of her shower.
Housewarming Gift Ideas
• Votive Candle Holders: Using the bottom portion of a wine bottle (after removing the neck with a glass cutter and sanding the edges), make a votive candle holder to present at a housewarming. Fill the holder with an assortment of votives that the recipient can alternate in burning.
• Homemade Beverage Gifts: Do you have a homemade recipe for apple cider or fruit punch? Make a batch for new neighbors and pour some into a clean recycled wine bottle. Attach a "Welcome to the neighborhood!" label.
• Flower and Potpourri Gifts: Wine bottles can easily be filled with fragrant potpourri and given as a decorative gift. You can also fill a bottle with long-stemmed fabric flowers that compliment the color scheme of a new home. Decorate the bottle with acrylic paint or fabric in a corresponding color or pattern.
Holiday Gift Ideas
• Holiday-Themed Painted Bottles And Glasses: Convert wine bottles into drinking glasses with the use of a glass cutter (or keep the bottles as they are) and paint them with holiday motifs.
Ideas include:
Christmas–snowmen, mistletoe, trees, candy canes
Halloween–black cats, pumpkins, ghosts, witches' hats
4th of July–red, white, and blue fireworks, flags
Give these festive drinking glasses or bottles as gifts for friends or family to use during a holiday gathering.
• Fabric Holiday Characters: If you are talented in sewing, you can make fabric "bottle covers" (with felt, yarn, buttons, etc.) in the form of holiday characters such as Christmas carolers, Santa Claus, or the Easter Bunny. The bottom of the bottle serves as a base, and the gift recipient can display these adorable characters during the appropriate holiday seasons.
Give the Gift of Green
When making gifts from recycled wine bottles, you are practicing green living and offering loving gifts to those who are celebrating a special moment or decorating a new house. You can inspire others to recycle glass products as well!
Get together and host a craft shop or circle. Create with your friends, neighbors and family members. Pick one night a week and make it a crafter's get together. Serve simple refreshments and drinks (from your new upcycled wine bottle glasses) and have a crafty evening. Make wine bottle taper candle holders for the center of your refreshment table by simply dripping wax down the bottle and placing the candle in the uncovered top. These candle holders look great on red and white gingham table cloths. Make an Italian dinner with lasagna and salad or spaghetti to serve your craft circle guests. Your new table cloths and Italian style candle holders will be a huge hit.
Decorate your table with goodies such as candy placed in cut glass bowls by cutting the majority of the bottle off with glass cutters. Serve your guests nuts and pretzels from them. Paint them up and make them sparkle by marking designs crafted from a glitter stick.
There are many creative ideas using recycled wine bottles. Keeping them out of the landfills helps save our planet and reduces the waste in the dumps that builds on a daily basis. If we continue to fill our landfills, we eventually run out of room to house landfill space.
There are a few companies to send your wine bottle corks to as well. These companies reuse the cork to create new products.
Reducing the amount of wine bottles you recycle each week is easier than ever with the boxed wines. Boxes may make the avid wine drinker think twice, however it is a more eco-friendly way to enjoy the drink. The box reduces travel-associated carbon emissions and the landfill bulk both. Wine consumed in Australia and in Sweden sees more than half drank from the box.
Reusing, recycling and reducing are the three simple ways we can keep our landfills free of glass. The creative ways to reuse the colorful glass are the most fun by far.
Sources
Author unknown, "Reuse and Recycle Old Wine Bottles", Green Your: https://www.greenyour.com/lifestyle/food-drink/wine/tips/reuse-and-recycle-old-wine-bottles
Steph, "Booze it Up! 13 Rad Recycled Bottle Crafts & Projects", Web Ecoist: https://webecoist.com/2011/02/28/booze-it-up-13-rad-recycled-bottle-crafts-projects/
Various authors, "Empty Wine Bottle Gift Ideas", Thrifty Fun: https://www.thriftyfun.com/tf673385.tip.html
Biles, Jan, "Wine Bottles Transform Into Special Candles", CJ Online.com, The Topeka Capital Journal: https://cjonline.com/life/2011-07-23/wine-bottles-transform-special-candles
Other craft ideas from original author
Images
"Assortment of wines from J Vineyards in Sonoma.", by Ayako under CC BY 2.0