8 Ideas for Recycling or Reusing Wine Corks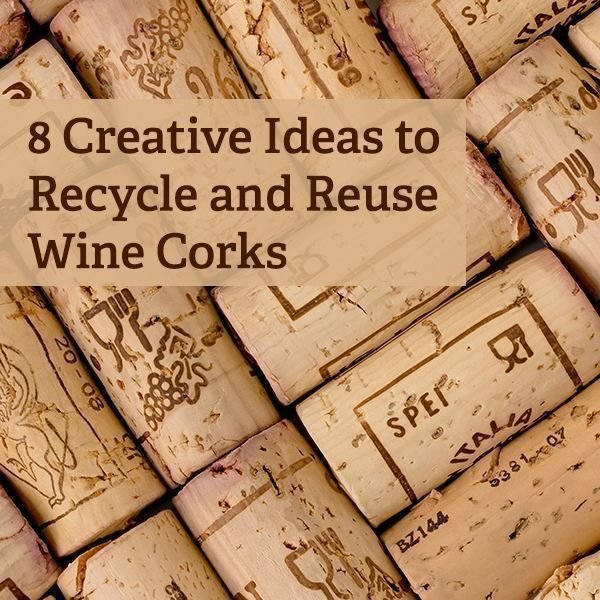 Official wine cork recycling programs are virtually unheard of outside California, but the creative drinker has lots of options for reusing them. Cork is a renewable, sustainable resource, but it still pains us to toss such a useful-seeming nugget into the trash. Here are 8 wine corks recycled ideas for putting those wine corks to good use.
Let's get the obvious ways to reuse wine corks out of the way, shall we?
Many people feel compelled to save their wine corks as mementos, winding up with a drawer or jar full of miscellaneous corks. There's nothing wrong with collecting, but apply one rule: if you're going to collect it, make it meaningful.
One way to add meaning to your wine corks is to mark them with the date you cracked open the bottle of wine. This way you can look back through your collection and the dates will serve as a trigger, eliciting memories of fun times. Another way to display your pile of wine corks is jumbled in a glass jar and put on display, or precisely stacked in a narrow, clear glass vase.
Crafty ideas to recycle wine corks — literally!
Pincushion. Champagne corks are especially useful when repurposed as a pincushion, due to their shape. Decorate the bottom (this was the top when it was corking the bottle) with a ribbon band.
Stamps. If you enjoy using stamps in crafts, carve your own shapes out of cork ends instead of using rubber stamps.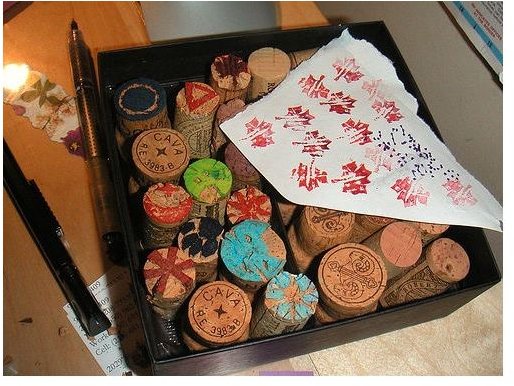 Reuse wine corks around the house
Drawer pulls. Makes a comfy handle. Use a long screw to attach the cork perpendicular to the drawer.
Bath mat. Cut a piece of non-adhesive shelf liner to the size you desire. Hot glue the corks to it. Warning: you need a lot of corks for this one!
Fix a wobbly table leg. Slice off a sliver of cork and slip it under the offending leg to stabilize it. Cork won't mar floors, and it's small enough to be unnoticeable.
Trivet. Similar to the bath mat concept. Glue the corks en masse in a shallow tray, or on their own. Set hot things on the cork trivet. Marvel at how the table remains cool and unmarred.
Have fun repurposing wine corks!
Cocktail party placecard holder. Use a knife to slice across the top, and tuck cards into the slit for seating placements or whatever you want to say.
And the obvious, classic idea:
A cork board! Take a poster frame, and glue corks inside the frame to fill. If you're low on corks (for shame, you non-lush!) cut them in half lengthwise before gluing them. You still get the attractive curvy cork appearance and enough cork to stick pins into!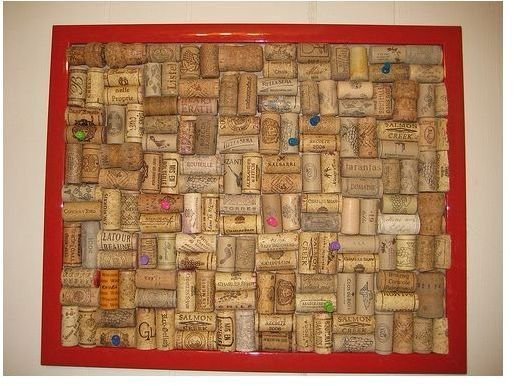 Hopefully some of these wine corks recycled ideas will help you keep corks out of the landfill, and put to good use getting stuck with pins, sliced into bits, walked on, or having terribly hot things set upon them. I'm sure the corks appreciate our efforts.
Photo Credits
Cork stamps - Cork stamps: https://www.flickr.com/photos/elainegreycats/29404110/
Cork board - https://www.flickr.com/photos/moonlightbulb/3076801051/