Natural Landscape Edging: How to Make Your Own Landscaping from Natural Materials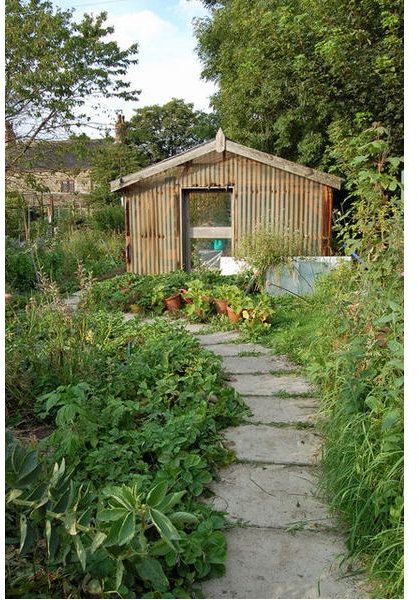 Using Stone for Landscape Edgings
Natural landscape edging gives your yard a unique look. There are plenty of creative ways to add curb appeal by using natural resources that are local to your area. These decorative edgings differentiate between garden and flower beds and your lawn to create areas of interest and visual appeal.
Think about using green materials such as limestone. If limestone is not plentiful in your area, you can also use natural fieldstone to line your walkways and pathways or as decorative edging around trees. If you do decide to use limestone, keep in mind that it may be damaged by temperature extremes and its natural color diminishes over time. In addition, limestone tends to be expensive and time-consuming to install.
Fieldstone is commonly used for making low retaining walls. There are many different color variations and fieldstone is very complementary to brick.
Bluestone and flagstone are other great choices to use as landscaping materials. Creating simple rock borders around flower beds and lily ponds using stone is a nice way to accent your yard.
Make your own landscape edging by gathering natural river rock. River rock makes your lawn stand out and creates interesting beautiful borders. It also helps maintain functionality by helping to prevent mud or mulch from washing onto walkways during periods of heavy rain.
However, if you're going for more of an old-world feel, add a little history to your yard by using reclaimed cobblestones. Cobblestones and granite add character, charm and uniqueness to your home. Using hard stone surfaces as landscaping edgers and pavers gives you an unexpected bonus because they help keep weeds under control.
If you can't afford granite for your pathways, consider laying down crushed gravel. Natural landscape materials should give back to the earth, and gravel does this by reducing erosion and absorbing chemicals from water runoff. Gravel is considered to be a permeable stone and comes in various beautiful colors, shapes and sizes. In fact, gravel is one of the most popular cost-effective choices for creating garden pathways.
The Durability and Cost Effectiveness of Bamboo
Believe it or not, going green in your yard is as easy as making a trip to your local hardware store. If you're looking for natural materials to design an edging to create interest but maintain your budget, bamboo borders are an elegant and affordable option.
Bamboo can sometimes be cheaper than wood for your landscape projects, and bamboo lasts longer as it is extremely durable. Woven bamboo gives a contemporary and updated look. A great place to purchase bamboo materials is bamboofencer.com.
Recycle and Reuse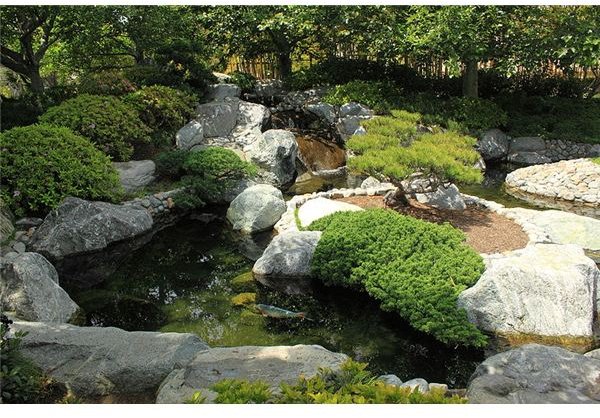 There are natural materials just waiting to be found in most of our yards, if we take the time to look. Old items can be made to look new and fresh again with a little effort and ingenuity. Who knew that green living could look so good? Using natural landscape edging materials to beautify your home is a smart way to recycle and gives you the satisfaction of knowing you did your part to participate in the green movement.
Keep Your Edging Neat and Trim
While natural edgings are great for the environment and beautiful to observe, they can be more labor intensive to maintain than other types of edgings. For example, if you are designing with river rocks or other irregularly shaped stones, it can be difficult to get a tight, precise fit. Weeds or grass may sprout in the gaps between the stones and will require regular trimming or weeding to keep them in check. Mowing around such edgings can be problematic or impossible.
The best way to reduce this problem is to try to use stones that are as close to the same size as possible and fit them together as tightly as possible. You may want to consider drizzling a little natural mulch into any cracks to discourage unwanted growth in a newly installed border. As the edging ages, the stones will settle into the earth and create a natural barrier for undesirable vegetation.
Resources
Author unknown, "Edging in the Landscape," Miller Nursery, https://www.millernursery.com/helpfullInformation/spring2002EdgingInTheLandscape.htm
Barb, "Can Using Natural Slate Landscape Rock as Landscape Edging Really Save Time, Money, and Work," (October 28, 2010), Slate Landscape Rock, https://www.slatelandscaperock.com/can-using-natural-slate-landscape-rock-as-landscape-edging-really-save-time-work-and-money/
Image Credits
Wikimedia Commons/Captain-tucker/Creative Commons Attribution Share-Alike 3.0 Unported
Wikimedia Commons/Mari Buckley/Creative Commons Attribution Share-Alike 2.0 Generic license